March 14, 2022
NADA honors Carter Myers Automotive service manager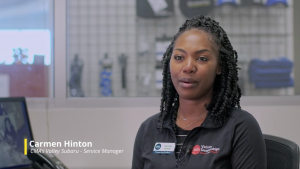 The National Automobile Dealers Association has named Carmen Hinton as the winner of the 5th annual Women Driving Auto Retail Video Contest, sponsored by Stellantis. The service manager at Carter Myers Automotive's Valley Subaru in Staunton, Va. was announced as the contest winner during this month's NADA Show 2022.
"I am very proud to say that CMA has molded me into who I am today. I started working here at a young age and have learned not only work skills, but life skills as well," Hinton said. "They invest in their employees, and the value shows within everyone. Having Liza Borches as the CEO and being a woman herself goes to show all women they can reach the top with no limits and no barriers. Liza has been a tremendous inspiration to me and the ladies I lead. I look forward to what the future holds in the auto industry for ALL women."
The video contest is part of NADA's Women Driving Auto Retail initiative, which highlights the voices of women working in dealerships and encourages other women to pursue automotive careers. The video contest celebrates women who work in all areas of car or truck dealerships and aims to encourage more women to pursue a career in auto retail.