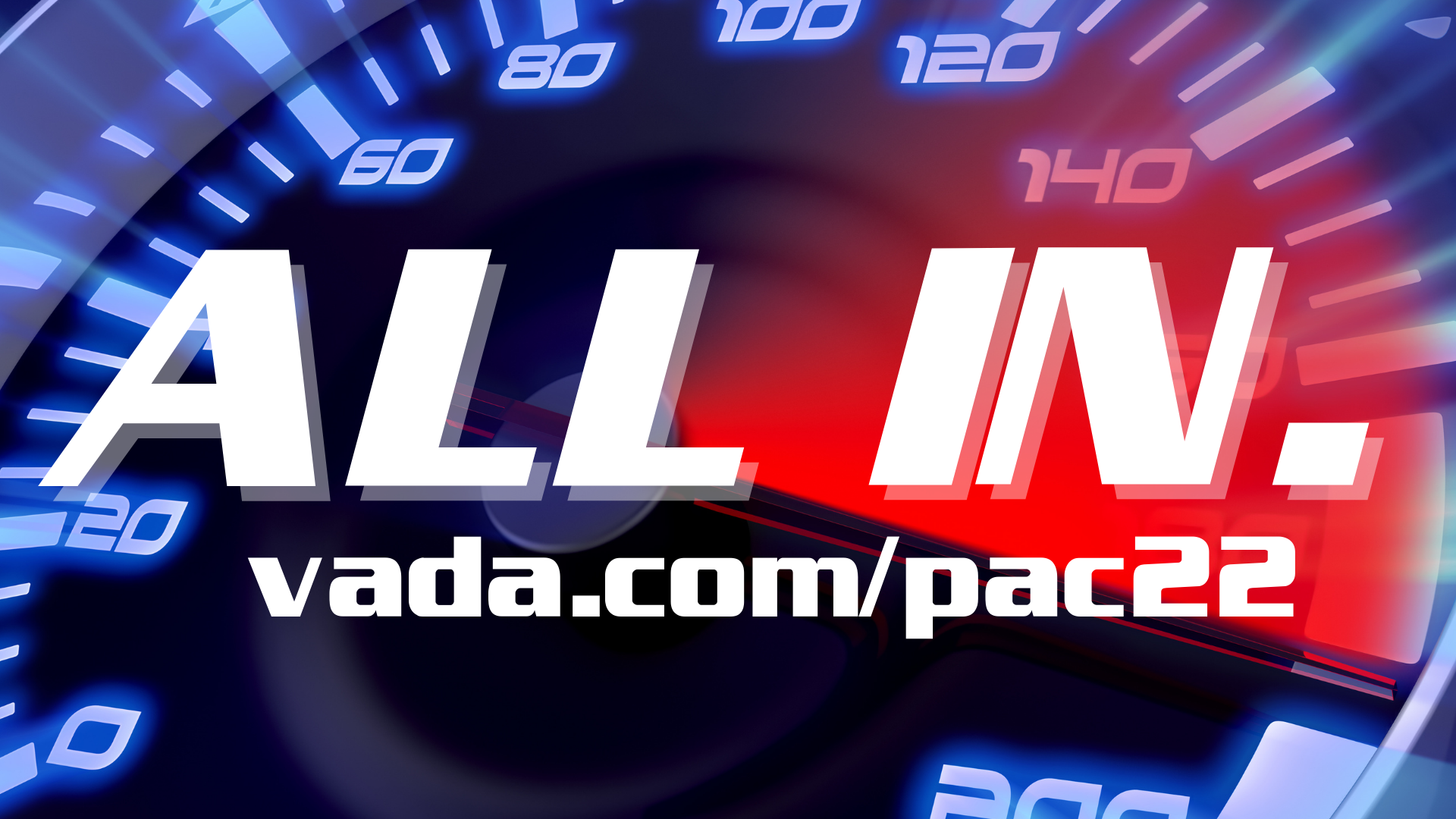 All In for Dealerships
Next year's General Assembly races will be the most crucial election season in decades with every seat in the state House and Senate up for grabs. The time to start raising money to elect pro-dealership candidates isn't next year. It's right now in 2022.
We need every member of VADA to contribute to our PAC, including Dealership Owners, General Managers, Dealer Operators, Parts and Service Directors, Finance and Insurance Managers, and Used/New Car Managers. This election will heavily impact not just these dealership leaders but everyone who reports to them. So please contribute to support our PAC, our industry, and your business. In the list below, you'll see association members throughout Virginia who have already contributed to our PAC. Their investment shows they are All In for our future. Are you?
Invest in your future by contributing to the Virginia Auto & Truck Dealers PAC
Our dealerships rely on a strong, united voice to tell our story to elected officials who craft the regulatory rules of the road impacting our stores. Every dealership role, from owners and general managers to salespeople and technicians, depends on the pro-business environment that comes from supporting candidates who value the work our industry does every day in keeping customers on the road, creating jobs, and serving as an economic engine for Virginia.
Securing pro-dealer laws and regulations takes hard work, and it's a fight we can't win unless we have your investment to help elect candidates who support our industry. Please give to the Virginia Auto & Truck Dealers PAC and help us continue on the road to success.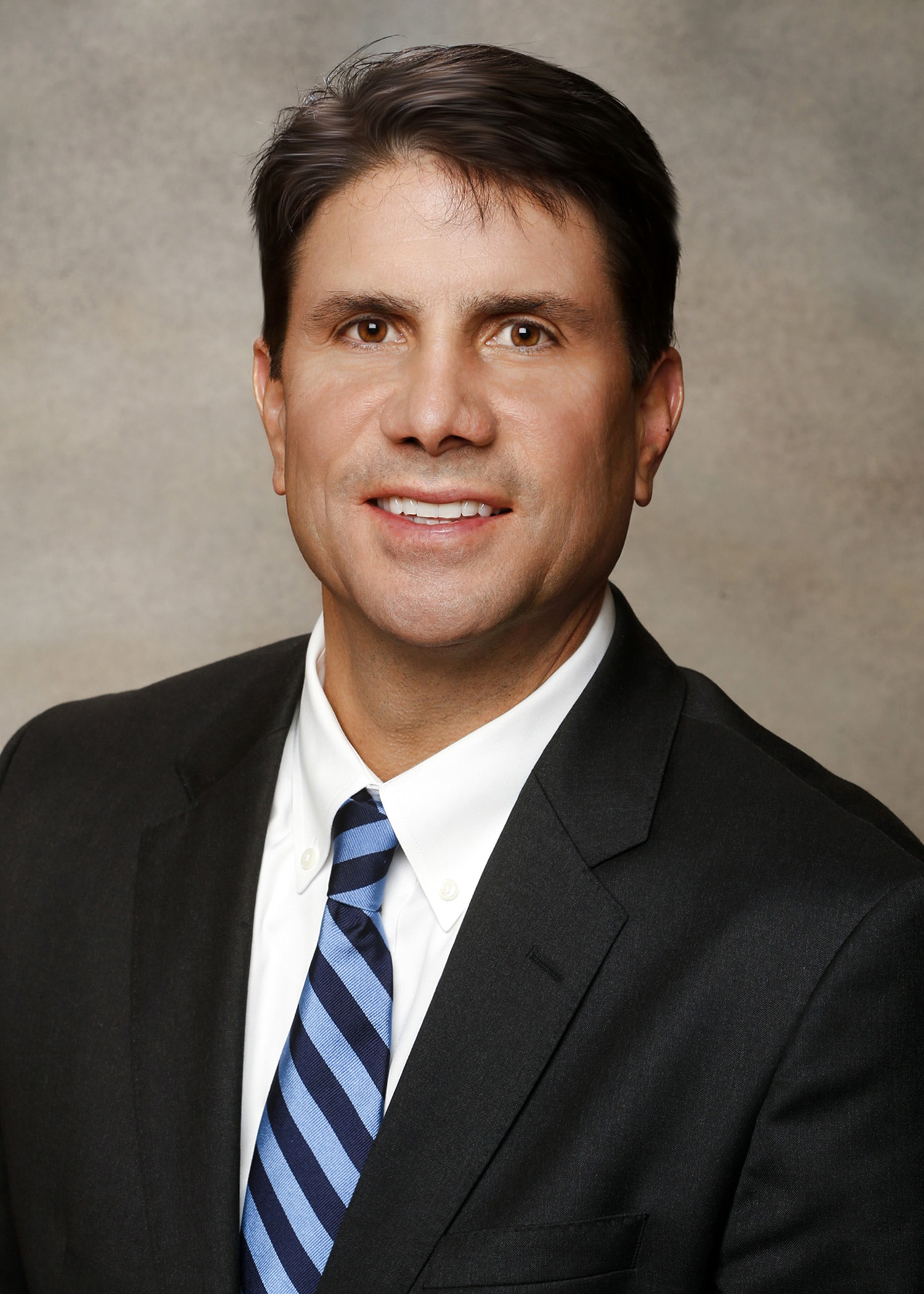 Chris Lindsay
PAC Chairman
2022
Lindsay Automotive
A Special Thank You to Our 2022 Governor's Club Members
The Virginia Auto & Truck Dealers Governor's Club is reserved for those Association members who give, separate from dues, at least $2,000 in an initial year and $1,500 each year thereafter.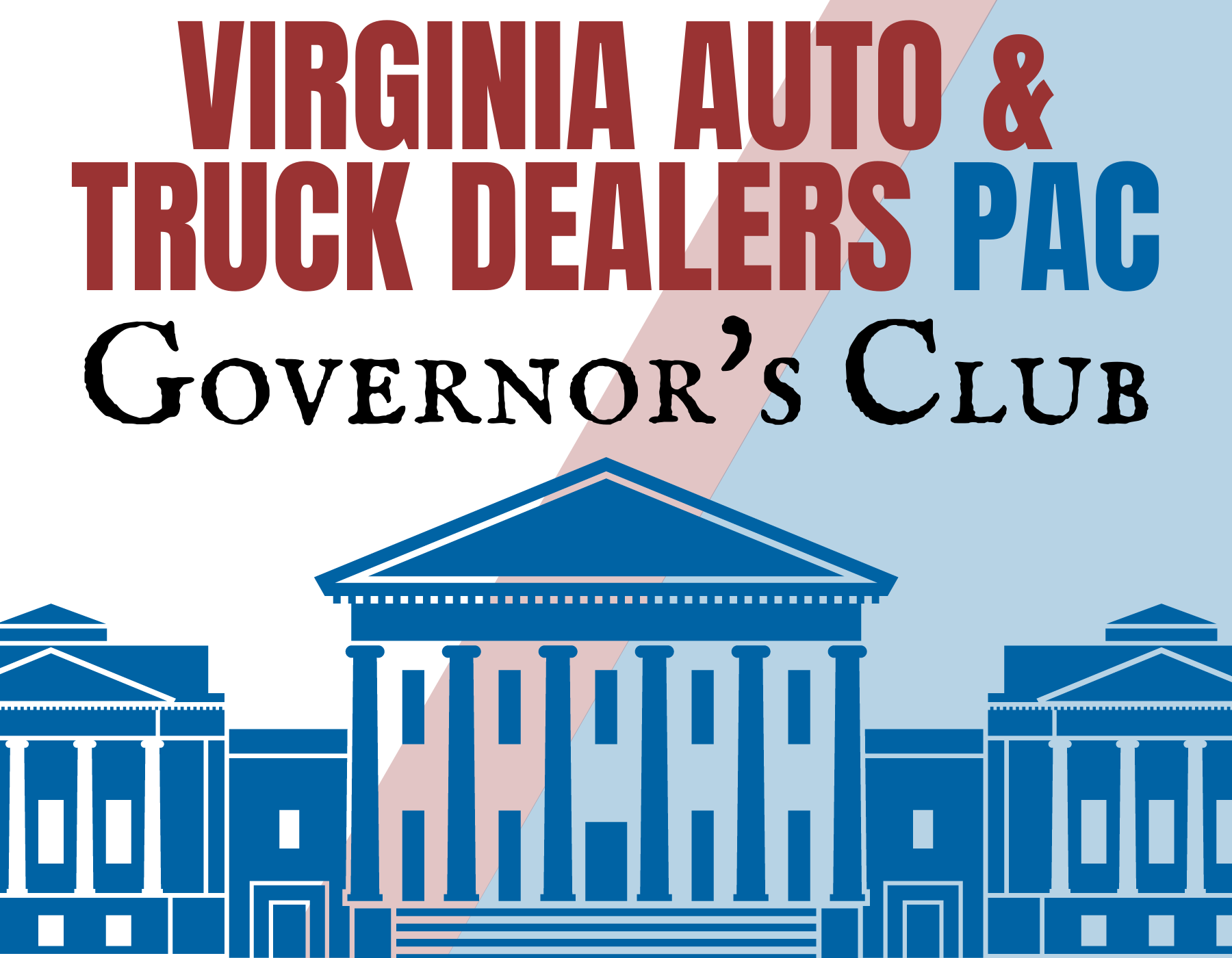 Pohanka Automotive Group: $58,500 
Honda Of Chantilly
Pohanka Acura
Pohanka Chevrolet, Inc.
Pohanka Honda of Fredericksburg
Pohanka Lexus
Pohanka Nissan Hyundai
Pohanka Nissan of Stafford
---
Sheehy Auto Stores: $33,000 
Sheehy Buick GMC of Fredericksburg
Sheehy Ford Ashland
Sheehy Ford Lincoln
Sheehy Ford Of Springfield
Sheehy Ford Of Warrenton
Sheehy Honda
Sheehy Infiniti Of Chantilly
Sheehy Infiniti Of Tysons Corner
Sheehy Lexus of Richmond
Sheehy Nissan Of Manassas
Sheehy Subaru of Fredericksburg
Sheehy Subaru of Springfield
Sheehy Toyota of Fredericksburg
Sheehy Toyota of Stafford
Sheehy Volkswagen
---
Jim Koons Management Company: $30,000 
Genesis of Woodbridge
Koons Arlington Toyota
Koons Buick GMC of Woodbridge
Koons Chrysler Dodge Jeep Ram
Koons Ford
Koons Kia
Koons of Tysons Corner
Koons Sterling Ford
Koons Tysons Toyota
Koons Woodbridge Ford
Koons Woodbridge Hyundai
---
Berglund Automotive Group: $26,500
Berglund Chevrolet Buick
Berglund Chrysler Jeep Dodge RAM
Berglund Ford Mazda
Berglund Luxury Auto
Berglund Luxury Roanoke
Berglund Of Bedford Ford Buick GMC
Berglund Toyota
Kia Of Lynchburg
Midpoint Chevrolet Buick GMC Truck
---
Loyalty Automotive: $21,500
Loyalty Chevrolet Cadillac
Loyalty Nissan
Loyalty Toyota
Loyalty Volkswagen
---
Carter Myers Automotive: $14,500
CMA's Chrysler Dodge Jeep Ram of Lynchburg
CMA's Colonial Auto Center
CMA's Colonial Chevrolet, Inc.
CMA's Colonial Honda
CMA's Colonial Hyundai
CMA's Colonial Kia
CMA's Colonial Subaru
CMA's Honda of Lynchburg
CMA's Honda of Winchester
CMA's Hyundai of Lynchburg
CMA's Hyundai of Winchester
CMA's Subaru of Winchester
CMA's Valley Chrysler Dodge Jeep RAM
CMA's Valley Honda
CMA's Valley Nissan
CMA's Valley Subaru
CMA's Valley VW
CMA's Volvo Cars of Charlottesville
CMA's Williamsburg Ford
Country Chevrolet: $11,575
Country Buick GMC of Leesburg
---
Lindsay Automotive Group: $11,500
Lindsay Buick GMC
Lindsay Cadillac Company
Lindsay Chevrolet
Lindsay Chevrolet of Front Royal
Lindsay Chrysler Dodge Jeep Ram
Lindsay Lexus Of Alexandria
Lindsay Volkswagen Of Dulles
Lindsay Volkswagen of Manassas
Lindsay Volvo Cars of Alexandria
---
Malloy Automotive Group: $11,500
Malloy Chevrolet Cadillac
Malloy Ford Alexandria
Malloy Ford Charlottesville
Malloy Ford Of Winchester
Malloy Toyota
---
Ted Britt Ford Lincoln: $11,500
Ted Britt Ford Lincoln of Chantilly
Ted Britt Sterling Chevrolet
---
Southern Auto Group: $10,750
Genesis of Roanoke Valley
Greenbrier Dodge of Chesapeake
Southern Buick GMC Kia Greenbrier
Southern Buick GMC Kia Virginia Beach
Southern Chrysler Jeep Greenbrier
Southern Dodge Chrysler Jeep Ram
Southern Team Hyundai Nissan Subaru
Southern Team Nissan of New River Valley
Southern Team Volkswagen
Southern Volkswagen Greenbrier
---
Battlefield Automotive: $10,000
Battlefield Chevrolet
Battlefield Ford Culpeper
Battlefield Toyota
Madison Ford, LLC
---
Flow Motors: $10,000
Flow Mazda
Flow Porsche Audi
Flow VW
---
Hyman Bros. Automotive Group: $10,000
Hyman Bros Infiniti of Richmond
Hyman Bros Nissan Kia
Hyman Bros Subaru
Hyman Brothers Mitsubishi
Land Rover Richmond
---
Charlie Obaugh Chevrolet Buick GMC Kia: $6,500
Rosenthal Automotive: $6,500
Audi Arlington
BMW Of Alexandria
Fairfax Honda Volvo Volkswagen
Genesis of Chantilly/Hyundai Of Chantilly
Porsche Of Arlington
Rosenthal Chevrolet of Alexandria
Rosenthal Jaguar Land Rover Of Chantilly
Rosenthal Jaguar Land Rover Tysons Corner
Rosenthal Landmark Honda
---
Aschenbach Auto Group: $5,000
Blake Ford
Front Royal Buick GMC, LLC
Front Royal Ford LLC
---
Whitten Brothers, Inc.: $5,000
Whitten Bros Chrysler Dodge Jeep Mazda
Whitten Brothers Of Ashland
---
Beach Ford, Inc.: $5,000
Barton Ford
---
Karen Radley Acura VW / Radley Chevrolet: $4,000
---
Richmond Ford Group: $3,500
---
RK Chevrolet/Subaru/GM Commercial Business Elite: $3,000
---
Groups giving at least $2,000
Alexandria Volkswagen
Beyer Automotive Group
Checkered Flag Motor Car Co.
David R. McGeorge Car Co., Inc.
Duncan Ford Chrysler Dodge Jeep
Huber Motor Cars
Johnson Family Chevrolet
Purvis Ford Lincoln
---
Groups giving at least $1,500
Cavalier Ford Lincoln
Duke Automotive
Hall Automotive, LLC
Harvey's Chevrolet Cadillac Buick
Kern Motor Co.
Magic City Ford Lincoln Isuzu
McDonough Toyota
Ourisman Automotive of Virginia
Priority Auto Group
Robert Woodall Chevrolet Buick GMC Cadillac Hyundai Nissan
Shelor Motor Mile
Steven Nissan
Strosnider Chevrolet
Suttle Motor Corp.
Terry Volkswagen Subaru
At least $1,000
Banister Nissan of Chesapeake
Chrysler of Culpeper
At least $500
Luck Chevrolet
Bob Farlow $2,000
Rick Gallaer $5,000
Bill Stoeckeler $1,000
Dick Strauss $1,500
It's time to give in 2022!
Give to the Virginia Auto & Truck Dealers Political Action Committee. Simply fill out the contribution form below. If you prefer to pay by check, please download this form and mail to: P.O. Box 5407, Richmond, VA, 23220.
Contribute to the Virginia Auto & Truck Dealers PAC
Contributions are not tax deductible. Corporate contributions are permitted.