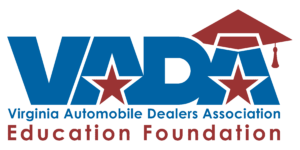 Accelerating Education, Safety and the Future of Virginia's Automotive Industry.
The VADA Charitable Education Foundation supports education, safety, and research focused on motor vehicles in Virginia. In addition, we fund academic and trade scholarships for Virginians with an interest in pursuing automotive careers, such as motor vehicle technicians or dealership leadership roles.
Fueling Dreams. Revving Minds.
Contributions to the Foundation support rising automotive stars and causes that promote motor vehicle education and safety in Virginia, with 100% of all funds going directly to the mission (staff salaries and other operational costs are covered separate of the Foundation). If you are looking for a way to give back and make every dollar count for Virginia's automotive industry and vehicle safety, the VADA Charitable Education Foundation is the best avenue.
To give via check, please mail to:
VADA Charitable Foundation Inc.
P.O. Box 5407
Richmond VA 23220
Tax and Gift Information
The VADA Charitable Foundation is a 501(c)(3) entity. All contributions are tax-deductible. We support annual contributions as well as legacy, memorial and honorary contributions. To discuss contributions beyond a one-time gift, please contact Steve Hoffman, VADA General Manager.
ASE Partnership
We advance automotive technology education in Virginia secondary schools through a partnership with the ASE Education Foundation. The ASE certifies professionals and shops in the automotive repair and service industry. Learn more.