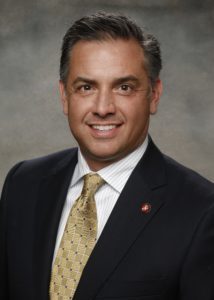 Jason Wilson, our former General Manager, has joined our neighbors to the northwest as president of the Kentucky Automobile Dealers Association. We know Jason will do great in his new role.
Carl L. Swope, chair of KADA, said the organization was impressed with Jason's leadership skills and hired him to lead the association following an extensive search for a new president. Jason started in the new role Jan.1, and was succeeded at VADA by Aris Woolfolk (meet Aris in our profile of her here).
"Jason has helped VADA grow to become Virginia's most formidable business advocacy and government affairs group, nationally-recognized for its expertise and thought leadership," Swope says. "As VADA's general manager, Jason provided strategic growth and improved performance and profitability, including in VADA's for-profit insurance division."
Jason says he credits VADA's Don Hall, a fellow Marine and longtime head of VADA. "Don was not only a boss, but has become a close and trusted friend (I won't share those stories here!) and mentor," he says. "As an association executive, I have learned much from Don's management style and incorporated it into my own. It is a military-style, rank-based system but one of respect for all and pushing forward toward a common goal. That style has led to significant tenure of our team, loyalty to the organization, and camaraderie among our people. It also translates into an efficient, member-first organization."
Don notes Jason is one of four VADA staff members to go on and lead another trade association as president. 
"We appreciated Jason's commitment to our dealer members and the best interests of the association, and I enjoyed watching him build up his skills in Virginia to become the leader Kentucky's dealers deserve. We will miss Jason here and wish him well. Personally, Jason remains a friend and brother Marine, and he knows I am here to guide him in his new role of taking KADA to new heights."
Jason's tenure at VADA included building up our Partner Programs, those critical affiliations with dealer vendors that help the association maintain low dues and offer training and educational opportunities. Those programs bring in more than $1 million each year in non-dues revenue to VADA, Swope said.
Jason came to VADA (and goes to KADA) with a unique background.  While serving in the U.S. Marine Corps, Jason was part of an elite unit, Marine Corps Helicopter Squadron One, tasked with providing security for President George H. W. Bush.8
"I was 19 t that time and learned over three years the true meaning of responsibility, attention to detail and to be confident in interacting with anyone," Jason recalls. "I suppose having engaged in conversations with the President at such a young age, I never find myself intimidated in addressing the issues of our day and on behalf of our dealers with honesty and integrity in every conversation."
After an honorable discharge from the Marine Corps, Jason worked at several area auto dealerships learning the trade before becoming VADA's general manager.
While Jason heads to Kentucky, Aris Woolfolk takes over as general manager at VADA. She comes to us from Holiday Chevrolet Cadillac in Williamsburg, and she plans to further build upon VADA's Partner Programs and build relationships with dealer members.