May 2020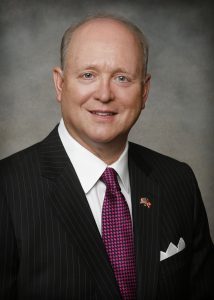 In mid-March, the world as we knew it came to a near-immediate standstill, as the coronavirus began its spread across our country.
As we faced challenges in how we operate – even with service departments considered essential businesses – and found opportunities for support from our federal leaders and agencies, we adapted in the moment and kept up to date on ever-changing guidelines. Since we're all operating with information overload, I want to simply recognize how our members have responded with grace, empathy and integrity.
Our VADA team is honored – and humbled – to serve you during these difficult times. Your actions inspire us to work even harder to help you solve problems and create opportunities. Your actions motivate and focus us.
We've seen how hard you've worked to keep your dealerships safe for your customers and employees. We've seen how you've pivoted business models to adopt new strategies, such as home delivery and digital sales. We've seen how you've introduced creative staffing models to keep as many employees working as possible.
We've also seen how you've embraced your communities. We've heard stories of hosting blood banks in dealerships, grocery deliveries for customers, and gift cards to local restaurants as a win-win for customers and local businesses.
While I'm proud of what VADA has provided our members in terms of messaging and more, one thing is crystal clear: We couldn't have done any of this alone.
As we learn more about reopening orders in Virginia, we'll provide insight on what these changes mean for your dealerships. As always, you can find the latest information in our one-stop Coronavirus (COVID-19) Resource Center.
As members, your VADA team is available 24/7, and you can always reach us by telephone or email.
Continuing Our Advocacy for You
During this pandemic, we remain committed to bringing your collective voice to Virginia's governmental leaders. Our strong working relationship with Governor Ralph Northam was instrumental in the initial designation of automotive parts, accessories, and tire retailers, as well as automotive repair facilities, as essential businesses. And we were pleased to see sales and finance department receive looser restrictions than were applied to franchised auto dealerships in many other states.
Of course, the pandemic prevents us from our traditional outreach, where we visit legislators to talk about pending legislation and other important issues for our state's franchised new car and truck dealers. We are looking for new ways to engage meaningfully with our elected leaders in the Senate and House of Delegates as we move forward in this new environment.
We also await word on an expected special session, perhaps to be convened by the Governor this summer, to address the pandemic's impact on Virginia's budget. In a sign of the times, Attorney General Mark Herring recently opined that legislators could meet digitally during an emergency like this. And we've already seen legislative change as a result of this virus, as the state has delayed on the implementation of a rolling increase to the minimum wage.
This Moment Matters
I'll close by encouraging each of you to spend just a minute after you read this message to count your blessings. Reach out and help others any way you can. As an association and agency, we at VADA are truly blessed — and I know you are too. Love your families, and take care of your friends.
In this Issue
As always, please take a moment to read the important stories in our issue. This month, you'll see:
VADA GSIA is offering a 15 percent savings for 2020-21 plans.
Mark your calendars for the 2021 Annual Convention, as we're sad that this year's event is canceled.
Our dealers are finding silver linings in this crisis, as shared in two recent video podcasts featuring Steven Nissan Dealer Principal Jake Sodikoff, plus VADA GM Jason Wilson.