Virginia dealer leaders were recognized on a national level at National Automobile Dealers Association Show in Las Vegas.
First, there's Liza Myers Borches, President and CEO of Carter Myers Automotive. She was this year's recipient of the Barbara Cox Woman of the Year Award. Named after Barbara Cox, the late co-owner of Cox Enterprises and daughter of the company's founder, the award goes to women who demonstrate business leadership, community advocacy and a commitment to advancing the automotive industry.
Cox Automotive President Sandy Schwartz presented the award to Borches at a Northwood University Dealer Education Award breakfast.
"Liza exemplifies this award by sharing many of the qualities and values that we admire in Mrs. Cox," Schwartz said. "Being part of a multi-generational, family-owned business, Liza shares a close connection with the Cox family story."
Borches oversees dealership operations and is dealer principal for the Virginia-based family auto group that includes 15 dealerships and 17 franchises.
She joined Carter Myers Automotive in 2003 after working at American Honda for seven years. She serves as president and CEO for all Carter Myers Automotive businesses.
"There is still work to be done to encourage more women to consider a career in the auto industry," Borches says. "I hope that during my daughter's generation, women leaders in the auto industry becomes a normal part of the conversation and that the diversity of our customers and our country is reflected.
"As our industry evolves, we need people of all genders and races, with the brightest minds, helping work through solutions for the future."
Next, there is Dennis Ellmer, President and CEO of Priority Automotive in Chesapeake, recipient of the Automobile Dealer Education Award from Northwood University. They recognized his commitment to the automotive industry, desire to enhance economic development in the region, and, through the dealership's inmate-training program, efforts to reduce recidivism.
Ellmer has used his success in business to help create a better community and world. Born on the eastern shore of Virginia, the son of a United States Marine Corps Sergeant Major, Dennis believes in giving back to the surrounding community.
One of Dennis's most notable contributions to the community was the creation of the Priority Inmate Training Program, an early pioneer in jail inmate training programs in the country. The goal of the program is to fill the need for trained auto technicians, reduce repeat offenses and give those incarcerated a fresh start in a growing career upon their release from jail. Trainees who complete the program are offered a job at Priority Toyota. The plan was a team effort with the Norfolk Sheriff Department, Tidewater Community College and Governor Northam of Virginia.
An investment by Priority Automotive of more than $1 million established the program, which is now thriving in the Chesapeake region. It has also earned national recognition from Toyota and is the template for other similar inmate training programs throughout the country.
Dennis has received numerous professional honors throughout the years, including being named the 2016 Virginia Time Magazine Dealer of the Year and 2019 Best in Town from Toyota. He serves as a member of the board of directors for Towne Bank, Governors Chesapeake Bay Wine Classic Foundation, Old Dominion University Education Foundation, and as president of the Priority Charity Bowl.
He has also been involved in dozens of children's charities with initiatives ranging from early childhood education to teen suicide prevention.
Finally, congratulations to William Farrell, dealer principal at Berglund Automotive in Roanoke, for his recognition as the 2020 TIME Dealer of the Year for Virginia. The honorees from each state were recognized at the NADA Show. See William's profile here to see our past remarks on this tremendous achievement.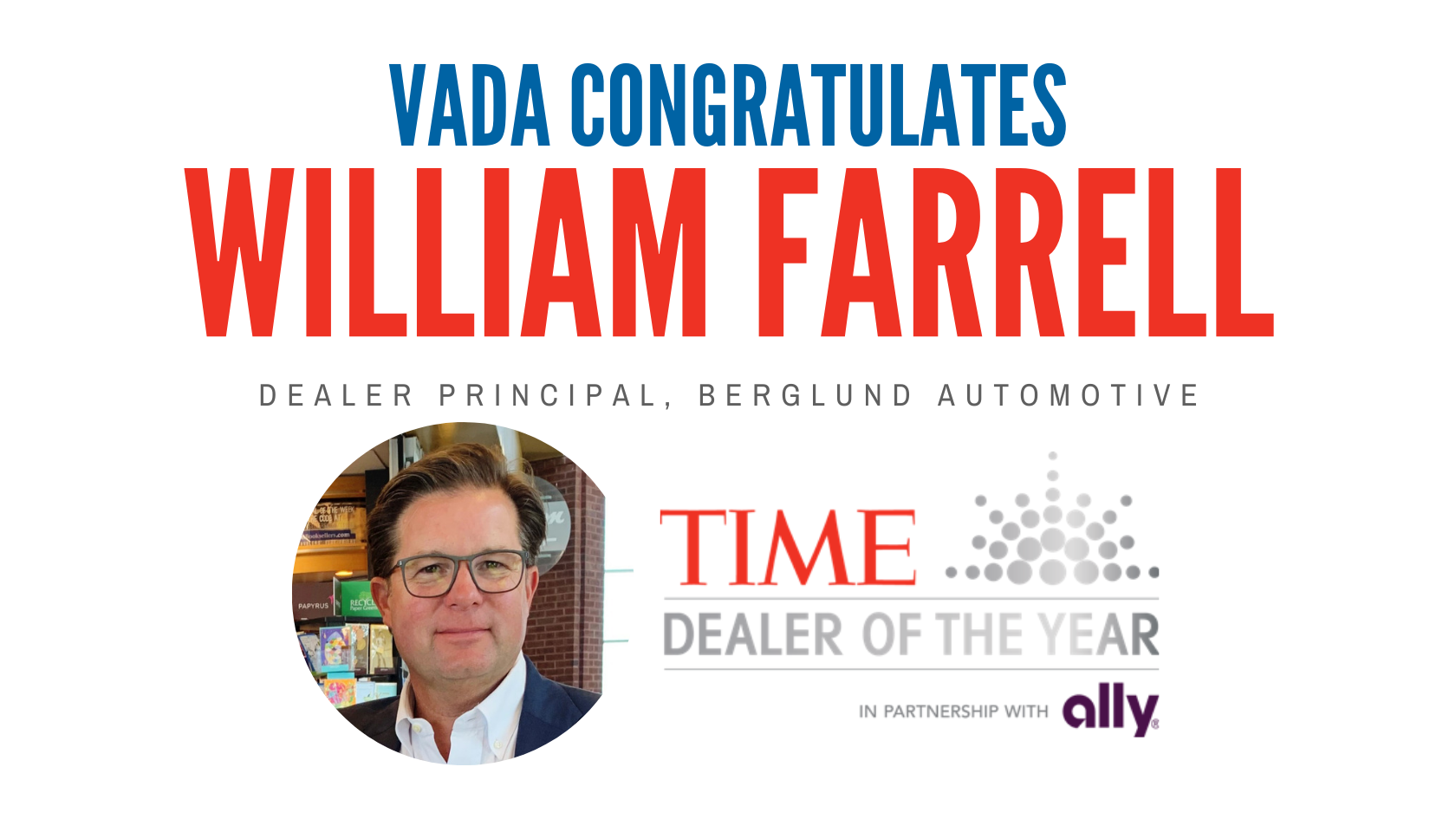 It makes us proud to represent these outstanding automotive professionals both in Virginia and across the nation. Thank you for your hard work and dedication to the industry and your communities.