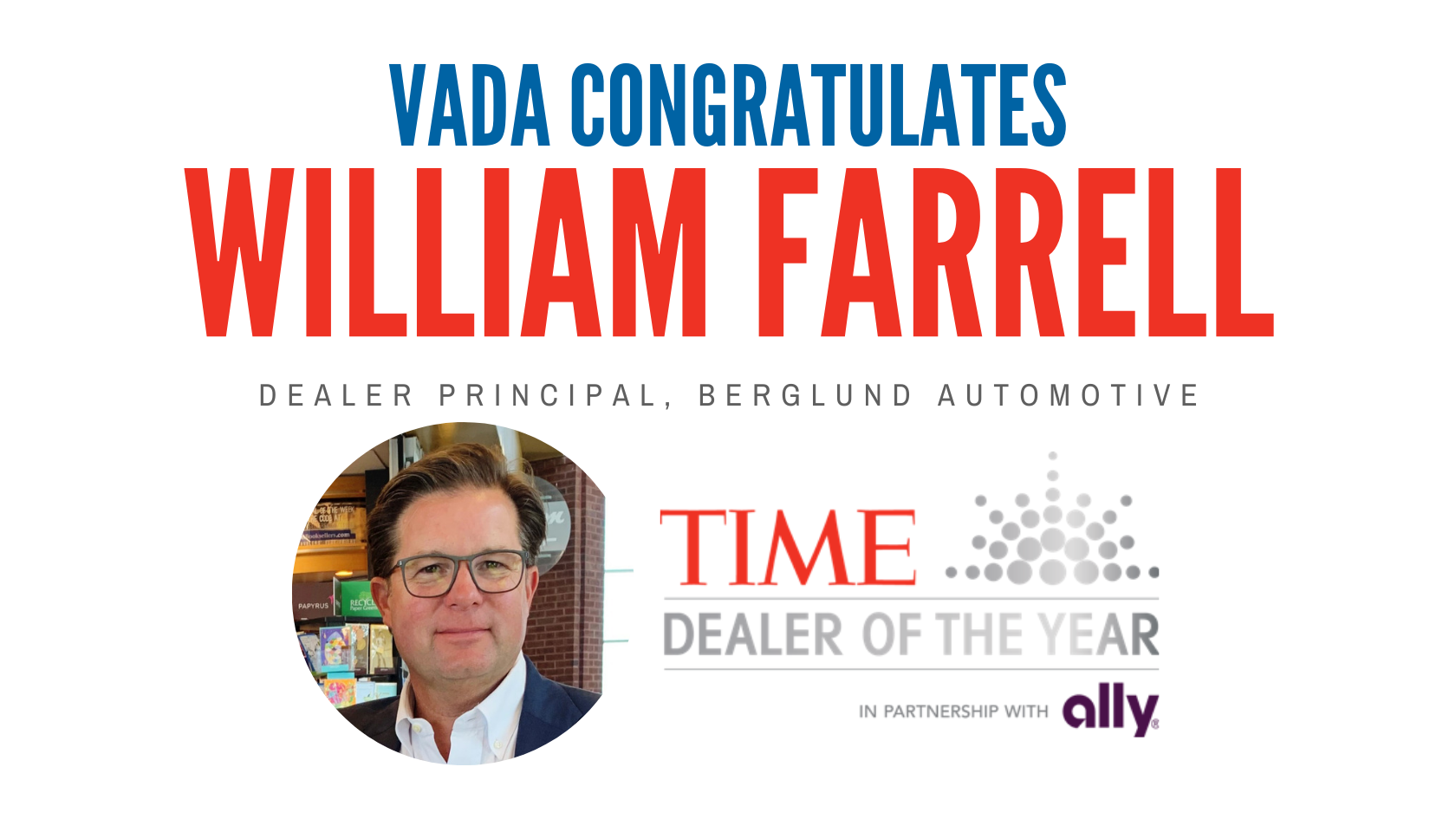 Time and Ally Financial Honor Roanoke Dealer
William Farrell Wins National Recognition for Community Service and Industry Accomplishments at NADA Show
(New York, NY, October 21, 2019) – The nomination of William Farrell, dealer principal at Berglund Automotive in Roanoke, Virginia, for the 2020 TIME Dealer of the Year award was announced today by TIME.
Farrell is one of a select group of 49 dealer nominees from across the country who will be honored at the 103rd annual National Automobile Dealers Association (NADA) Show in Las Vegas on February 15, 2020. The announcement of this year's annual award was made by Susanna Schrobsdorff, chief partnerships officer, TIME, and Doug Timmerman, president of Auto Finance for Ally Financial.
The TIME Dealer of the Year award is one of the automobile industry's most prestigious and highly coveted honors. Recipients are among the nation's most successful auto dealers who also demonstrate a long-standing commitment to community service. Farrell, 53, was chosen to represent the Virginia Automobile Dealers Association in the national competition – one of only 49 auto dealers nominated for the 51st annual award from more than 16,000 nationwide.
"We are grateful to be able to support philanthropic endeavors across Virginia, but realizing there are more than 600 families that we touch directly through employment at our dealerships is rewarding and truly humbling," nominee Farrell said. "The gratification is seeing employees and their families fulfill their dreams."
A 1984 graduate of Salem High School in Salem, Farrell attended Radford University and always knew he wanted to follow in the footsteps of his father, Bruce, and become an auto dealer.
"I began working in the parts department of my father's Chevrolet store in Roanoke at the age of 14 and spent every school break working and learning," he said. "I sold my first car at age 17 and knew at that moment that I wanted to spend my career in a dealership."
Farrell gained experience by attending a Chrysler dealer academy in 1988 and working at a Ford store in Atlanta, as well as at Pat Ryan & Associates in Chicago as an F&I (Finance & Insurance) specialist. Armed with a deeper knowledge of the industry, he rejoined his father's dealership in 1992 and worked in F&I and in the service and parts department, rising to vice president. In 2002, Farrell bought his first dealership in Spartanburg, South Carolina, then after successfully managing that Kia and Chevrolet store, returned to Roanoke in 2006 to run Berglund Automotive.
Under Farrell's leadership, the auto group expanded and today, has 12 Virginia locations in Roanoke, Lynchburg, Salem, Bedford and Rocky Mount, representing 26 brands and growing from 150 employees to more than 600. He owns the business with his father.
"I came in on the ground level in terms of experience, but my willingness to out-work anybody else in the room served me well," he said. "That and the tutelage of my father, who advised me to take care of our customers, take care of our employees and build meaningful relationships."
Farrell is an active member of the Virginia Automobile Dealers Association, where he served on the board of directors and held leadership positions, including chairman, vice chairman, treasurer and secretary. His focus was on legislation particularly the dealer franchise laws in Virginia. "All dealers will benefit from these new laws," he said.
Another initiative that Farrell championed is building a larger pool of trained auto service and technical recruits through his partnership with Virginia Western Community College in Roanoke, where he is currently treasurer of the board of directors for the college's educational foundation.
"We have made available to the school a 5,000-square-foot 'service department classroom' in a company building complete with equipment, diagnostic tools, vehicles and volunteer faculty comprised of Berglund employees donating their time and expertise to assist the instructors," he said. "And Berglund Automotive will be hiring outstanding students as apprentices, encouraging them to stay on this career path."
Farrell is equally committed to improving the quality of life in his community. He is proud his company was awarded naming rights for its financial contribution to the Roanoke Civic Center, which is now the Berglund Center. The facility features a coliseum, exhibit hall, performing arts theatre and special events center and hosts world-class entertainment, trade shows, conventions and sporting events. "We have donated more than $2 million into the operating budget so both visitors and locals can continue to enjoy the many offerings of this popular Roanoke attraction," he said.
Other organizations that Farrell supports include the United Way of the Roanoke Valley; MDA Car Show (annual Roanoke event that supports Muscular Dystrophy Association); Boy Scouts of America; Junior Achievement of Southwest Virginia; Lynchburg Humane Society; Susan G. Komen; Blue Ridge Area Food Bank; Center in the Square (arts and cultural center in Roanoke); Miller Home For Girls (residential group home in Lynchburg) and many more.
"Berglund Automotive continues to grow as a business but also as a community partner because of our strong desire to support the communities that have supported us," Farrell said.
Dealers are nominated by the executives of state and metro dealer associations around the country. The award is sponsored by TIME in association with Ally Financial, and in cooperation with NADA. A panel of faculty members from the Tauber Institute for Global Operations at the University of Michigan will select one finalist from each of the four NADA regions and one national Dealer of the Year. Three finalists will receive an additional $5,000 for their favorite charities and the winner will receive an additional $10,000 to give to charity.
In its ninth year as exclusive sponsor, Ally will recognize dealer nominees and their community efforts by contributing $1,000 to each nominee's 501(c)3 charity of choice. Nominees will also be recognized on AllyDealerHeroes.com.
"The award applauds the incredible effort each of these dealers put into their businesses and their communities," said Doug Timmerman, President of Auto Finance at Ally. "They are influential business leaders and admired ambassadors for worthy causes. It's an honor for Ally to recognize their generosity and impact in cities and towns across America."
Farrell was nominated for the TIME Dealer of the Year award by Don Hall, president and CEO of the Virginia Automobile Dealers Association. He and his wife, Trista, have two children.
About TIME USA LLC
TIME is a global multimedia brand that reaches a combined audience of more than 100 million around the world. A trusted destination for reporting and insight on the people, places and issues that matter, TIME captures the events that shape our lives. TIME's major franchises include the TIME 100 Most Influential People, Person of the Year, Firsts, Best Inventions, Genius Companies, World's Greatest Places, and more. With 45 million digital visitors each month and 40 million social followers, TIME is one of the most trusted and recognized sources of news and information in the world.
About Ally Financial Inc.
Ally Financial Inc. (NYSE: ALLY) is a leading digital financial-services company with $181.5 billion in assets as of September 30, 2019. As a customer-centric company with passionate customer service and innovative financial solutions, we are relentlessly focused on "Doing It Right" and being a trusted financial-services provider to our consumer, commercial, and corporate customers. We are one of the largest full-service automotive-finance operations in the country and offer a wide range of financial services and insurance products to automotive dealerships and consumers. Our award-winning online bank (Ally Bank, Member FDIC and Equal Housing Lender) offers mortgage-lending services and a variety of deposit and other banking products, including savings, money-market, and checking accounts, certificates of deposit (CDs), and individual retirement accounts (IRAs). Additionally, we offer securities-brokerage and investment-advisory services through Ally Invest. Our robust corporate finance business offers capital for equity sponsors and middle-market companies.
For more information and disclosures about Ally, visit https://www.ally.com/#disclosures.
About the NADA Show
The annual NADA Show brings together more than 20,000 franchised dealers and their employees, industry leaders, manufacturers and exhibitors to learn about the latest auto industry tools, trends, products and technologies.