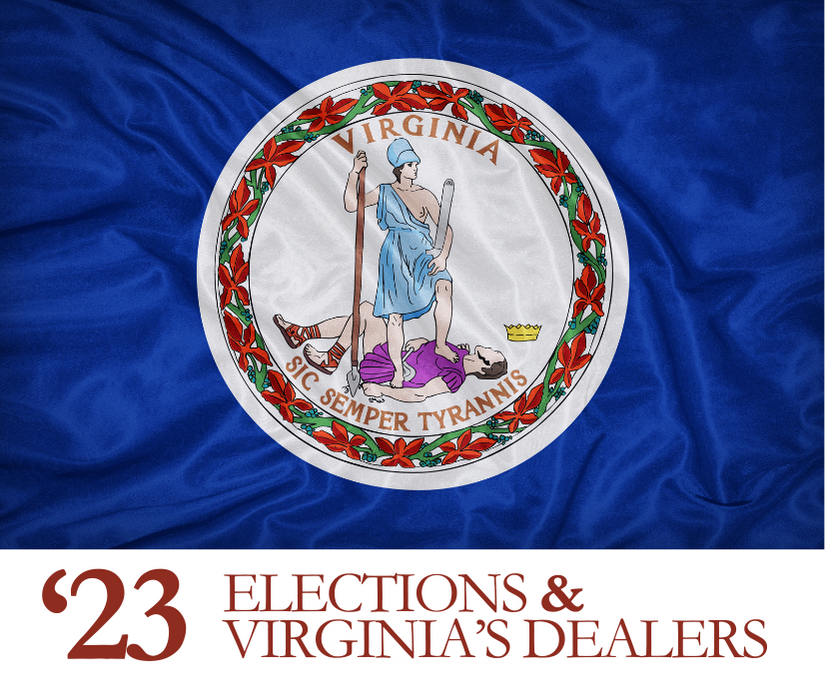 By Ralston King, VADA VP of Legislative Affairs
The 2023 Virginia election was the first election cycle with new district lines that were drawn under the redistricting process adopted by voters in 2020.
This election already brought historic turnover, with numerous retirements and incumbents losing primaries.
Democrats were able to maintain control of the Virginia Senate with a 21-seat majority. There will be 16 new faces in the Senate — nine Republicans and seven Democrats. The Republicans were able to pick up one seat in the Peninsula area, with Danny Diggs defeating Democrat Monty Mason.
Democrats have secured 51 of the 100 seats in the House of Delegates, with one seat that is too close to call: Republican Kim Taylor and Democrat Kimberly Pope Adams out of the Petersburg/Dinwiddie area. It looks like it be 51-49 or 52-48, with Democrats in control either way.
Setback for Governor
The results are a setback for Gov. Glenn Youngkin as he worked to flip the Senate and hold the House. He spent considerable time on the campaign trail and his Spirit of Virginia PAC spent more than $15 million on House and Senate races.
Youngkin's strategy on abortion largely failed for suburban Republicans in contested races. The intent was to message from the front and propose a 15-week limit on abortions except for rape, incest, and the life of the mother.
Republicans hoped to campaign on a moderate compromise, but Democrats were able to capitalize on the proposal as a ban on abortion and position it as a first step to more abortion restrictions. This helped turn out the Democratic base.
Governor Youngkin will now be handcuffed with pushing forward his agenda. He was hoping to flip the Senate and hold the House to push additional tax cuts and reform the Clean Economy Act as well as roll back the California Resources Board (CARB) regulations, which mandates all new cars, trucks and SUVs sold in Virginia will be zero emissions by 2035.
A 25% increase in contributions from 2021 made this the most expensive fundraising effort for off-off year elections. Senate races spent $94 million, and $81 million was spent for House contests.
In the end, there will be a total of 49 new faces in the General Assembly: 33 in the House and 16 in the Senate. In addition, 30 members were elected in the last four years. This means that 56% of the 140 members in the General Assembly have served less than four years.
Impacts on dealers
Virginia's franchised new car and truck dealers are well positioned as we head int the General Assembly session.
While we do plan to pursue one change to Virginia code to support our members (details soon to come), 2024 will not be as heavy of a legislative agenda for us as 2023, with our historic franchise legislation. As we have remained since our founding in 1948, the Virginia Automobile Dealers Association is a nonpartisan organization that supports lawmakers on both sides of the aisle so long as they are pro-business and pro-dealer.
Thanks to our strong political action committee and support of many members, we have been able to support many candidates and lawmakers and show them the value of the franchise system and the work dealers do in their communities. Elections are over, but there is plenty more work ahead.
How dealers can help
The time between the election and General Assembly — now — is an opportunity for the Virginia Auto & Truck Dealers PAC to help retire debt for many of these competitive races. Over $175 million was spent on this election cycle – an off-year election record!
Many of these folks spent every penny trying to get elected and we need to be there to support their effort in the future. This is also an opportunity for us to visit and get to know many of these new members. We must educate them on the auto franchise system and the benefits of a robust economy. Now is the time to contribute to the VADA PAC if you have not done so.

House of Delegates Competitive Races
District 21 – Prince William County

Democrat Josh Thomas defeated Republican John Stirrup 51.5%-48.3%

District 22 – Prince William County

Republican Ian Lovejoy defeated Democrat Travis Nembhard 52.59%-47.19%

District 30 – Loudoun County and Fauquier County

Republican Geary Higgins defeated Democrat Rob Banse 53.35%-46.48%

District 57 – Henrico County and Goochland County

Republican David Owen defeated Democrat Susanna Gibson 51.16%-48.40%

District 58 – Henrico County

Democrat Rodney Willet defeated Republican Riley Shaia 54.08%-45.81%

District 65 – Fredericksburg, Spotsylvania County and Stafford County

Democrat Josh Cole defeated Republican Lee Peters 52.60%-47.07%

District 75 – Chesterfield County, Hopewell City and Prince George County

Republican Carrie Coyner defeated Democrat Stephen Miller-Pitts 52.95%-46.78%

District 82 – Petersburg, Surry County, Dinwiddie County and Prince George
County

Republican Kim Taylor is up on Kimberley Pope Adams 50.32%-49.51% but the election has not been certified.

District 84 – Suffolk, Isle of Wight County, Franklin City, Chesapeake City

Democrat Nadarius Clark defeated Republican Michael Dillender 52.72%-47.10%

District 89 – Chesapeake City, Suffolk City

Republican Baxter Ennis defeated Democrat Karen Jenkins 51.16%-48.57%

District 97 – Virginia Beach

Democrat Michael Feggans defeated Republican Karen Greenhalgh
Virginia Senate Competitive Races
District 4 – Roanoke County, Montgomery County, Cities of Roanoke, and Salem

Republican Dave Suetterlein defeated Democrat Trish White-Boyd 53.57%-46.22%

District 16 – Henrico County

Democrat Schuyler VanValkenburg defeated Republican Siobhan Dunnavant 54.30%-45.51%

District 17 – Isle of Wight, Southampton, Brunswick, Greensville, Dinwiddie
Counties, Cities of Suffolk, Franklin, Emporia and Chesapeake

Republican Emily Brewer defeated Democrat Clinton Jenkins 52.54%-47.17%

District 22 – City of Virginia Beach

Democrat Aaron Rouse defeated Republican Kevin Adams 54.78%-45.08%

District 24 – York and James City Counties, Cities of Newport News, Williamsburg, Poquoson

Republican Danny Diggs defeated Democrat Monty Mason 51.18%-48.61%

District 27 – Stafford and Spotsylvania Counties, City of Fredericksburg

Republican Tara Durant defeated Democrat Joel Griffin 48.35%-46.15%

District 30 – Prince William County, Cities of Manassas and Manassas Park

Democrat Danica Roem defeated Republican Bill Woolf 51.51%-48.18%

District 31 – Loudoun County and Fauquier County

Democrat Russet Perry defeated Republican Juan Pablo Segura 52.52%-47.26%