A look at retail auto merger and acquisition activity in Virginia in 2023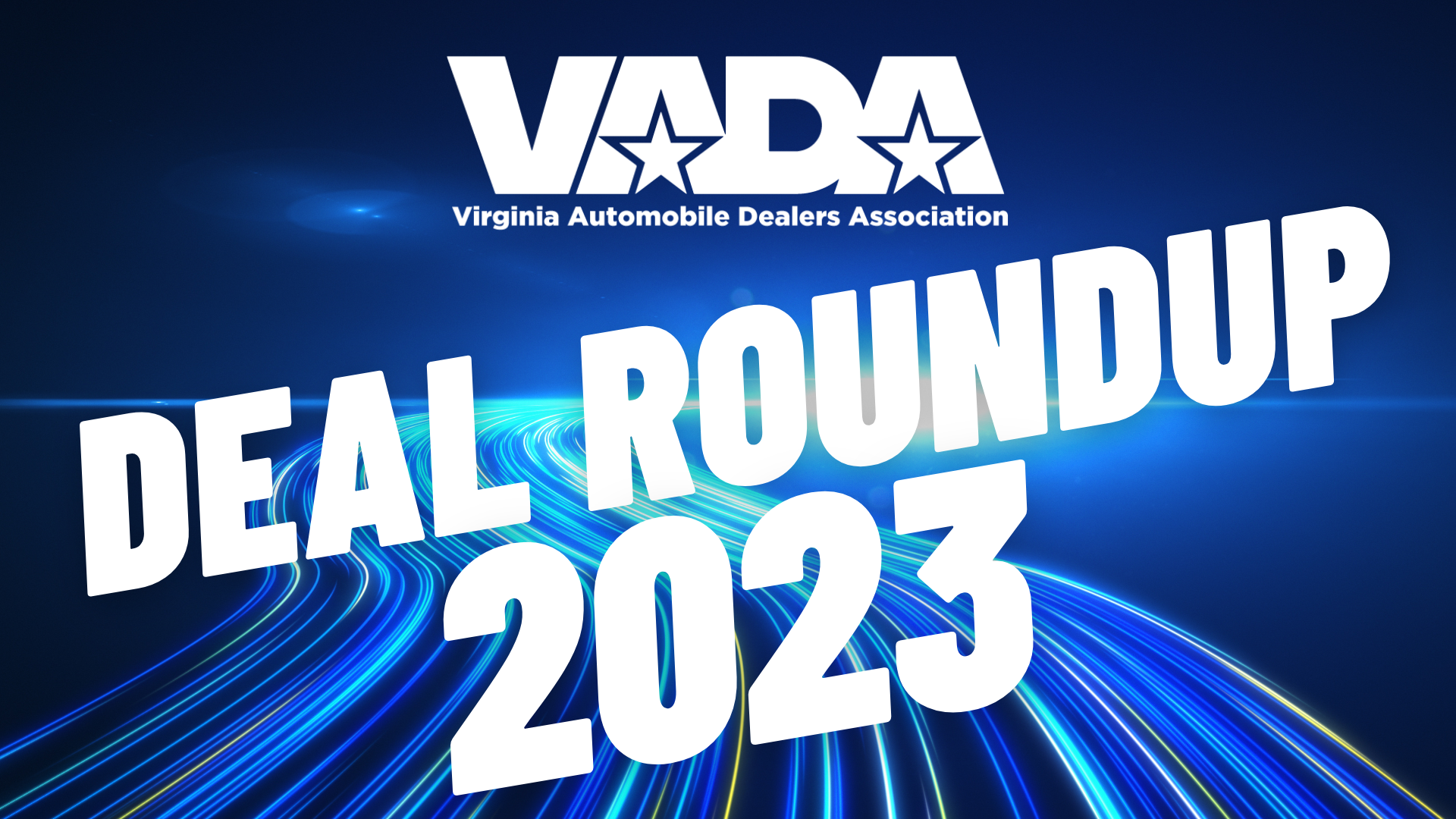 Consolidation is everywhere in retail automotive — and Virginia is no exception.
We've compiled a roundup of publicly announced dealer purchases and sales in Virginia during 2023 — meaning, we are sharing news the dealerships chose to make public. There were several other deals that VADA is aware occurred, but those transactions have remained private.
Kicking off the year as a winner
In January, Winners Circle Automotive Group bought Franklin Chrysler-Dodge-Jeep-Ram and Franklin Chevrolet-Buick-GMC in southern Virginia, near the North Carolina border. The dealerships were renamed Winners Circle Chrysler-Dodge-Jeep-Ram and Winners Circle Chevrolet-Buick-GMC. The acquisition followed an October 2022 purchase of a Hampton, Va. Mitsubishi store. Winners Circle also includes Stellantis and Nissan dealerships in Hampton and a Mazda store in Newport News.
(Most of) Priority goes to Lithia
In June, Lithia Motors Inc. bought a majority of Priority Auto Group — 14 dealerships — from Dennis Ellmer. The transaction did not include the group's two Lexus dealerships. Ellmer stayed on with Lithia and remains CEO of Priority.
Koons to Asbury Automotive
Jim Koons Automotive is being acquired by Asbury Automotive Group. At $1.2 billion, it's one of the most sizable consolidations in retail auto history. Koons Automotive is the largest auto dealership in the Baltimore and D.C. region, with 20 dealerships, 29 franchises, six collision centers and 2,500 employees. Koons had $3 billion in revenue last year, making it one of the largest privately held companies in the state, according to Virginia Business magazine. Duluth, Ga.-based Asbury Automotive, a Fortune 500 company, operates 138 dealerships and 32 collision centers. It had $15.4 billion in 2022 revenue.
Flow grabs Umansky and Kia in C-ville
In April, Flow Automotive Companies acquired Charlottesville's Umansky Automotive Group dealerships, with locations for Honda, Toyota, Subaru, Mercedes-Benz, Chrysler, Dodge, Jeep and Ram.
Then in July, Flow strengthened its presence in the market with the acquisition of Price Kia. Its footprint in the region today includes Audi, BMW, Chrysler Dodge Jeep Ram, Honda, Mazda, Mercedes-Benz, Porsche, Subaru, Toyota and Volkswagen. The Kia dealership gave Flow another outlet for its community-minded approach to connect with residents. Flow has 53 franchises representing 26 brands.
Hall goes "Southern"
In September, MileOne Autogroup, one of the largest privately owned dealership groups in the U.S., divested seven franchised dealerships in Chesapeake and Newport News. The sold stores were part of MileOne's Hall | MileOne Autogroup and include: Hall Nissan Chesapeake, Hyundai Chesapeake, Chevrolet Chesapeake, Chrysler-Dodge-Jeep-Ram Chesapeake, Acura Newport News, Hyundai Newport News and Ford Newport News.
The buyer: Atlantic Coast Automotive, which does business as Southern Auto Group. The Hall stores all rebranded to Southern. Hall still maintains 11 locations in Virginia Beach, Elizabeth City, and outside Charlotte.
McGeorge wraps 50+ years in RVA
In October, Murgado Automotive Group expanded into Virginia with the acquisition of Mercedes-Benz of Richmond and Mercedes-Benz of Midlothian from Rod McGeorge, grandson of David McGeorge. That deal came on the heels of McGeorge selling the nearby McGeorge Toyota to Northern Virginia's Graham Ourisman Automotive. The transactions represent the end of the McGeorge family of dealerships, which began when David McGeorge opened Mercedes-Benz of Richmond in 1955.
A truckin' great deal

In the third quarter, K. Neal Truck and Bus Center acquired Powell's Truck & Equipment Inc. of Lynchburg, Va. Powell's was founded in 1963 in central Virginia and was family-owned and operated for three generations. In 2001, Powell's expanded to form Powell's Idealease, a rental and leasing division. The company is a full-service dealership representing International Trucks and Isuzu.