May 1, 2023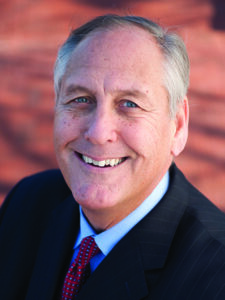 Senator Dave Marsden (D-Burke) is the Former Chief Deputy/Acting Direct of the Virginia Department of Juvenile Justice. Sen. Marsden was a member of the House of Delegates from 2006-2010 and the Senate since 2010.
Today, he chairs the Transportation Committee and is a member of the Agriculture, Conservation and Natural Resources Committee as well as the Committees on Commerce and Labor and Finance and Appropriations. He is a lifelong resident of Northern Virginia, graduating from W.T. Woodson High School. He and his wife Julia raised their three children in Fairfax.
Ralston King, VADA vice president of legislative affairs, asked Sen. Marsden a few questions about his time as a legislator and insights on transportation in Virginia.
What inspired you to run for office and become a legislator?
I have spent the majority of my career working in juvenile justice, where we implemented diversion programs, a more equitable approach using risk instruments, and reforming our case management systems to better serve the community. After serving in Fairfax County for nearly 30 years, I was appointed Virginia's Chief Deputy and Acting Director of the Department of Juvenile Justice by two Governor's, and I was asked to bring that experience to the legislature.
I ran for office in the General Assembly to deliver on the criminal justice reform that Virginia needed. I also wanted to deliver on protections for the environment, improvements in education, healthcare, gun safety, worker rights, and many more things that don't necessarily make the headlines but improve the day-to-day lives of Virginians.
What are your legislative priorities or issues that you want to focus on for your constituency?
Some of the key issues that I am continuing to focus on include the environment, education, transportation, healthcare, reproductive rights, and gun safety. In their most recent scorecard, I received the highest score from the  League of Conservation Voters for my legislative record on protecting our environment, being named "2022 Climate Champion."
I am working to promote clean energy and reduce our reliance on fossil fuels. It continues to be a top priority for me as a legislator to preserve our forests, wetlands, and wildlife habitats, and to work to reduce pollution and mitigate the impacts of climate change on our ecosystems. In terms of education, I believe that every child in Virginia should have access to a high-quality education, regardless of their background or zip code. I am working to ensure that our schools are adequately funded and that our teachers are well-supported, so that our students can receive the best possible education.
On the transportation front, I serve as the Chair of the Senate Transportation Committee, and I am committed to improving our roads, highways, and public transit systems. I am also working to continue expanding access to affordable healthcare for all Virginians. I support policies that promote access to comprehensive reproductive healthcare services, including contraception, safe and legal abortion, and prenatal care.
When people say the "Virginia Way" in terms of Commonwealth's ancient political ideology…what does this mean to you?
Sometimes people refer to the "Virginia Way" in terms of statesmanship and respectful treatment. It can be a way we balance the interests of our businesses, non-profits, public agencies, and our citizens in a transparent, thoughtful, and open process.
To me, it means more of a reference to the past, or the old way of doing things. I am proud to be one of the most Democratic and progressive members of the Virginia Senate, and that means being in tune with the constituents, businesses, and organizations of our community. If we can take anything from the "Virginia Way," it would be that we need to find areas of compromise across the aisle, because for each member of the legislature our responsibility is to work together to best serve the people of Virginia.
What do you see as the main issues affecting Virginia's transportation needs over the coming years?
When we organize our annual Transportation Conference, we always include sessions about what to expect in the future, and how we're investing in the technologies and infrastructure of tomorrow. Some of these issues are self-driving cars, electric vehicle infrastructure, public transportation, and equitable access for everyone. I will continue to focus on inclusive, renewable, and green transportation initiatives.
What are the key issues for Virginia's businesses?
What can we do to better support employers and employees in the Commonwealth? We need to make sure that employees can live near their workplace, so prevailing wages and affordable housing are important components. Virginia is a great place for businesses, and we also need to continue incentivizing a strong business climate.
As we improve our transportation infrastructure for electric vehicles, I want to make sure that Virginia partners with our auto dealers to promote EVs.
What was the first car or truck in which you learned how to drive?
A Chevy Biscayne.