Start of session and introduction of VADA's groundbreaking Franchise Protection Bills
2023 Session, Issue 1
January 16, 2023
Before we start, if you have not taken one minute to sign a letter to your state Delegate and Senator urging them to support our dealer franchise protection legislation, do so here and share that link with your team members for them to sign, too.
The 2023 Virginia General Assembly session convened on Wednesday, January 11 and kicked off with Governor Glenn Youngkin's State of the Commonwealth address.
The Governor noted Virginia has rebounded from job losses in the pandemic, and today 85,000 more Virginians are working than pre-pandemic times, placing Virginia in the top 20 states for job growth since the turn of the year. Still, states Virginia competes with most directly — North Carolina, South Carolina, Tennessee, Georgia, Florida and Texas — have not only recovered all jobs lost during the pandemic, but added a collective 1.3 million jobs, he said.
Democratic minority leader Del. Don Scott (D-Portsmouth), in response to Youngkin, honed in on lowering costs for hardworking Virginians, delivering a world-class education, and protecting freedoms for Virginians. To the last point, that is mostly around protecting the right to abortion and preventing rollbacks for a woman's right to choose.
Typically, the first week of a session is centered on assignments to various committees that cover particular topics – such as agriculture, energy, technology and, of high importance to dealers, transportation. The House and Senate Transportation Committees remain the same, with Del. Terry Austin (R-Buchanan) as House Chair and Sen. Dave Marsden (D-Burke) as Senate Chair.
A series of special elections last week not only maintained Democratic control in the Senate (Republicans control the House), but expanded the party's majority from 21-19 to 22-18. This came after Democrat Aaron Rouse picked up Republican Jen Kiggans' seat in the Virginia Beach area after she was elected to Congress last year.
Bipartisan support for Franchise Bills
House Bill 1469 (full text)
Patron: Jay Leftwich (R-Chesapeake); Chief co-Patron: Lamont Bagby (D-Henrico); Co-Patrons: John Avoli (R-Staunton), Mike Cherry (R-Colonial Heights), Nadarius Clark (D-Portsmouth), Buddy Fowler (R-Beaverdam), Chris Head (R-Roanoke), Clinton Jenkins (D-Suffolk), Kathleen Murphy (D-McLean), Chris Runion (R-Bridgewater), Kim Taylor (R-Petersburg), Vivian Watts (D-Annandale), Bill Wiley (R-Winchester), Scott Wyatt (R-Mechanicsville)
Senate Bill 871 (full text; identical to House version)
Patron: Scott Surovell (D-Mount Vernon); Chief Co-Patrons: John Cosgrove (R-Chesapeake), Barbara Favola (D-Arlington); Co-Patrons: Jennifer Boysko (D-Herndon), Emmett Hanger (R-Mount Solon), Louise Lucas (D-Portsmouth), Jeremy McPike (D-Woodbridge), Mark Obenshain (R-Harrisonburg), Dick Saslaw (D-Springfield)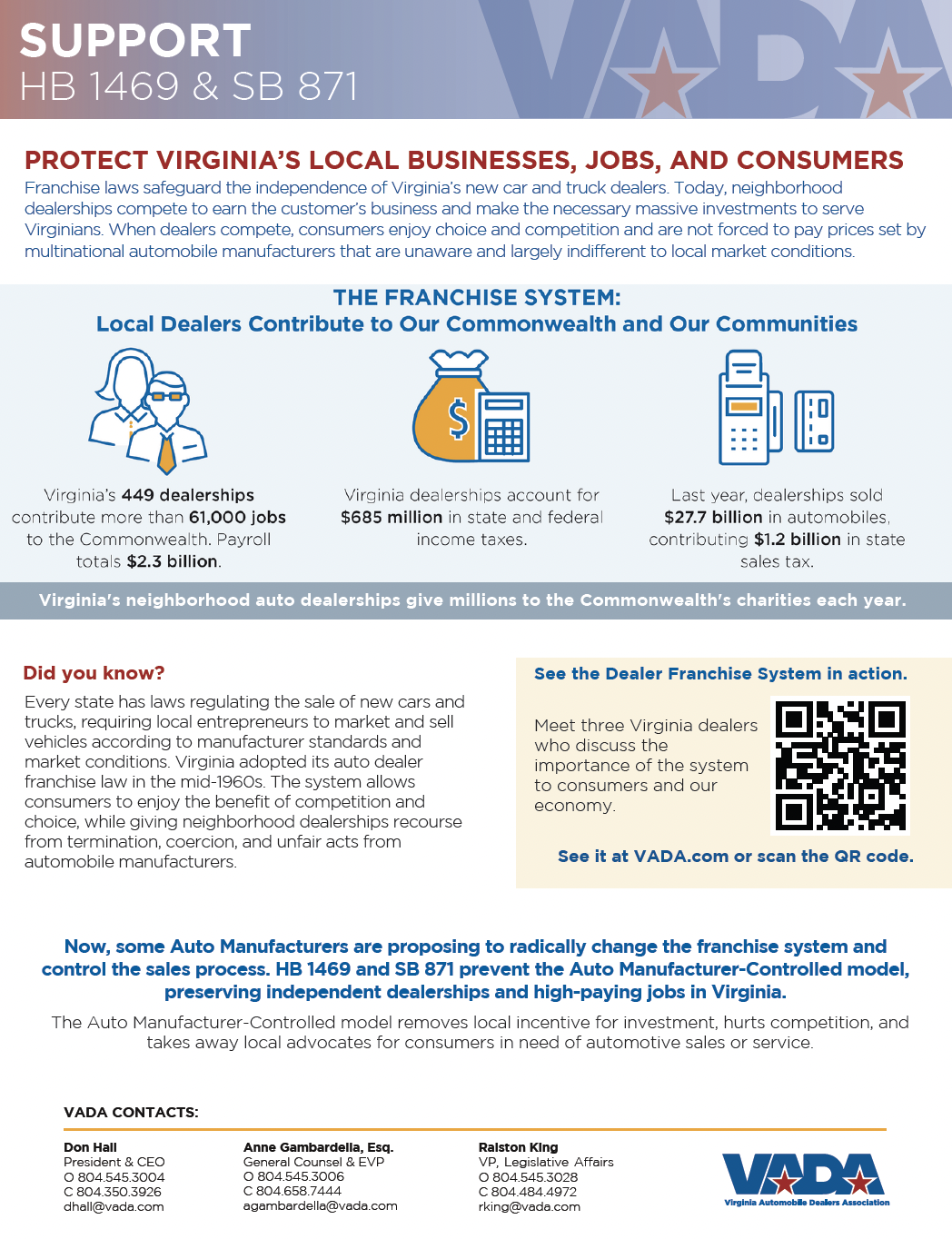 As you know, VADA is heavily supporting two identical bills: House Bill 1469 and Senate Bill 871. Our legislation enforces rights to the Virginia motor vehicle franchise system by prohibiting Auto Manufacturer-Controlled models (often called an "agency" model).
Our bills come as some auto manufacturers plan to control aspects of the sales process, using dealers as mere delivery agents. Our bills prohibit such behaviors in franchise agreements, continuing the current practices of dealers selling cars and trucks and offering financing options, extended service contracts, and ancillary products. The legislation also makes additional changes to strengthen the franchise system.
We spent a large chunk of 2022 in preparation for this session and have been meeting with legislators to stress the importance of the franchise system for consumer choice, lower prices, competition and jobs.
Even in the first week, numerous lawmakers from both chambers and both parties have signed on as supporters. We continue working to make sure both Democrats and Republicans join our growing list of co-patrons and supporters.
Our goal has been to hit the issue at multiple angles within current franchise law, and you can read how the bills work in our one-pager. The Auto Manufacturer-Controlled model would:
Eliminate inventory for customers to shop and only ship vehicles to dealers after a consumer buys
Eliminate financing and leasing options by requiring consumers to use manufacturer chosen sources
Eliminate choice of products to enhance ownership enjoyment by requiring products made or supported by the manufacturer
Eliminate competition over trade-in value
Eliminate competition over additional benefits like oil changes, loaners, and inspections
HB 1469 and SB 871 prevent the Auto Manufacturer-Controlled model, preserving independent dealerships and high-paying jobs in Virginia.
The House will review its bill on Tuesday morning at 8 a.m. in a House Transportation subcommittee. We expect the full Senate Transportation Committee to hear the bill on Thursday. Again, please send your representatives an email expressing support for the legislation. You can personalize the pre-written letter if you choose.
We will keep you informed of the bills' progress as the session moves forward. As always, it is a pleasure to serve the new car and truck dealers of Virginia.
Your VADA Legislative team:
Get weekly session updates to your inbox. Sign up to receive the Capitol Briefs newsletter.