A Message from Don Hall
September 2022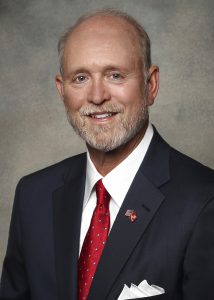 Leaders in any industry tend to believe our respective issues are some of the most pressing of the day, and we wonder sometimes why more people aren't paying attention.
But if the past few weeks are any indication, when it comes to EVs, the public and media are finally taking notice. In late August, California announced that by 2035, all new cars and trucks sold there would be zero-emission vehicles. Headlines exploded, as did our phone lines and inboxes from reporters statewide and across the nation.
Why? Last year, the Democratic-controlled House, Senate, and Executive branch enacted the Zero-Emission Vehicle (ZEV) program that is part of the California Air Resources Board (CARB) standards. States can choose to follow California or the less-stringent corresponding federal standards under the Clean Air Act. It's an either/or— we don't get to pick and choose.
Understanding the outcome of the vote, our position in support of California's ZEV program was not the traditional posture of dealer associations.
And we believe we charted the right course for Virginia dealers. Why? Auto manufacturers send most of their EVs to states with consumer incentives for purchasing, and to places where the manufacturer can earn federal regulatory credits selling EVs. States that have adopted and implemented ZEV standards are in a stronger position to receive EVs consumers want to buy. For VADA, supporting CARB is a business decision.
We would not have been in the position to affect the EV issue more broadly had we gone a different direction. We drove home the point to legislators that much more investment is needed on many fronts to make EV adoption in Virginia successful.
Yet the Virginia budget to actually implement CARB's ZEV program included no state funding, nor direction to actually meet the standards. It is certainly possible for Virginia to get out of CARB and move to the federal rules. But this would mean that Virginia, as a non-CARB state, would not receive the same volume of EVs from manufacturers as in CARB states. Then we run the risk of having less internal-combustion engine vehicles as their production declines, and even fewer EVs since CARB states get them first.
Virginia's new car dealers are embracing the EV future. Furthermore, most auto manufacturers have made it clear that they are committed to phasing out gas-powered engines over the next 15 years — indeed, 2035 is the year many plan to stop making gas engines. States that continue to fight EV standards and fail to embrace these new machines will be the last to receive them on dealer lots. It will hurt sales, state taxes, and the people who work in dealerships.
If Virginia is serious about being a leader in EVs, there must be bipartisan agreement to fund the necessary policies for the successful implementation of either California or federal standards — or risk losing significant business and state revenues to competing states.
Interest in EVs has arrived – from dealers, from manufacturers, from media, and increasingly, from consumers. Let's make sure Virginia is in the right position to win in the coming EV revolution.