Reg and title solutions for saving money
July 14, 2022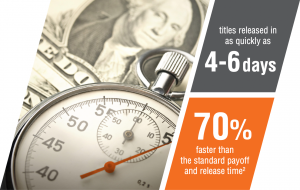 Surging consumer demand has recently led to record profits for dealerships despite the pandemic and chip shortages. However, we've seen a decline in sales over the past few months. According to Cox Automotive's recent auto weekly summary from Jonathan Smoke, consumer confidence declined in May, in part due to higher gas prices and inflation. As a result, fewer consumers plan to purchase a vehicle in the next six months.
Reducing back-office operational expenses can help dealers keep cash flow moving and prevent plateauing car sales from minimizing profitability. Electronic registration and title solutions have demonstrated the ability to ease unnecessary operational costs in two key areas:
1. Holding off holding costs.
Inventory holding costs of $37 or more each day per vehicle1 can rapidly erode profits. With your sales team working hard to match inventory with your customers' increased demand, registration and titling delays may cause sold vehicles to sit on your lot longer and continue racking up holding costs. An electronic registration and title solution helps your back office complete transactions online and submit them in real time to the DMV, helping inventory move off the lot as quickly as possible.
But what about those trade-ins? A manual payoff and lien and title release process takes 12-18 days on average.2 That can add more than $650 in holding costs for every vehicle. Now multiply that by the average number of trades you take in each year and think about how much inefficient, manual processes are costing you in overhead.
A digital trade-in titling solution enables titles to be released in as quickly as four to six days. That's 70 percent faster2 than the standard payoff and release time, so you can sell trade-ins faster and funnel cash back to your bottom-line.
2. Transform the paper trail.
Manual processes can be surprisingly expensive. From paper forms and copies, to copier ink and toner, you're looking at significant money out the door every month.
When you transform the paper trail to an electronic process, you practically eliminate those expenses, plus you also save on purchasing and maintaining printers, copiers and fax machines.
At the same time, you eliminate the need for postage, shipping, or paying to send a runner to stand in line at the DMV. Think of how all of these savings add up!
The speed of savings.
Digital solutions such as Dealertrack eliminate manual registration and title processes, so you can speed deals and save on back- end operating costs.
Content provided by VADA partner Cox Automotive and Dealertrack.