The holiday season arrives after a year of success
More opportunities are on the horizon in the coming year
December 2021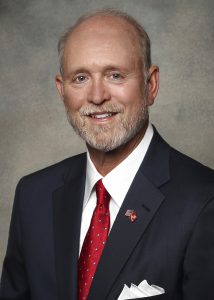 The holiday season is once again upon us offering an opportunity to celebrate the resilience and success dealers have shown through another year of challenges.
This pandemic has peaks and valleys, but one thing that's held steady is the resolve of Virginia's auto dealers to keep their businesses running, their staffs employed, and their customers on the road.
This season is a chance to pause and reflect on the reasons we are in this business and the people we provide for. It's time to share with family and friends as we take in the joys of the holidays and treasure festive moments shared with those closest to us.
Some of you celebrated Hannukah earlier this month, and Christmas is just around the corner. From all of us here at VADA, we wish you and your family a safe and joyful holiday season as you gather with loved ones.
As we take a moment to reflect during this special season, let's be thankful for all we've accomplished together. We are truly fortunate.
Despite COVID-19, a global chip shortage, tight inventories, and everything else we've come up against in the last two years, many dealers have still enjoyed some of their largest profits ever. They've adapted and thrived despite the historic hurdles they've faced.
Our dealers innovated, brought cars to customer homes for test drives, and hashed out socially distanced deals outside in the lot or on video calls. Through it all, they've kept our industry moving forward while VADA ensured our stores could stay open as dealers in other states shuttered. In this newsletter, we're also sharing some of the ways our dealers have continued supporting their communities in recent times. We want to continue to highlight these efforts, so if you have acts of community service to share, email us at jkelley@vada.com.
And we're about to enter the New Year with all the opportunities it brings.
December is a busy time at VADA. It's a key month when we prepare for the coming General Assembly and strategize on how to deliver an agenda that provides pro-business policies that keep us on the road to success.
And we need dealers are going to come along with us for the ride. Don't forget our annual Dealer Day at the Capitol is coming up on Jan. 19. This is your chance to come tell your elected officials how they can help your business and your customers.

We'd like to get at least one representative from each dealership to attend us as we push for policies that help foster an environment here in Virginia that allows our businesses to flourish in 2022 and beyond. We'll have a full agenda on Dealer Day, which runs from 8 a.m. to 5 p.m. Please join us.
One of the many things we should be thankful for this holiday season is that we have an association like VADA to speak for our industry in the halls of government. We can't serve that role without the tremendous commitment and sacrifice from the VADA staff.
They strive every day to help our members any way they can. Our staff listens to dealers about what they need and provides insight into the rules and regulations impacting their stores.
They are in your corner, and I am thankful for each and every member of our staff.
Let's go celebrate this season and take a moment to rest as we prepare for the challenges ahead. I'm wishing you and your families happy holidays and best wishes for a prosperous 2022.