November 3, 2021
Youngkin scores upset in close governor's race, GOP secures wins across Virginia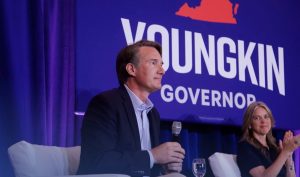 As you are aware, Republican
Glenn Youngkin
(50.67%) pulled off an upset to become the next Governor of Virginia, defeating Democrat
Terry McAuliffe
(48.64%) in the 2021 Virginia gubernatorial race. McAuliffe conceded defeat to Youngkin on Wednesday morning.
Youngkin was able to defeat the former Governor in a state President Biden won by 10 points in 2020. The political newcomer was able to make major gains among suburban voters and continued to attract the overwhelming backing of rural voters.
Republican

Winsome Sears

(50.82%) defeated

Hala Ayala

(49.08%) to become the first woman of color Lieutenant Governor
Republican

Jason Miyares

(50.49%) snuck by incumbent Attorney General

Mark Herring

(49.43%).
"Together, we will change the trajectory of this Commonwealth," Youngkin said in a speech to cheering fans at 1:30 a.m. "And friends, we are going to start that transformation on day one. There is no time to waste. Our kids can't wait. We work in real-people time, not government time. So on day one, we're going to work. We're going to restore excellence in our schools."
A closer look at the new General Assembly:
The House of Delegates appears to have flipped from a Democratic majority of 55-45 to a 52-48 Republican majority. House Republicans were outspent 2 to 1, and this is the first election where Republicans netted House of Delegates seats in Virginia since 2013. House Democrats netted a total of 22 seats over the last 3 election cycles.
Republicans were able to maintain all incumbent seats that looked to be highly competitive in the suburban areas. Roxann Robinson (R-Chesterfield) secured the House District 27 by almost 1,500 votes. A Democratic leaning seat in Colonial Heights previously held by Republican Kirk Cox stayed in the hands of Republicans with Mike Cherry defeating Democrat Katie Sponsler. The Virginia Beach seat previously held by Republican Jason Miyares was a hold for Republicans with Anne Ferrell Tata easily winning by 19%. Former Delegate Mark Cole out of Spotsylvania retired this past year and a 17% victory by Republican Phillip Scott was secured. Additional new members include Republican Wren Williams who easily won a southside district west of Martinsville and Marie March who won House District 7 that covers parts of Floyd, Montgomery, and Pulaski Counties.
Blue seats that were expected to be competitive ranged from Hampton Roads to Blacksburg. An early call last night was House District 83 that covers Virginia Beach City and parts of Norfolk City. Democratic incumbent Nancy Guy lost to Republican Tim Anderson. Democratic incumbent Alex Askew represented Virginia Beach City in House District 85, and he was ousted by Republican Karen Greenhalgh. A surprise election result in House District 91 that covers York, Poquoson and Hampton saw Republican A.C. Cordoza defeating Democrat incumbent Martha Mugler by a little over 200 votes. A  potential recount could occur given that the margin of error is below 1%. Moving over to the rural 75th district on the southside of the state, Democrat Roslyn Tyler was defeated easily by Otto Wachsmann. Another surprise took place with Democrat Lashrecse Aird losing to Republican challenger Kim Taylor in a district that covers Petersburg City as well as parts of Dinwiddie and Chesterfield Counties.
Democrat Chris Hurst, a member of the House Transportation Committee, was defeated by Jason Ballard by more than 2,000 votes in a district covering areas in and around Christiansburg and Blacksburg. One final upset took place in a district east and north of Fredericksburg where Democrat Joshua Cole lost to Republican Tara Durant by about 700 votes.
VADA Needs YOU
We're looking forward to working with the Governor and new members of the General Assembly. We know there will be a new Speaker of the House, and the House Transportation Committee will change in terms of leadership and makeup. We have important policy measures and relationships to forge — and those start with you.
We encourage you to reach out to your newly elected officials or contact Ralston King (rking@vada.com or 804.484.4972) for visits. An important day where we expect attendance is Dealer Day at the Capitol on Wednesday, January 19, 2022 in Richmond. Mark your calendar now.
Our legislative platform evolves, and we will be looking for opportunities to advocate for issues that are most important to our members and their businesses. We'll keep you informed and updated every step of the way. As always, it is a pleasure to serve the franchised new car and truck dealers of Virginia.