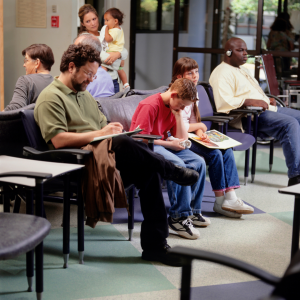 If you provide entertainment in your dealership's showroom or service waiting areas, whether it's film, television, or just music, you may be required to obtain a license.  Federal copyright laws require that a commercial establishment which rebroadcasts or publicly performs entertainment to obtain a license. The licensing requirement applies whether you are showing DVDs, streaming, using a cable or satellite service, or even just playing the radio.
As dealerships are considered public under the U.S. Copyright Act. Most dealerships, but not all of them, are required to obtain a license to provide entertainment for customers.
For the playing of copyrighted musical content, a license is required if the dealership has interior space of more than 2,000 gross square feet and broadcasts are shown on more than 4 screens total, or more than 1 screen in any room, or on any 1 screen that has a diagonal size greater than 55 inches, or sound (including radio) is broadcast on more than 6 speakers or more than 4 speakers in any room.
To play audiovisual works (including film and TV), a license is required unless an establishment meets a narrow exception.  While there is no square footage test, an establishment may be exempt from the licensing requirement if showing works on only one television set on a TV that's the type commonly used in private houses and that TV is transmitting over-the-air broadcasts (i.e. not any cable/satellite channels, streaming services, DVDs, or other downloads). That one television set cannot have any enhancements, such as a commercial sound system, and the physical and commercial size of the dealership may factor into whether this exemption would apply.
A license is relatively cheap (typically several hundred dollars a year).  If you have a commercial account with your provider (cable or satellite company), some of the content (particularly some news and sports programs) may be licensed for public performances, and the fee for such license may be included as part of the commercial package's cost.  However, the majority of film and television content that would be displayed on a dealership's screens would require an additional public performance license from a licensing organization.
You can arrange to obtain a license by contacting:
Audiovisual:
MPLC (Motion Picture Licensing Corporation) at MPLC.org; 800-462-8855.
Music:
Broadcast Music, Inc. at BMI.com.
American Society of Composers, Authors and Publishers at ASCAP.com.
SESAC, Inc. at SESAC.com.