Landon Dalton began working in the dealership world as a teenager and plans to have a long future in the business
Land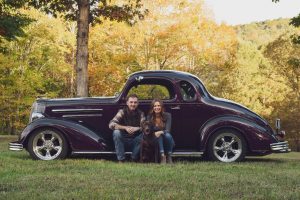 on got started early in the auto business as a teenager, doing detailing work on vehicles at Terry Volkswagen Subaru in Lynchburg.
Landon is still part of the team at Terry Auto Group, which also runs two other stores in Lynchburg and another in South Boston. He works there as a sales associate with his father Mark Dalton, a VADA board member who is the Terry Auto Group's general manager.
Over the past decade at the dealership, Landon has gone from detailing cars, to fixing cars, to selling cars.
So Landon already had plenty of insight into the car business before he took automotive dealership management classes at Liberty University. He takes a lot of pride in his work, and he hopes at some point to run the dealership.
He graduated from Liberty last year with his bachelor's degree in business administration, and in September he and his fiancé Caroline Mays are getting married.
He is part of the group of younger VADA members who take part in the association's NextGen program for up-and-coming professionals in the dealership world.
We spoke with him recently to get his take on where he sees the industry heading in the future.
What did you learn from Liberty's dealership management program?
It's basically learning how to run a dealership. It's a series of five classes and then two internships. You do one internship with Hendrick Automotive Group in North Carolina and then another with any dealership of your choice, so I came back home for the second one. We dealt with a lot of mock problems in class — whether it was customer or dealership issues. We had to create our own dealership and basically write a business plan and present it by the end of the class.
I've kind of grown up in the car business, and I've been in the dealership here when I was a kid and coming here hanging out with Dad. I've heard a lot of dinnertime conversations about it. I had a little more experience than most of the other students in the class, but I still learned a lot and got a lot out of it. It's a really, really neat program. The biggest thing I got out of it was different viewpoints and opinions from a totally different group of people on how they run their dealerships. It really opened my eyes.
What has the last year been like for your business amid the social distancing and mask regulations?
When I started selling cars full-time, we got dropped right into the middle of COVID. So the last year has been anything but normal. But it's been kind of an interesting ride. The mask mandates took some getting used to. With shaking hands and close interactions with people in the office and test drives, we adapted as we went along and changed some things. We let customers go on test drives on their own, and we worked car deals outside where people are more comfortable and safer.
Then, within the last three or four months, this whole microchip shortage that every dealer has been faced with has really thrown a curveball at everybody. That's another little bump in the road that we had to kind of get through. I hope that is slowly starting to correct itself.
How has the microchip shortage impacted your business?
Normally, we have approximately 65 or 70 new Subarus on the lot. And just last week, we had six new Subarus. With Volkswagen, the inventory shortage has not been quite as affected. But in the used car market as well, it's no secret that used car values have been extremely high lately. We're not able to buy as many cars at the auction as we normally acquire. It's definitely affected new car and used car inventories. I feel like we have done really well managing that and keeping our inventory as full as we can.
What do you think it's going to take for the next generation of car dealers to be successful?
It's obviously a customer-focused business, and without customers we wouldn't be here. For anybody my age or younger coming into the business, I think it's going to take extreme customer focus and attention, especially with Carvana and all these, basically, car dispensaries that will deliver a car while claiming to make the process pretty easy. As car dealers, we have that capability of making it really simple. It's just a matter of salespeople like myself delivering cars to customers.  I think it's going to take a lot of customer attention and focus and a white glove treatment, whether it's in sales or service.
What are some of the challenges that dealers are going to face in coming years?
Finding employees who will make the car buying process as simple for our customers as possible. I think that may be a challenge.
Also, I don't think our infrastructure is quite ready for electric vehicles, especially in our area. We're not a very large town or large city. At least in our area, I don't think the customers are quite ready for it and have embraced it yet. I think it's going to take some more technology changes and improvements before everyone starts to embrace it a little more.
What value does VADA provide for dealers?
They're phenomenal. That's something Dad always said to me growing up was how crucial the VADA has been and what they do for dealers. Especially within the last year working full-time in the business and attending some of the VADA conventions and meetings, it's been really cool to see all they do for dealers. They are the voice for all dealers in Virginia, and they fight for all dealers.