A tribute to Senator John Warner, an advocate for dealers
And a warm welcome to our in-person convention
June 2021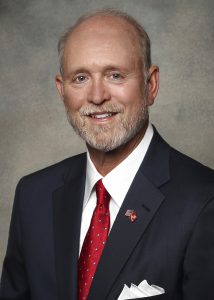 Many years ago, we hosted a meet-and-greet luncheon on Capitol Hill in Washington. Virginia senator John Warner could not attend, but promised me he'd stop by and say hello.
At one moment in the event, we all turned to a booming, William Wallace-like address from the doorway. There, the senior Republican senator known for his overtly patriotic exclamations shouted into the room, arms raised:
"My friends! Your home is your castle. Your automobile is your freedom. God bless the dealers of Virginia. So long my friends!"
And he kept on walking.
In the 70s, when Warner ran for the U.S. Senate, VADA held a fundraiser at our historic headquarters on Grace Street. He attended with his wife at the time, actress Elizabeth Taylor.
We enjoyed a long and healthy relationship with the senator, who passed away in May. He advocated for our dealers and helped enact pro-business legislation nationwide to the benefit of Virginia's economy. He was a noble statesman, a unique personality, and a go-to leader who was liked by both Democrats and Republicans. We send our condolences to his family.
June is a special month for VADA: our first in-person Annual Convention since 2019, which is being held June 24-27 at The Homestead. After a year-and-a-half of COVID-19, the vaccine and basic precautions finally have given us a chance to get together again. Members will be able to enjoy the Homestead largely free of the necessary but drastic restrictions that challenged our businesses over the last 15 months in ways never before seen.
If we all learned one thing over the last year, it is that we must take care of our people and evolve our operations if we as an industry are to survive. Employee loyalty and transforming our businesses to meet the demands of the customer is the only way we will bring them back time and time again. Attendees will hear from many great speakers who will hit on these principles and offer their expert insights on the future of automotive retailing. We will gain new perspectives and ideas on how to prepare your stores for the coming wave of innovations, disruptors, and next-generation vehicles. For those who do not attend, we will make many of these presentations available online at a later date.
I also want to thank our sponsors for standing by VADA over the last year and supporting this convention with their financial support. If you are attending the Convention, be sure to give them your time in the exhibit hall. If not, be sure to see the long list of VADA supporters on our Convention page. Please give these companies your time, and, where possible, your business.
This has been the most challenging time in the history of our industry. Even still, we should all consider ourselves lucky and fortunate to work as an auto dealer in Virginia in an industry that has blessed us all with so much.
Don Hall
President & CEO
Virginia Automobile Dealers Association