Looking back — and mostly forward
Winning every day for VA's dealer body
May 2021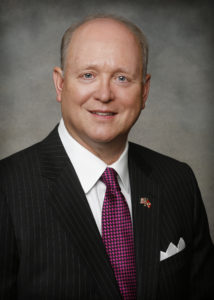 In the car and truck business, dealers live month to month. But at VADA, part of our job is to think months and years ahead — which, with your support, allows you to keep the focus on your daily operations.
As we reach the light at the end of the pandemic tunnel and prepare to gather in-person again at the Annual Convention next month, I want to take a moment to remind everyone of where this Association succeeded on your behalf. Over the last year, we have:
Pushed Virginia to allow sales and F&I to remain open alongside the "essential" service department. Ensuring service departments were designated as essential and that sales could, at the very least, remain open, was arguably our greatest of many wins over the last year. This allowed you keep your focus on meeting health and safety guidelines and simply keeping the lights on and people employed. Virginia, unlike some states, allowed businesses and dealerships to remain open provided that no more than 10 customers were on the sales floor at any given time. We continued to push Gov. Northam to loosen restrictions. Businesses must continue to adhere to workplace safety requirements as well strict physical distancing guidelines, signage requirements, cleaning, and mask-wearing. Stay tuned for more information as those requirements are eased over the coming months.
Fought for COVID-19 civil immunity for businesses. Imagine a customer or employee alleges they were exposed to or contracted the virus at your dealership. Virginia bills considered last year would have protected businesses from civil liability from such claims. However, language in one of the bills would have required businesses, including Virginia dealerships, to demonstrate "substantial compliance" with all COVID-19 laws and regulations in order to be immune to civil liability as a defense. This substantial compliance standard could have allowed a court to find a business liable for the smallest, most technical violation of the law. Ultimately, no bill passed, but we expressed support of a measure that would inspire further compliance with laws thoughtfully designed to protect people from COVID-19 but that, at the same time, provide a fair protection for businesses that have worked incredibly hard to create healthy and safe environments for their employees and customers.
Kept you informed. Our government affairs, legal, and communications teams worked long and odd hours to keep the dealer body appraised of both state and federal regulations and guidelines impacting dealers. We maintained a COVID-19 resource page at www.vada.com/coronavirus and listened to many state and federal conference calls, webinars and other informative sessions so that you didn't have to.
Pushed back. While there were no anti-dealer bills in the 2021 General Assembly, there and remain business issues in Virginia where VADA is involved with other pro-business groups.  We are directly involved in Right-to-Work repeal discussions and we have pushed back against bills that would allow for state class-action lawsuits in Virginia, which would negatively impact your business.
Pushed forward. In ways, the pandemic was the kick dealers needed to accelerate changes to the way they do business to take advantage of technology. Due to restrictions and consumer fear over being out in the world, you ramped up your online sales and digital tools, showing disruptors in the industry that we can play that game, too. Meanwhile, Virginia led from the front to open our doors to EV adoption across the Commonwealth. There is much work to be done to improve upon a package of EV bills passed in the General Assembly, but the foundation is there. These bills are green not only for the environment, but for your bottom line. EVs are coming. Virginia will embrace them.
We left '20 in the dust and entered '21 better than expected, and many dealerships that rose to the challenge experienced one of their best years ever. The pandemic has raised concerns about the future for franchised dealers, but no one has been more resilient than our industry on the challenges we face. No group of retailers — and we are the largest body of them in Virginia — is more cognizant of the need to satisfy their customers and keep them coming back. It is this commitment that will keep you at the forefront of retail distribution of motor vehicles.
Now is the time to give to the Virginia Auto & Truck Dealers PAC.
The results of the Republican convention are in, and Glenn Youngkin, Jason Miyares, and Winsome Sears are on the ballot as candidates for governor, attorney general, and lieutenant governor. The Democratic ticket will be decided in a primary election on June 8.
VADA has always supported candidates on both sides of the aisle: pro-business, pro-dealer individuals. We also give in ways to ensure we can succeed in passing our own legislation and defeat those bills that could harm your livelihoods.
Elections have consequences. Protect your business and this industry that has treated you and your family so well. Now is the time to give to the Virginia Auto & Truck Dealers PAC.