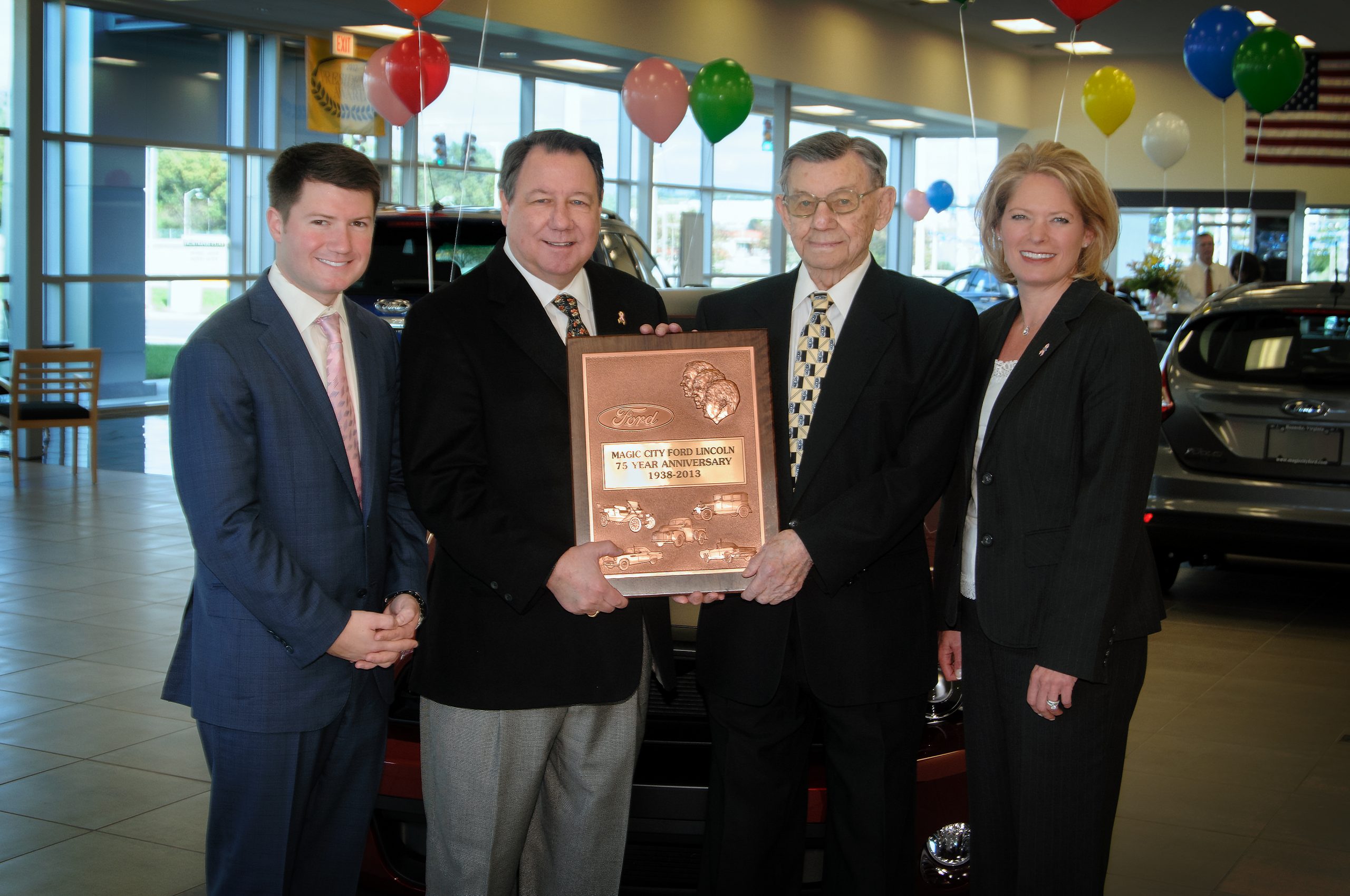 From Beanie Babies to electric vehicles, Magic City Ford Lincoln's Cameron Johnson knows how to close a sale
As Chairman and CEO of Roanoke's Magic City Ford Lincoln, Cameron Johnson is running the business that's been in his family since the 1930s.
But long before selling cars and trucks, Johnson got his first big break in the business world selling another product that very much in demand: Beanie Babies.
As the country was in the grips of a mid-1990s Beanie Baby collecting craze, Johnson sensed opportunity. At the age of 12, he started selling the plush bean-stuffed animals on eBay. Business took off, so he wrote a letter to Beanie Baby manufacturer Ty Inc. asking and receiving permission to buy Beanie Babies on a wholesale basis for his budding business. He earned so much money ‑ $50,000 in a year – that the elementary school student had to file his taxes like any other business.
In the decades since, Johnson's business success has extended well beyond selling the plush collectibles. He started another company selling advertisements through an email service, and his business ventures didn't end there. By the time he graduated high school, the entrepreneur, author and car dealer had started 12 profitable businesses. He says the art of making the sale is in his blood, since his great grandfather Harry Johnson Sr., began selling Model-Ts in 1925 before starting Magic City 13 years later.
Cameron rose through the ranks at the dealership and wrote his book "You Call the Shots" before becoming a cast member on Oprah Winfrey's 2008 show "Oprah's Big Give." He moved to Los Angeles in his early 20s but returned to his Southwest Virginia roots at the dealership in 2010.
Nowadays, Johnson oversees Magic City Auto Group's four stores — the Ford Lincoln dealership in Roanoke, a Chrysler Dodge Jeep Ram store in Covington, another Ford Store in Lexington as well as a Chevrolet, Buick, GMC store in Covington.
Where did you just get the idea to start selling Beanie Babies?
My sister had a collection. She was six years younger than me. I said 'I'm going to take a risk.' I bought her Beanie Babies, and I put them on eBay, her little collection of maybe 20 or so. They sold for $1,000 in five days or so. I was like, 'Well, clearly I'm onto something.' That's what prompted me to write the letter to Ty to basically become a retailer to be able to buy them wholesale.
My family's always been in the car business. I always had sales genes in me. Even when I was in the Boy Scouts, I would sell popcorn. I would go door-to-door, and I would always be a tough salesperson and try to get ranked nationally selling the most popcorn. I had my dad bring me to the dealership and try to hustle every employee and get them to buy popcorn.
How did you eventually start selling cars at Magic City?
I never saw myself coming into the car business because I was always like, 'Oh, I'm a tech entrepreneur.' But in reality, I always had an affection for, not just cars, but also the people at our dealership and the customers and the sales process. At 19, I became our used car manager. At 21, I became the general sales manager.
I left the car business, and I moved to L.A. I did a TV show with Oprah called "Oprah's Big Give." I traveled the country for three months doing charity-type work, which was a super rewarding experience.
Fast forward to 2010. The car business had just two terrible years in 2008-2009 during the Great Recession. I was kind of done with L.A. I knew I'm not going to raise a family in L.A., I'm going to be back in Virginia. Virginia is where all my friends and family are. I came back in January 2010 as our general sales manager, the same position that I left. I then basically built the business back over what has been a great 10-year run. In 2011, my dad promoted me to president of the company. I bought out all our shareholders.
What trends do you see that are having the most impact on car dealerships now?
What COVID really did, which dealers I think will look back on and see as a blessing, was it advanced every dealer — at least the smart ones — probably five years as far as becoming virtual and having the ability to sell online. Especially in shutdown states, dealers were forced to sell by appointment or online or by delivery to the customer. That is Carvana's whole message or Vroom or any of these online retailers. I think there's no reason why every dealer cannot be an online retailer and have the leverage that 20,000 car dealers have. Our inventory, collectively, is a heck of a lot more than Carvana's. I think the dealers that get smart on online retailing will be the ones that survive, and they'll be the ones that thrive. I think our best years are ahead as long as you are prepared and see all the changes that are coming.
What would be your business advice to someone who wants to run their own dealership?
Learn every aspect of the business because a successful car dealer is really running five businesses. We're running a parts department. We're running a service department. We're running a new and used vehicle department, which do operate differently, and then potentially we're running a body shop.
I was always taught to obviously take care of the customer, but to also be strong in service and parts. If sales are down in a particular month or particular year or if a manufacturer goes through three or four years of maybe ugly designs, your service and parts will keep you going. I think the dealers that only focus on sales are short-sighted. You really need to know all aspects of the business. Someone who wants to get into business or somebody who wants to be promoted and run a business, you've got to know that you're multiple businesses. At the end of the day, my dad's always said 'We're not in the car business, we're in the people business.' That's taking care of our people, and obviously taking care of our customers.
Are you eager to have your dealership sell electric vehicles?
We're super-excited that the Ford Mustang Mach-E just came out less than 60 days ago. I've had the chance to drive it. I love it, and I wish I was driving one right now, but they're selling the day they come in which is a great problem. They're selling too fast for me to have a demo. Ford, General Motors are definitely committed to the EV game. We're committed as a dealership.
Our Chevy store is spending up to $200,000 making our dealership EV compliant. That means charging stations, but it also means all the service tools. These batteries are really, really heavy, so you've got to have equipment that can lift the battery out of the vehicle if you have to replace it.  You obviously you have to spend money training your people. We're investing all this money even though the sales are going be very minimal in the beginning. But we signed up to become a Hummer dealer, and they've got the exciting new Hummer electric truck and the Hummer electric SUV. We're super-committed to EVs, and Ford's got the electric F-150 next summer, and we've got electric transit vans. We're excited. I don't really care how the vehicles are powered, whether it's a gas combustion engine or whether it's electric. We just want people to think of Magic City as being their transportation source.