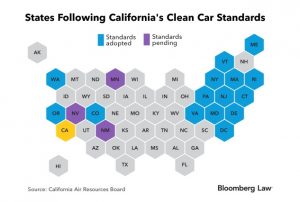 Bloomberg Law in a recent article highlights how Virginia is one of several states that have pushed ahead with adopting California's more stringent emission and electric vehicle standards.
Minnesota, New Mexico and Nevada are also among the states that have sought tougher greenhouse gas emissions standards at a time when there's yet to be a national standard embraced by the White House, Bloomberg Law notes, adding that proposed rule making on a national standard is expected by July.
Our President and CEO Don Hall told Bloomberg that clear standards keep automakers from juggling a patchwork or rules across the U.S. and overseas.
The whole article is worth a read. You can find it here.