Springtime for Dealers
With the vaccine rollout and lifting restrictions, optimism is in the air.
March 2021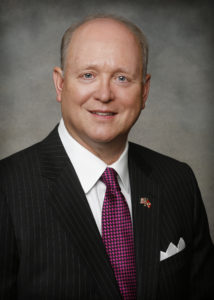 The days are longer, brighter, and getting warmer. The COVID vaccine rollout is in full swing, and restrictions on our nation and businesses are slowly lifting.
As a dealer and an American, there is much to look forward to these days, and many reasons to have a renewed sense of hope.
I write this column nearly one year to the day that the COVID-19 pandemic began. The last 12 months have caused us to redesign our priorities in life (and if you haven't re-evaluated your priorities, I have some questions for you). Many have lost loved ones, and were unable to mourn at funerals. We have all missed weddings and birthdays and important family events. I, like many, am looking forward to closing Zoom for a while.
We've learned a lot about ourselves, our families, the people who work for us, and the health and direction of our nation.
I look ahead to growth and innovation in the automotive industry. The first few months of the pandemic saw very difficult times for members. Sales slowed, and were down overall for the year. But as we know, 2020 was one of our members' most profitable years ever thanks to the second half's high demand (once many consumers figured out how to live in a pandemic) and low supply from shuttered factories. Don't expect that ride to last, but enjoy it while you can, and invest where you believe important.
But this era has also given dealers the swift kick they perhaps needed: the variable side was forced to innovate rapidly in order to survive. Dealers expanded and improved the online buying experience, created virtual tours, implemented drop-off and delivery and "hood of the car" paperwork.
Fixed operations have risen to the challenge after many quiet months in the bays. We have concerns about the aging employee population in the parts and service area, and are working with our friends at Priority Automotive to bring more young people into this world as service technicians (want to help? Reach out). Talent requirements will also expand over the next decade, requiring more IT-type skillsets as computers become the engines of electric vehicles. The return of Virginia Dealer University next month in Richmond will offer a look at the trends in FixedOps. We invite you to join us, with proper precautions in place.
The good news for fixed and variable ops, however, is that schools are reopening. People are slowly returning to work and beginning to travel. More cars on roads means more cars to repair. Dealers report to us normal, if not higher than normal, service activity while maintaining social distancing and managing quarantines for COVID-impacted employees.
We look ahead to Virginia elections, as we are one of only two states (the other being New Jersey) with statewide elections. We will see elections for Governor, Lieutenant Governor, Attorney General, and all 100 seats in the House of Delegates. Expect national money to be spent in Virginia at record levels as Republicans seek to take back control of the House and Executive Branch and Democrats look to defend their majorities.
VADA supports pro-dealer, pro-business candidates and we give on both sides of the aisle. While money does not buy votes, it gives you the opportunity to tell your story.
Next month, look for interviews with attorney general candidates Jay Jones (D) and Jason Miyares (R). The attorney general position is the most critical position for us as dealers. The AG and its network of deputy attorneys advise agencies including the DMV and Motor Vehicle Dealer Board as those regulators make decisions that govern our world. These legal actions impact the buying and selling of vehicles and can ensure our customers have a great and wonderful buying experience. We seek an attorney general who can apply the law, as it is written, and is open minded, makes fair decisions, and makes sound appointments. There is no place for politics in law.
We are monitoring federal and state issues that have F&I in the crosshairs.
In Washington, D.C., the new administration, through the Consumer Financial Protection Bureau and Federal Trade Commission, are likely to propose restrictions on F&I that could impact the overall profitability of this critical department (where I got my own start in the industry).
Meanwhile, Illinois' legislature passed an all-in interest rate law, which puts a max of 36% APR on all consumer loans. We expect to see similar proposals come to other states, Virginia included. You're probably saying, "Well, we don't come close to 36%." But the way the all-in formula works, however, is that you must factor fees for additional products into the rate: finance charges, voluntary service agreements, GAP, and much more. Disclosing this high APR to the customer will cause issues, even where the rate is below the prohibited 36% — and many of them to walk. This policy is similar to that in the Military Lending Act, which also capped the rate at 36%. You may recall NADA and VADA both opposed the changed interpretation of the MLA and were successful in being able to offer GAP to military members. This is a very complicated issue, with many possible pitfalls.
We will keep you informed as we learn more.
We look forward to the return of the VADA Annual Convention, June 24-27 at The Homestead in Hot Springs, Virginia. With the vaccine availability, there's no reason to believe that we should not be able to gather again, so long as the Commonwealth no longer has restrictions that would prevent our large gathering. The Convention is a go, and we have a great lineup of speakers. Register here.
Finally, VADA and the entire dealer body remember the life of Hampton Roads Automobile Dealers Association leader and my friend Sean Brickell, who passed away suddenly this month at age 69. Over the years, Sean was critical to helping VADA pass state legislation that benefitted dealers, as well as helping us defeat anti-business, anti-dealer bills that would have harmed the livelihoods of dealers and their employees. More important, Sean was loved by his family and his community of Virginia Beach, especially in its music scene. Be sure to read Sean's obituary here.
I end this column with the note about Sean because his loss is a reminder that life is short and we all must live every day to its fullest. At work, treat your people and your employees as your greatest assets, because they are. Ensure the greatest possible customer experience and work hard to keep great talent. And recognize that life can end suddenly and you must make sure others you care about know just how valued they are.
And as the world opens up and things get back to normal, be sure you stay grounded in those realizations we have all experienced over the last year about what is truly important in your life. We'll see you soon.