This is one in a series of profiles of VADA and Integrum Advisors team members. With these profiles, we ask them to share a story - funny, touching, insightful, or meaningful. Here's Natalie Toler, director of meetings, director of membership, and PAC coordinator at VADA.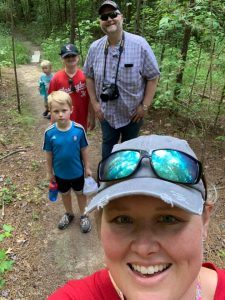 Working at the front desk, Natalie Toler was welcoming guests at The Greenbrier, the luxury resort in West Virginia. Before she knew it, she was in an ambulance – the fog was too heavy for helicopter transport – weaving and racing through the mountains to the University of Virginia Medical Center.
There, physicians told the then-24-year-old that she had suffered from a stroke. And they couldn't say why – not at that moment, not even now despite countless numbers of tests. The only discovery was in her heart where she has a small hole, so minute that surgery hasn't been warranted.
Over the next six months, Natalie learned again how to walk, talk, and master daily tasks, such as buttoning her shirt. The experience changed her in more ways than one.
During her rehabilitation in Richmond, she worked diligently to reclaim that previous life. Progress came steady, but never fast enough for her. One time, her speech pathologist asked her to name three gemstones. Naming two was a cinch, but she couldn't even remember her own birthstone, emerald. "It was frustrating, but I got through it," Natalie says.
"That changed who I became, and why I'm a little more reserved than I was before," she said. "And people who knew me from before will probably say that too."
Three months later, she got back to work, first at The Greenbrier again, then to an association in Washington, D.C., before she joined VADA. While in Washington, her company wanted to help her push through that fear of talking in public, so she was signed up for Toastmasters, which helps individuals master speaking skills. Her final assignment? Talk about her stroke. She was hesitant, but she did it, crying with every spoken word, but she aced it.
Today, she serves the organization as director of meetings (something she has been involved with for VADA since age 14), director of membership, and PAC coordinator, as well as the compliance liaison for Integrum Advisors.
Best business advice:
"Work hard, be kind, and amazing things will happen."
"My kids and my family get me through this crazy world, and I never give up and always stay positive."
About Natalie:
Mother of three: Lainee, Brady, and Logan
Married to Sean Toler for almost 11 years
Major supporter of youth football, basketball, and softball – whatever her kids are playing that season
Lives in Henrico County, but grew up in Chesterfield County
She had moved 10 times by the age of 8 and was interviewed by Richmond Times-Dispatch because of this
JMU graduate with a degree in business with hospitality tourism and management as her focus, and a member of Phi Chi Theta
Took an 18-month sabbatical from college to work in Carlsbad, California as a full-time missionary
KETO advocate and Diet Mountain Dew drinker