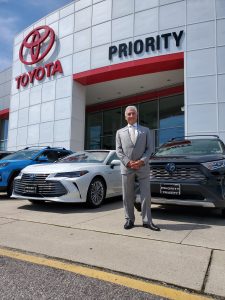 Nick Mumejian was working two jobs to pay for college. He was also attending classes, which made for a tough balancing act.
"A friend suggested I take some time off school and start selling cars. I sold some cars. I liked it, and I decided to keep selling cars – and that was the end of that," said Mumejian, now general manager and partner at Priority Toyota Chesapeake. "I went to the best school ever: the school of life."
As part of his real-life lessons, he also learned that he really loved Toyota vehicles, which is a primary reason that drew him from his roots in the Washington, D.C. suburbs to the Tidewater Virginia dealership. In the Tysons Corner area, he had worked his way up to a general sales manager position, but had heard about opportunities with Dennis Ellmer at Kline Tysons Toyota.
"There wasn't a management opening, but I liked what Dennis said about his people and the Three Cs: Character, Commitment, and Capacity, in that order. I went back to selling cars. It wasn't for long," said Mumejian, who moved into a new sales manager position within weeks. He's been with Dennis Ellmer and the Priority Toyota dealership now for three decades.
Creating opportunities for everyone
Mumejian has helped to cultivate a sales team and management staff of which 95 percent are "homegrown," having started as rookies at the dealership. Each has more than a decade of experience, and they have learned to collaborate even more effectively through both strong and lean economic conditions.
With the ability to serve customers in three languages, the staff also represents rich cultural differences, including Mumejian, who is Armenian American. "When you are in the store, you see the diversity of the employees. You see the diversity of the customers."
Mumejian, who is married and raising a family, leads every Monday and Saturday sales huddles with his team. "I want them to hear from me how important our customers are. Without our customers, we are nothing," he says, adding that he encourages his employees to focus on themselves, their family, and their product.
Even though technology has put more resources in the hands of salespeople, the basic principles of matching a customer with a vehicle remain largely unchanged. That starts with meeting-and-greeting people with a smile. With his sales team now wearing face coverings in the dealership, Mumejian ordered special masks imprinted with smiles, to help put customers at ease during the shopping experience.
"And even under the mask," he said, "we're smiling."
Changes in the industry
Being in retail means keeping an eye on the economy and adapting to what's changing in the marketplace. During the financial downturn in 2008, Priority Toyota worked to meet customers where they were, which ultimately resulted in the dealership gaining incremental market share. "Changing times are opportunities for us to grow and learn and be better," Mumejian said.
During the coronavirus pandemic of 2020, once again the dealership is revising its sales outreach. New tactics include adopting e-contracting, bringing cars to customer homes for test drives, and enhancing on-site cleaning to make the facility safe for employees and customers.
"A good sailor adjusts the sail with the wind," he added. "We had to adjust. And we are here to stay."
At the same time, technology had long promised to change the car-buying experience, Mumejian said, and "we are in the future already."