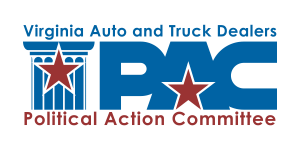 In today's political climate, it is critical VADA supports candidates who understand the auto industry and will listen to your concerns.
Our franchised dealer community plays a powerful role in the Virginia economy: With nearly 500 stores statewide, dealers create more than 60,000 jobs and facilitate roughly $1 billion in state sales tax each year. We must support and elect candidates who appreciate just how critical you are to Virginia and the communities you serve.
The Virginia Auto and Truck Dealers Political Action Committee helps us do just that – and speak with one, loud voice on behalf of the new car and truck dealers of Virginia.
Click here to give today!
Want to get more involved in the political process – host a legislator meeting, attend a political fundraiser, etc.? Reach out to Tommy Lukish or call (804) 545-3028.