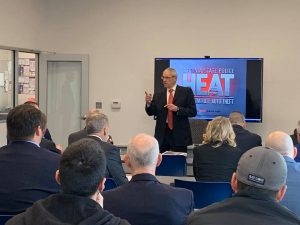 VADA members met this month in Northern Virginia with the Virginia State Police to discuss ways to eliminate auto theft. More than 30 dealer leaders assembled at the Pohanka National Operations Center in Chantilly to discuss ways to combat a rash of stolen vehicles and parts across Northern Virginia — though the issue is statewide.
Through the Help Eliminate Auto Theft program, or HEAT, the state police dedicates significant resources to stopping theft throughout the Commonwealth. In 2018, there were 11,070 motor vehicles stolen in Virginia, amounting to $95 million in pilfered vehicles and parts. HEAT helped recover 9,800 of those vehicles.
Of the total, 1.6 percent of vehicles stolen in Virginia were from dealerships, amounting to 177 automobiles.
Scott Crabtree, president of Pohanka Automotive Group, opened up about the issues the dealership has seen and noted that the issue is not centered on merely one location. Dealerships have become "targets of opportunity" for thieves, says Crabtree.
HEAT includes seven special agents across Virginia, who are specially trained to investigate vehicle theft and recognize counterfeit VINs and cloned vehicles. They are also able to help locate confidential or hidden VINs.
At no cost, they aid in the critical protection of government and school facilities, businesses, churches, as well as residential communities and can help dealerships mitigate theft.
What you need to know
So how can dealers protect their dealerships and locations? First, know the five ways criminals steal.
1. Access to the vehicle key
Key is left inside vehicle or in an open lock box
Social engineering/sleight of hand
Unauthorized copy brought in
2. Fraud and deception
Fake IDs
False backgrounds
3. High-tech electronics
Relay attack
Interfacing directly with the vehicle
4. "Hot wiring" vehicles manufactured before ~1995
5. Taken by force
What can be done?
According to HEAT:
Protect the Vehicle Keys
Never leave a customer alone with a key
Secure all keys when not in use
Require registered owner be present when making copies
Protect the Paperwork
Scrutinize the customer's identifying information
Require multiple forms of identification
Verify legitimacy of bank checks
Protect the Dealership
Install physical security barriers (gates, fences, etc.)
Design lighting to eliminate dark areas
Install day and night cameras with recording capability
Dealers should reach out to local police and special agents in the HEAT program to get involved. VSP won't get involved unless asked.
These steps, as the HEAT program slogan goes, will help VADA "Stop auto theft in its tracks."
We thank our members and special agents of the Virginia State Police for their time in helping combat vehicle theft.