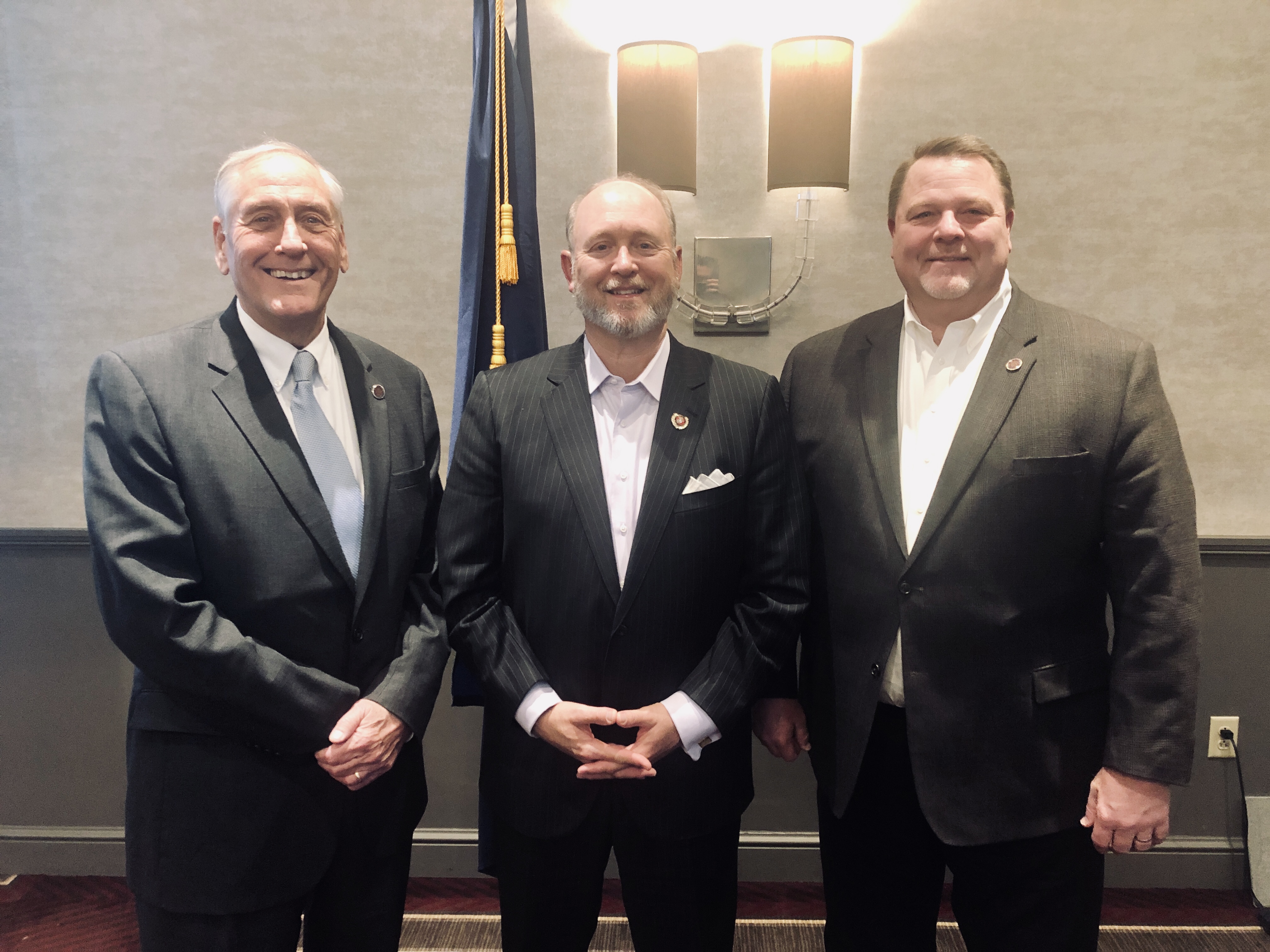 (L-R): Senior Senate Transportation Committee member David W. Marsden (D-Fairfax), VADA President & CEO Don Hall, and retiring Virginia Senator and Chair of the Transportation Committee Charles W. "Bill" Carrico Sr. (R-Grayson, also our Senior Field Rep for Southwest Virginia), at this week's VADA Board of Directors meeting in Richmond.
David W. Marsden, a senior Democrat on the Senate Transportation Committee, wants Virginia's auto dealers to be equipped to succeed in times of certain change to the auto industry.
"There's potential for real disruptive technological change with things like intelligent automobiles. These things are coming, and where I become conservative…is that I like to see existing institutions see the change come down the road and start making a plan and start preparing for those changes, so that you are part of it and you're not the roadkill left over," the Fairfax County Democrat told the Board of the Virginia Automobile Dealers Association in Richmond this week.
"You have jobs to preserve, and economies to preserve in your communities where you own your dealerships. And that is critical to me," he said. 
Marsden's comments were well-received by Board members at the pre-meeting luncheon at the Hilton Richmond Downtown. Retiring Virginia Senator and Chair of the Transportation Committee Charles W. "Bill" Carrico Sr. (R-Grayson, and also our Senior Field Rep for Southwest Virginia), introduced Sen. Marsden, who has served in the Senate since 2010.
Carrico is a Republican; Marsden a Democrat. But at VADA, parties do not matter. We have respect for both sides of the aisle, give evenly to both, and choose instead to support candidates who are pro-business and pro-dealer.
"Dave made a comment to me, and I was touched by his comments: He said how, as the majority party, Democrats would embrace the minority side of the aisle and work in concert with them," explained VADA President & CEO Don Hall at the luncheon. "Dave walks the talk and he really wants to work with people on both sides."
Those views, Hall said, are shared by the leaders of the Senate.
Marsden, whom Hall calls "a great partner" to VADA, told the group of approximately 30 Board members that he and fellow Fairfax Democrat Sen. Richard L. "Dick" Saslaw sat down in April to create a common, bipartisan agenda for the 2020 General Assembly's eight-week session. The goal: don't overreach. Take things slow. Listen.
"We will have several years to get things done, but we need to take the time to listen to what's going on in the Commonwealth, not only in the business world but in the areas of certain human rights, voting rights, and issues in environment. But the business community is a staple of the Commonwealth and something we want to maintain is that rating of Virginia as a great state for business," he said. "That is where the jobs come from."
"No matter whether Republican or Democrat, know you've got allies working for you. We're here to make Virginia succeed, and we can't do that without the Virginia Automobile Dealers Association."

David W. Marsden, D-Fairfax, senior Senate Transportation Committee member
What to expect in 2020
Marsden said there will likely be a minimum wage bill seeking an increase to either $12 or $15 an hour. "But I've done my homework and it tells me we have to get to our goal over five or six years, not three."
Marsden also addressed the potential repeal of the Right-to-Work statute, which prohibits forced union membership and payment of forced dues as a condition of employment. Repeal could threaten Virginia's business community, and VADA believes we should fight and protect and protect employees' right to work. 
"I told the AFL-CIO that I'm not going to undo the right-to-work law in Virginia," Marsden told the VADA board, to applause. 
"That doesn't mean there won't be changes to some labor laws, but there are some things we can do to even the playing field to lift Virginia up a bit for being a state for workers," he said. "It's a great state for business, but it hasn't always been great state for workers. I think we can improve that. We don't need to go to the nuclear option."
Marsden noted that Republicans will disagree with some the Democrats' ideals. "No question about that. That's their job. Their job is to  point out that there another way to do it," he says, "and what I want the leadership in Virginia and [the media] to say is, 'You know, we don't agree with everything they've done, but they've gone about it in a thoughtful way, they've consulted and reached out to people, and they have a plan. They aren't trying to move too fast, too far and too quickly to where Virginia can't absorb that change.'"
And he had a good note for the auto dealers in the room: "You're an ably led group and you're in a position to roll with the changes here in the next 10 to 20 years in the auto industry. No matter whether Republican or Democrat, know you've got allies working for you. We're here to make Virginia succeed, and we can't do that without the Virginia Automobile Dealers Association."