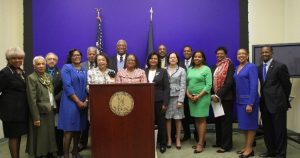 Late last month, members of the Virginia Legislative Black Caucus and the Legislative Black Caucus of Maryland gathered for a shared fundraiser in Washington, D.C. Joining the crowd were Congressman Bobby Scott (D) of Virginia, Congressman Andrew Brown (D) of Maryland, former Virginia Governor Terry McAuliffe, and VADA members and staff.
Many thanks to Dan Banister, of Banister Nissan of Chesapeake and Banister Nissan of Norfolk, and Paul White, of Sterling Motorcars, for their involvement in this wonderful event.
Dan, a member of our Board of Directors, traveled from Norfolk solely for the fundraiser. We are immensely grateful for the time both he and Paul took away from their families and their businesses to represent our association.
Participation in fundraisers like this is a key component of our political involvement. But our efforts are incomplete without the help of Virginia's new car and truck dealer community. Dan and Paul, thank you again. We appreciate your help.