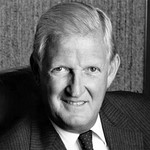 We are sad to report the passing of Robert Rosenthal, head and founder of the Rosenthal Automotive Group. He died over Memorial Day weekend at the age of 91. An eminently successful automobile retailer, Bob Rosenthal spent his career running and building the vast dealership organization that bears his name.
A native Washingtonian, he started in the business with his father, Harry Rosenthal, from whom he took over. An industry pacesetter and trailblazer, Bob Rosenthal was one of the first dealers in metropolitan Washington and the U.S. to expand his company in the 1970s into a multi-franchised, multi-location "mega dealer" organization, which today boasts 15 plus dealerships inside and around the Capital Beltway and Northern Virginia under the auspices of the holding company, Geneva Management.
Over the years, he successfully and generously assisted any number of key Rosenthal Automotive executives to become franchised new car dealers in their own right.
Among other things, he chaired WANADA's Board of Directors and The Washington Auto Show. He co-founded the Capital Automotive REIT with fellow dealer Jack Pohanka. He was a TIME Magazine Dealer of the Year and an AIADA/Sports Illustrated Dealer of Distinction.
A private funeral and interment was conducted by the family with a full scale memorial service planned for friends and associates next fall.
The Rosenthal family has requested that, in lieu of flowers or gifts, contributions to his memory can be made to Children's National in Washington, D.C. or to the Nantucket Conservation Foundation.
We at VADA send our condolences to Bob's family: his wife of 67 years, Marion, and his three daughters. Bob was a wonderful man, and we are all better for having known him.