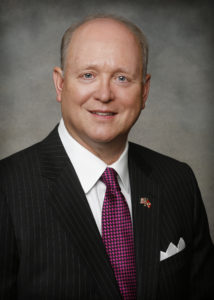 Greetings from VADA,
We're kicking off the new year with all our focus geared towards the 2019 session of the Virginia General Assembly, which rang its bells Wednesday, January 9th. This will be a busy few months for Virginia politics and our Legislative Team!
We will be spending a lot of time at the Capitol meeting with legislators and educating Virginia's new members on the importance of franchised new car and truck dealerships and our franchise laws. Be sure to check out our weekly Capitol Briefs, as that will keep you up to date on everything happening in this year's session.
Last month, we had the pleasure of traveling to Hampton Roads for the annual HRADA Meeting where our Legislative Team presented and discussed the hot-button issues for our dealers in 2019; including compliance updates and the franchise issues we're taking to the General Assembly. To see an overview of our presentation, click here. We also had the opportunity to hear from Chairman of the House Transportation Committee, David Yancey. He spoke about the importance of personally connecting with the legislators in your district and making your voice heard.
We did exactly that at our Dealer Day, Assault the Hill event! On Thursday, January 17th, our dealers traveled across the Commonwealth and gathered together in Richmond, where we stormed the Capitol and met with legislators from all districts. It was a huge success and a memorable moment for both our dealers and the Senators and Delegates whom they met. We can't express enough how important it is to participate in the political process - it truly makes a difference.
VADA is busy with many other things this time of year as well - I want to make sure everyone knows about our convention coming up in June. This year, we will be heading to the historic Greenbrier and we have already lined up some amazing speakers and presenters. You can visit www.vada.com/convention for more information.
We enjoy working on behalf of VADA's members and love that we get to defend your great business. If you have any questions regarding this year's General Assembly, please do not hesitate to reach out to myself, Anne Gambardella, or Tommy Lukish.
As always, it is a pleasure to serve the new car and truck dealers of Virginia.
Don Hall
President and CEO