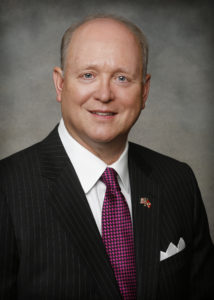 Greetings from VADA,
Happy fall to each of you.  I hope this newsletter finds you well.
As the leaves are changing, know that VADA staff continue to work hard on behalf of new car and truck dealers across the Commonwealth.  Also understand, with Election Day right around the corner, this is an important time of the year for all of us.
This month, at our Association headquarters, we held a meeting on the important topic of dealership marketing and advertising.  You will find an article on that event below.  Additionally, Virginia Automobile Dealer Services continues to work each day to benefit you, your businesses and your employees.  And with the General Assembly's 2019 Session not far away, our Legal & Legislative Affairs Team continues to advocate the virtues of the franchise system and the positive influence our dealers have on the communities of which they are a part.
To my second point, next Tuesday, November 6 is Election Day.  No matter your ideologies or political affiliation, please devote a small part of that day to exercising a fundamental responsibility for Americans.  I ask that you encourage your staff to do the same.
You have heard me say this before, but with the stakes as high as they are, it is imperative that we elect folks to public office who are pro-business and, specifically, pro-dealers.  Additionally, there are ways to get involved in the political process outside of the ballot box.  For instance, with all 140 members of the General Assembly up for reelection next year, consider writing checks to your local representatives in the House of Delegates and Virginia Senate.
Finally, I hope you all have a wonderful Thanksgiving with family and friends.  Each of us has so much for which to be thankful.  Let us use this time to reflect on that.  I, for one, am thankful for the opportunity to serve you for the past thirty years!
As always, it is a pleasure to serve the new car and truck dealers of Virginia.
Sincerely,
Don Hall
President & CEO