We have written about the Trump administration's push to deregulation.  We have noted that one should not expect reduced emphasis on a key Trump policy – reduction of illegal immigration – and for dealers that means Form I-9 compliance.  If the Department of Homeland Security, Immigration and Customs Enforcement (ICE) inspects your dealership for I-9 compliance, how will you fare?  So far this year, according to ICE reports, the agency has conducted more than twice the I-9 on-site inspections than it conducted last year.  Here are tips to protect you if you experience an inspection of your compliance with Form I-9 requirements.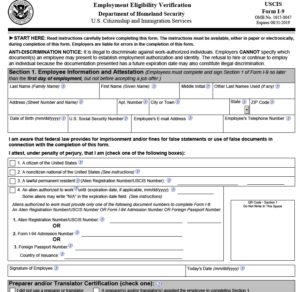 Have a written Form I-9 procedure to be followed by those charged with fulfilling your compliance requirements.
Use the most current version of Form I-9 available at www.uscis.gov. The Form shows it was updated 07/17/2017.
Carefully follow the instructions on Form I-9 for proper employee completion. New employees should complete Section 1 of Form I-9 on the first day of employment. Employees also must document their identity (List B) and authorization to work in the U.S. (List C), or a provide a document that establishes both their identity and employment authorization (List A) within three business days of their first day of employment. Remember, the employee MUST complete Section 1 and MUST be given the choice of documents to be produced to show identity and right to work.
Carefully follow the instructions on Form I-9 for proper employer completion. Complete Section 2 within the first three days of a new employee's commencement date.  The employer must review the employee's completion of Section 1 and the identity and right to work documents produced.  Once the review is complete, an employer representative must sign and date Section 2, confirming the required review.
Maintain completed Forms I-9 in a central location. If you must respond quickly to an inspector, you will have them in one place.  You must have a completed Form I-9 on file for every current employee.
Maintain completed Forms I-9 for separated employees for one year after termination, or three years after hire, whichever is longer.
Conduct regular audits of your Form I-9 files to be sure employees have followed your policy. Take remedial action for any deficiency.