As franchise bills move, a look at Tesla bill and other dealer issues
2023 Session, Issue 3
January 30, 2023
The second full week of the General Assembly was busy as VADA's franchise bills (HB 1469/SB 871) moved through the House and Senate unanimously. The identical bills now swap chambers and run through the same process. We aren't resting, but feel good the momentum will continue.
Our big focus is the Tesla-backed House Bill 2468. As you know, Tesla and other new vehicle manufacturers have the ability to operate dealerships in Virginia under an exemption that requires that there is no dealer available to operate the store in the area. Current Virginia law requires each location where Tesla or another manufacturer wants to operate a store to be evaluated by the DMV Commissioner to determine whether a franchised dealer is available.
With this bill, Tesla seeks to bypass the approval process, undermining the statute for the company's legal and financial convenience. It would mean any manufacturer (not just Tesla) that cannot find a dealer in one location would get the blanket statewide approval. (View our one-pager on the issue here.)
VADA Tesla 2023-3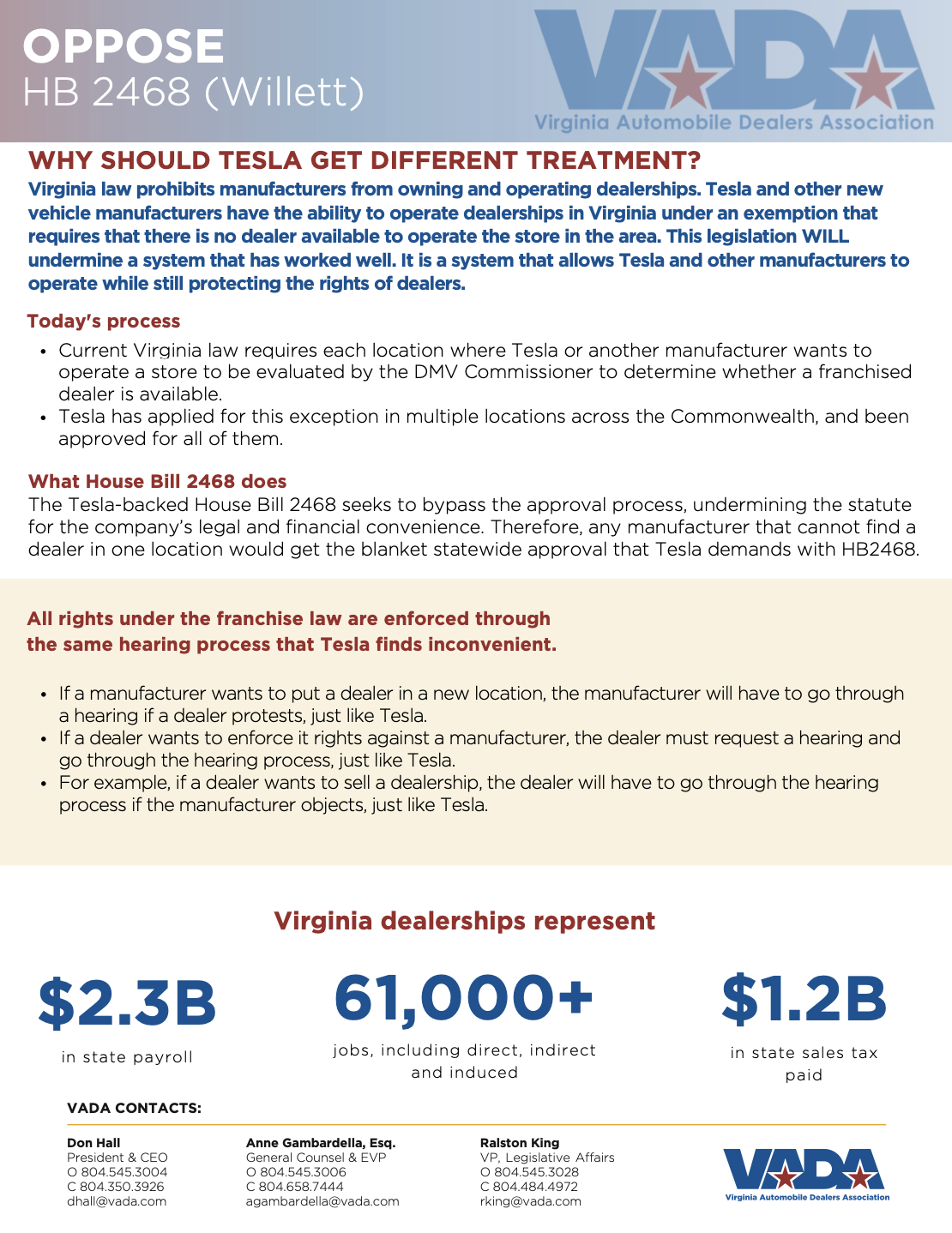 VADA is actively opposing this legislation and are reaching out to dealers whose representatives are on the House Transportation subcommittee responsible for DMV-related issues.
Now, let's take a look at some other bills that could impact Virginia dealers.
Should diagnostic work for automotive repair be exempt from retail sales and use tax?
Delegate Kim Taylor (R-Petersburg), who also happens to own three automotive repair shops, believes so. The bill from Taylor would clarify that diagnostic work for automotive repair should be characterized as labor, and therefore untaxed. Dealers, of course, agree. There is a minimal fiscal on the state budget. House Bill 1677 was reported from the House Finance subcommittee 7-0 and the full committee 21-1.
Loud exhausts heading toward workgroup study
Senator Adam Ebbin (D-Alexandria) has a bill to limit the decibel level to 85 (50 feet away) from a vehicle's exhaust system. Northern Virginia, in particular, has had a rash of complaints from citizens about loud exhaust (due mostly to highway racing). There are a dozen or so automobiles sold by dealers that have exhaust systems over 85 decibels, so while we hear the pain, we also don't want dealers harmed by Senate Bill 1085. We have opposed and defeated or have gotten similar bills tabled in the past.
This time around, VADA met with Sen. Ebbin and he agreed to a workgroup study, which we support. While there is undoubtedly an issue with loud exhaust systems, the police already have the ability to enforce noise ordinances (and prosecutors the ability to bring charges), but drivers are rarely if ever punished. We believe the workgroup will be a positive and help us find middle ground to solve the problem and protect dealers and their customers.
Workers' comp on sustained and repetitive stressors
House Bill 1763 from Elizabeth Guzman, D-Prince William, would have required workers' compensation coverage on injuries caused by repetitive or sustained physical injuries in the workplace. The bill was tabled for the year. We expect it in the future; Virginia is the only state that does not include repetitive or sustained stressors in workers' comp claims.
Clarifying "Home solicitation"
House Bill 2422 would clarify the definition of a "home solicitation sale" and amend the Virginia Home Solicitation Sales Act, which provides consumer protections from sellers that solicit sales at the door or over the phone. A key provision of the law provides buyers the right to cancel a home solicitation sale until midnight of the third business day after the day when the agreement or offer is signed.
The bill is sponsored by Amanda Batten (R-James City), and backed by an insurance company looking to exclude insurance agents from the home solicitation act.
Given that — during COVID, and now in the post-pandemic era — dealers sometimes do test drives or conduct business at a person's home, VADA attorneys were concerned the new definition could lump dealers into "solicitors." Are dealer actions at a person's home considered solicitation? Hard to say, so we asked for and received a carveout in the bill to ensure licensed motor vehicle dealers can do business at a potential customer's home. This amendment was accepted, and the bill moved forward out of a House Commerce & Energy subcommittee 10-0.
The Senate will consider a similar bill by Senator Monty Mason (D-Williamsburg) this week.
Clean Cars repeal likely headed nowhere
A number of bills were introduced in the House and Senate to repeal the 2021 law that saw Virginia adopting California Air Resource Board standards and CARB's zero-emissions vehicle (ZEV) requirements. All states must choose between federal standards or more-stringent California ones.
This week, the Republican-majority House passed legislation to repeal the law on a party-line vote (52-48), but it faces a difficult road in the Democrat-controlled Senate. It has been referred to the Senate Committee on Agriculture, Conservation & Natural Resources, but the Republican Senate versions have died there, and the House version will likely meet the same fate.
Your VADA Legislative Team:
Get weekly session updates to your inbox. Sign up to receive the Capitol Briefs newsletter.