August 2022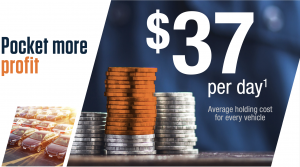 Holding costs are what a dealership spends to hold unsold inventory, including storage space, labor, insurance, interest charges, and more. Can they vary? They sure can, thanks to changing operating expenses, floor plan fluctuations, and the cost of capital, including interest rates. According to recent studies, dealerships could be paying as much as $37 a day in holding costs, on average, for every vehicle that sits idle on their lot.
Don't let holding costs eat into your profit margins. Dealertrack provides you with tools that help you move new and used vehicles off your lot faster.
Dealertrack's in-state registration and title solution integrated with your DMS reduces data re-entry so you can submit a transaction to the DMV in under 4 minutes.2 That's up to 35 percent faster3 than standard reg and title submissions.
Dealertrack Accelerated Title streamlines your trade-in process, connecting with over 100 lenders to speed payoff and title release 70% faster, allowing dealers to gain title release in as quickly as 4 to 6 days. That's 70 percent faster4 than the standard payoff and release time.
The take-away? Cars leave your lot faster with the help of electronic sales and trade-in solutions that minimize holding costs and keep more cash in your pocket.
Dealers using Dealertrack solutions slash holding costs and grow their margins. Schedule a no-obligation demo to learn how Dealertrack solutions can help you pocket more profit.
---
1  NCM Associates Group Study 2019
2  Dealertrack User Timing Report through Google Analytics 1/1/21 to 12/31/21.
3  Based on comparing Dealertrack DMS performance against state registration processes.
4  Based on average industry timeframe for vehicle title release and vehicle payoff process of 18+ days, as determined by 2021 Dealertrack data.