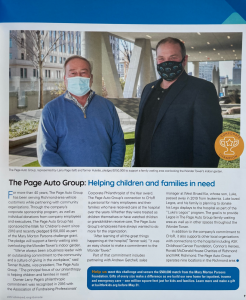 Our members' spirit of giving back to their communities continues with donations to worthy causes, support for youth sports, and other philanthropic pursuits.
Before we detail the latest list of dealership good deeds, we know there are plenty more out there that should also be highlighted. If you know of any charitable work a dealer is involved in — donations, scholarships, fundraisers, food drives, pet adoptions, etc . — please reach out to us and let us know about them. You can send you tips to jkelley@vada.com
Page Auto Group, which has a family of dealerships across Central Virginia, has pledged $150,000 to the Children's Hospital of Richmond at VCU. Part of the commitment includes partnering with Andrew Getchell, sales manager at West Broad Kia, whose son, Luke, passed away in 2019 from leukemia. Page's work with CHoR was featured in a write-up from the hospital foundation's spring magazine.
Priority Chevrolet in Chesapeake said this month's Priority Charity Bowl ODU Spring Game, done in partnership with sponsors Old Dominion University and the ODU Football program, raised money for 45 children's charities in Hampton Roads. The WAVY-10 television station said the event brought in more than $800,000 for those charities.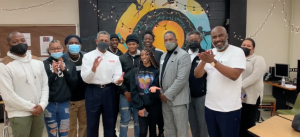 The folks over at Banister Automotive were at Booker T. Washington High School in Norfolk recently speaking with students about the car lending profession, credit & financial literacy, and discussing the do's and don'ts when purchasing or leasing a vehicle. The visit was done in partnership with Communities in Schools and the Youth Investors Group, a nonprofit that focuses on providing opportunities for Black youth through financial literacy and entrepreneurship.
McDonough Toyota recently added solar panels to the top of their Staunton, Va. showroom. The 45-year-old, family-owned and operated dealer partnered with Tiger Solar to design, build, and install the 92.6-kilowatt system that Tiger Solar says will offset 100% of the McDonough service center's electricity needs. The solar energy company says installing the panels means the dealership stands to benefit from lower operating costs and from the ability to charge electric vehicles using the power of the sun.
"Toyota's hybrid technology revolutionized the car industry, so I thought it would be a good idea to look at some options on reducing our carbon footprint," McDonough Toyota President Steve McDonough said in a statement. "Solar is great for the environment, and I can save money at the same time."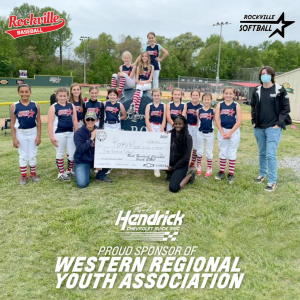 Rick Hendrick Chevrolet Buick GMC in Richmond is a proud sponsor of the Western Regional Youth Association which operates youth baseball and softball programs. Through the Chevrolet Youth Sports program, the dealership provides equipment bags, first aid kits, batting tees, ball buckets, and free instructional youth clinics to community members.
The dealership says it's honored to support a sports program that "brings so many smiles to kids and their families in Richmond."
In case you missed it, the Hanover County Sheriff's Office said thanks to Mechanicsville Toyota for its continued support of the HCSO Foundation, which "directly supports the men and women of HCSO and their families during a time of need." The dealership donated $5,000 to the foundation in January.
And finally, dealers are gathering on May 10 at Ford's Colony in Williamsburg for the Hampton Roads Automobile Dealers Association's Annual Charity Golf Tournament that's raising money for the Youth Automotive Training Program. In partnership with local community colleges, that program offers scholarships for students interested in a career as automotive technicians.