Delivering legislative wins requires more than hard work
The upcoming election season also requires an investment in our future
February 2022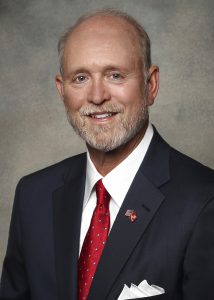 As you know, a record month takes work. Sales records are predicated on a lot of small wins and many people working behind the scenes to achieve a goal.
As we've repeatedly told you, our premier legislation that will require manufacturers to adequately reimburse you for warranty and recall work is successfully moving forward in the General Assembly. But this success did not occur over the last few weeks of lobbying.
No, it came from months of hard work, meetings, calls, planning, and relationships by our legislative team and input from our Board members.
Like a record sales month, a lot of sweat and tears goes into getting these votes. And for us to succeed requires access to the lawmakers who cast votes for or against us.
In my nearly 35 years of working within Virginia's political landscape, I've never seen an election cycle as critical as the upcoming contests for the state Senate and House of Delegates.
All 40 state senators will be up for election in 2023. All 100 House seats are also expected to be up for election next year. You may have seen news reports noting delegates might have to run later in 2022 in newly-drawn legislative districts. Regardless, the time to raise money for pro-dealer candidates begins now.
One of the best examples of how VADA works in the legislative world is with this year's warranty and recall bill, which has overwhelmingly passed thanks to our efforts and access. This bill will ensure your stores are fairly compensated for warranty and recall work. These are real dollars that will impact your bottom line and protect technician jobs.
If you are not a part of the process, then you can't fight back against policies you don't like such as last year's passage of the state's overtime law that failed to protect our long-standing dealership overtime exemptions. VADA was able to work with legislators to secure a temporary fix, and we continue to fight at the State Capitol to permanently preserve those exemptions.
Still, the overtime law episode demonstrates just how crucial it is to keep telling our story. An essential way to do that is to keep contributing to the Virginia Auto and Truck Dealers PAC.
Last year, when voters weighed the fate of the House of Delegates, the governor's race, and other statewide offices, dealers throughout the Commonwealth stepped up to the plate and contributed to our cause with generous donations to our PAC.
These PAC donors are colleagues you know in the business, people who understand the importance of promoting VADA's pro-business message to our state leaders.
We owe each donor a thank you for contributing to our business' collective future. Please take a moment to go through the list of PAC donors at the end this column to recognize the contributions of our colleagues.
The stakes were high last year, and they still are. Redistricting will usher in new primary challenges with lawmakers forced into primary and general election fights they didn't have before their legislative district lines were redrawn.
And we need to be there for the elected leaders who have been there for us.
Donating to a charity whose mission you believe in goes beyond a one-time contribution. The same holds true for making a continuing investment in our industry's future.
Please thank our 2021 PAC donors and support our PAC today so we can keep moving forward.
2021 Virginia Auto & Truck Dealers PAC Governor's Club (Donors who gave at least $2,000 in an initial year and $1,500 each following year):
Jeffrey A. Abel Jr. — Miller Toyota Scion
Stephen C. Adams — The Pomoco Group, Inc.
Conrad Aschenbach — Front Royal Ford LLC
William Baker — Hall Automotive, LLC
Thomas A. Barton III — Beach Ford, Inc.
Thomas Bates — RK Chevrolet Subaru
Emily Marlow Beck — Marlow Motor Co., Inc.
Michael E. Bennett — Ourisman Automotive of Virginia
Michael S. Beyer — Beyer Automotive Group
Elizabeth Myers Borches — Carter Myers Automotive
B. Bowman III — Joe Bowman Chevrolet, Inc.
Gardner Britt III — Ted Britt Ford Lincoln
John E. Burchell, Jr. — CMA's Colonial Chevrolet, Inc.
Andy Budd — Country Chevrolet
Harry Carrion — Haley Automotive
Mark Dalton — Terry Volkswagen Subaru
Eley Duke — Duke Automotive
Dennis M. Ellmer — Priority Auto Group
Rod Emmons — Karen Radley Acura VW
Joe Falk — Little Joe's Autos/Mitsubishi
William J. Farrell II —Berglund Management
Richard A. Fewell — Jim Price Chevrolet Hyundai
Stephan E. Fay Sr.  — Ourisman Ford of Manassas
Stanley Richmond Gallaer, Jr. — The Pomoco Group, Inc.
James V. Gramm — Safford Chrysler Jeep Dodge Of Springfield
George M. Harvey Jr. — Harvey's Chevrolet Cadillac Buick
Michael W. Huff — Bob Huff Chevrolet Buick GMC
Cameron Johnson — Magic City Ford Lincoln Isuzu
Jeffrey T. Johnson — Johnson Management Services, LLC
Sharon A. Johnson — Jeff Johnson Chevrolet
Richard D. Kern Jr. — Kern Motor Co.
Stephen D. Klimkiewicz — Cavalier Ford Lincoln
Ron Kody — Richmond Ford Lincoln
Christopher F. Lindsay — Lindsay Chevrolet
Michael C. Lindsay — Lindsay Cadillac Company
George Liu — Geneva Management
Christopher Mabry — Lynchburg Nissan
Anthony R. Myers — Dick Myers Chrysler Dodge Jeep RAM
Eric W. Obaugh — Charlie Obaugh Chevrolet Buick GMC Kia
Burke O'Malley — CMA's Subaru of Winchester
Charles Gary Minter — Checkered Flag Chrysler Dodge Jeep Ram
Emily Patrick — Purvis Ford Lincoln
Dave Perno — Loyalty Automotive
Jonathan Pittman — Radley Chevrolet
Geoff Pohanka  —  Pohanka Automotive Group
Tim Pohanka  — Pohanka Nissan Hyundai
Vincent A. Sheehy IV — Sheehy Auto Stores
Larry J. Shelor — Shelor Motor Mile
Jake Sodikoff  — Steven Nissan
Catherine Stohlman — Stohlman VW Subaru
Michael Suttle III — Suttle Motor Corp.
William H. Talley III — Bill Talley Ford, Inc.
Mark Tysinger — Classic Hampton Auto Mall
Robbie Woodall III — Robert Woodall Chevrolet Buick GMC Cadillac Hyundai Nissan
2021 Senate Club (Donors who contributed at least $1,000)
Alexandria Volkswagen
Dan Banister — Bannister Nissan of Chesapeake
Torrey Blackwell — Blackwell Automotive
Clay Huber — Mercedes Benz of Fredericksburg
David Hult — Crown Auto Group/Asbury Automotive Group
Steve McDonough — McDonough Toyota
Chris Strosnider — Strosnider Chevrolet, Inc.
Morty Zetlin — American Service Center Associates
2021 House Club (Donors who gave at least $750)
David Dillon — First Team Hyundai Nissan Subaru VW
Pam Guardino — Pohanka Nissan Hyundai
2021 Patron (Donors who gave at least $500)
David Harlow — Norfolk Truck Center
Carlos Hart — Hart Motor Co.
John Johnson — Johnson Chevrolet Buick
Ross Luck — Luck Chevrolet
Wes McCular — Rick Hendrick Chevrolet
Tom Mohr — Highway Motors
David Neumann — Hendrick Honda Woodbridge
David Nolan — Rick Hendrick Chevrolet Buick GMC
R. Alan Rice — Rick Hendrick Cadillac
Kyle Treadway — Truck Enterprises Inc.