Back in Richmond with new faces
and new issues impacting dealers
Session 2022, Issue 1
January 17, 2022
Last Wednesday, January 12, the Virginia General Assembly began its 2022 Regular Session.  For the next 60 days, a new slate of legislators—with a Republican majority in the House and a Democratic majority in the Senate, and a Republican Governor's office for the first time since 2012 — will consider thousands of bills important to Virginians statewide.
Here's how things look.
With a Republican majority in the House, new leadership begins. Speaker Todd Gilbert (R-Shenandoah) was elected Speaker of the House of Delegates this past Wednesday. Terry Kilgore (R-Gate City) will be the Majority Leader and Delegate Israel O'Quinn (R-Bristol) will be the Deputy Majority Leader. Rounding out Republican leadership will be Delegate Amanda Batten (R-Norge) serving as Republican caucus chair and Delegate Michael Webert (R-Marshall) is whip.
The House Democrats kept the leadership at the top with former Speaker Eileen Filler-Corn (D-Springfield) serving as Minority Leader. Delegate Charniele Herring (D-Fairfax) serving as caucus chair, Delegate Betsy Carr (D-Richmond) serving as caucus' treasurer, Delegate Marcus Simon (D-Fairfax) serving as secretary and Delegate Jeion Ward (D-Hampton) will be vice-chair of operations.
With no Senate elections, the Senate of Virginia will largely stay the same with Democrat Majority Leader Dick Saslaw, who represents the City of Falls Church and parts of both Fairfax County and Alexandria. Senator Saslaw has been a member of the Senate since 1980 and was previously in the House of Delegate starting in 1976. Senator Louise Lucas, who represents much of Southside and Hampton Roads in the 18th Senate District will be President Pro Tempore in the Senate. Senator Tommy Norment (R-Williamsburg) will be the Republican Minority Leader.
We are eager to continue relationships with Republicans and Democrats in both chambers.  As you know, our issues are bipartisan, and we have strong supporters on both sides of the political aisle.
Inaugural festivities
The big news from the weekend was the Inauguration of Governor Glenn Youngkin, Lieutenant Governor Winsome Sears and Attorney General Jason Miyares. Celebrations started Thursday evening for Lieutenant Governor Sears onto Friday night with Attorney General Miyares. Governor Youngkin raised $4.3 million for his inaugural campaign committee, which was almost twice that of outgoing Governor Ralph Northam from 2017. Governor Youngkin started with a welcome reception on Friday evening and moved to a black-tie dinner on Friday night at the Science Museum of Virginia. Governor Youngkin switched it up by having a large casual celebration on Saturday night at Main Street Station with Zac Brown Band joining in the festivities.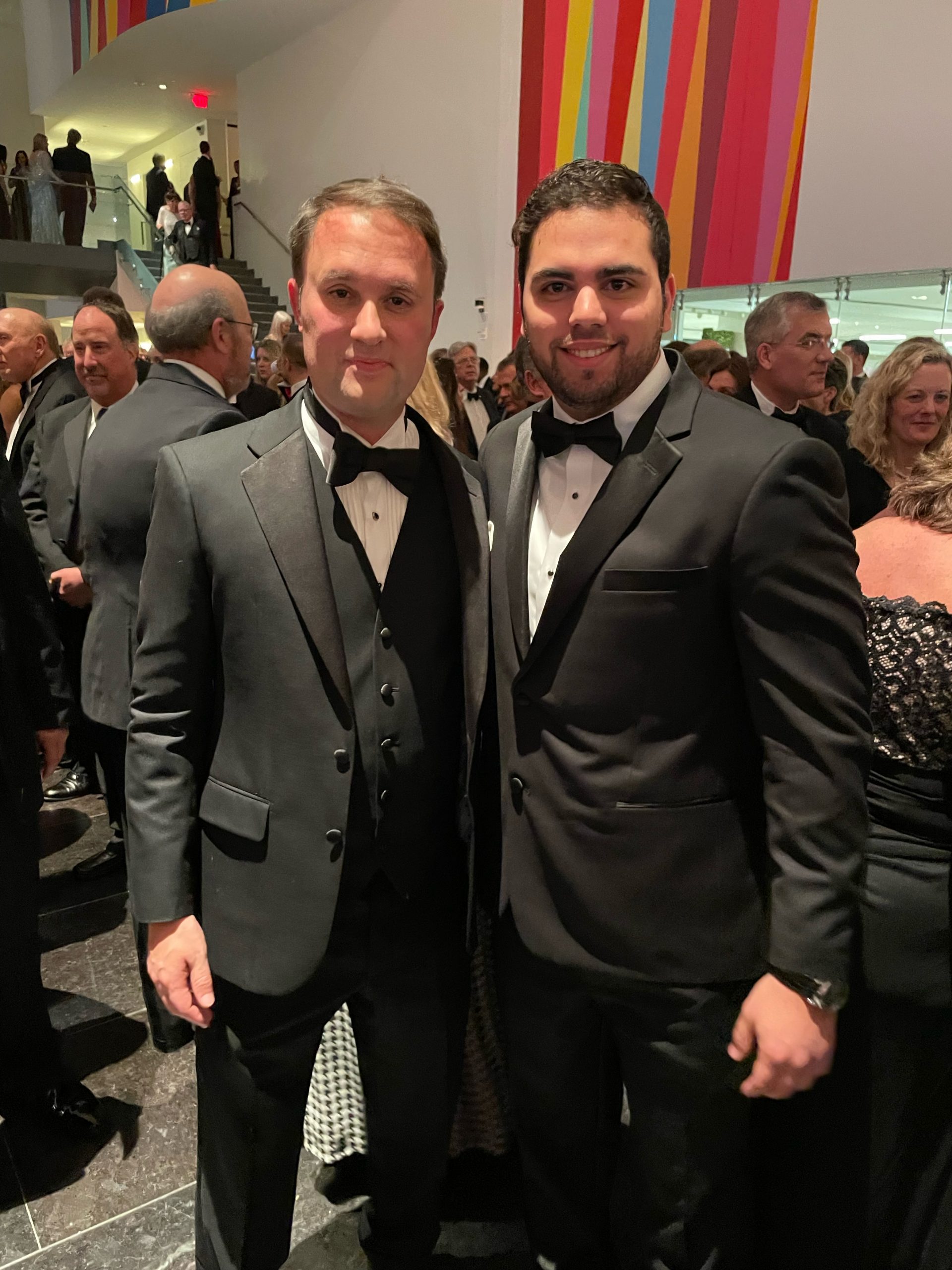 An an inspiring aside, VADA President and CEO Don Hall told Miyares, son of a Cuban immigrant, of VADA partner Integrum Advisors' Elvys Martinez. He too emigrated here from Cuba and bolsters Integrum's bilingual capabilities. Miyares invited Elvys as an honored guest at the AG's reception at VMFA on Friday evening. They're pictured here. Elvys has been an instrumental asset to our team and we are similarly honored to help him build his life in America.
The focus of the 2022 session will be interesting given the partisan divide. GOP leadership in the House of Delegates is looking to address public schools, crime rates and rising inflation. Democrats, who hold the majority in the state Senate, are looking at "kitchen table" issues that will positively impact Virginia families.
"We listened to Virginians' concerns. The things we heard most were about their children's future, the rising cost of doing business, and the safety of our communities," said new House Speaker Todd Gilbert, R-Shenandoah, before being sworn in during the chamber's first session later that afternoon. "
If we're going to get people back to work, we're going to have to deal with affordable child care," said Senate Majority Leader Dick Saslaw (D-Fairfax), who argued federal dollars would help fund proposed subsidies and tax credits for parents and child care providers.
Taxes will be a focus from Republican lawmakers as they are proposing $300 rebates for single filers and $600 for couples alongside doubling the state's standard tax deduction. Senate Democrats are looking to fund police, remove mandatory minimum sentencing and increase teacher pay.
Day One promises
Governor Youngkin started his "Day One" initiatives with nine Executive Orders and two Executive Directives. He focused on allowing parents to determine if their child wears a mask in school, promise to make government work for Virginians, declare Virginia open for business, withdraw from the Regional Greenhouse Gas Initiative. His Executive Directives are focused on cutting job killing regulations with rescinding the vaccine mandate for all state employees.
Of course, there are numerous measures being considered that affect our industry.
Perhaps most notable is the VADA bill (HB 259/SB 216) that supports fair warranty/recall reimbursement. The bill addresses the continued struggles that dealerships face when manufacturers manipulate labor rates and reduce time for warranty/recall reimbursement. Dealers deserve to be paid retail rates for warranty/recall.

The legislation also addresses reimbursement for dealers for customer rental vehicles while warranty/recall repairs are made. Furthermore, we are making sure that technicians are compensated for their time when assisting in software updates at the dealership. Finally, the bill will protect consumers from unknown software upgrade charges. These subscription fees have become a frequent target by manufacturers and consumers should be made aware by manufacturers. Click here to take action by contacting your legislator to support HB259/SB216.
The Virginia Overtime Wage Act was enacted during the 2021 session. The bill sought to create a state remedy for violations of federal overtime requirements. Unfortunately, the language of the bill went far beyond that intended result, making substantive changes to overtime requirements for many Virginia employers. Federal law lays out various exemptions to overtime requirements that specify exemptions for auto dealership employees. During the special session in the summer, the VADA fixed this problem with budget language. That fix was temporary until July 2022.
VADA is now working with the Legislature to solve this issue permanently.
The legislature will also consider electric vehicle rebates.
VADA has requested $40 million in first year funding to launch the state's electric vehicle (EV) rebate program. VADA has said if the California Air Resources Board (CARB) is implemented (expected in 2025) in Virginia and the Commonwealth is serious about EV adoption, then EV incentives must be part of the solution.
Car dealers are big employers in Virginia and we work to protect your from onerous requirements on your businesses generally. With a vibrant insurance and benefits group and a sizable workers' compensation agency, VADA is also keenly aware of legislation on those issues that, while dealing less with cars and trucks, are very important to your operations.
For the next several weeks, we will provide you all with updates of what is happening at the General Assembly.
Next week's edition of Capitol Briefs will release after the deadline for the introduction of bills, and we will provide VADA members with a complete list of those most pertinent to your stores.
This is a busy time for us but one we enjoy, as we have the opportunity to fight for and protect laws that benefit Virginia's franchised dealer community and against those that would negatively impact your businesses and the Commonwealth.  As is the case every year, we will work around the clock to best represent your interests.
Finally, we are disappointed that Dealer Day is cancelled given the COVID building protocols, but we are encouraged by VADA's new advocacy Action Center. This online platform allows for emails or calls to be delivered to legislators to support or oppose legislation. IT IS VITAL THAT YOU PARTICIPATE!
As always, it is a pleasure to serve the franchised new car and truck dealers of Virginia.
Get weekly session updates to your inbox. Sign up to receive the Capitol Briefs newsletter.