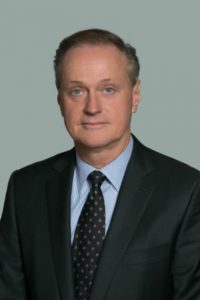 The Washigton Area New Automobile Dealers Assocation has nominated James Gramm, president of Safford Automotive Group, for the 2022 TIME Dealer of the Year award.
Gramm, a former VADA board member, is one of a select group of 47 dealer nominees from across the country who will be honored at the 105th annual National Automobile Dealers Association (NADA) Show in Las Vegas on March 11, 2022.
The TIME Dealer of the Year award is one of the automobile industry's most prestigious and highly coveted honors. Recipients are among the nation's most successful auto dealers who also demonstrate a long-standing commitment to community service.
"I have devoted my entire career, spanning 35-plus years, to the retail automobile business," nominee Gramm said. "I knew this career was right for me back in 1983, when on my first day as a sales rep, I sold two new cars. The automobile business has been in my blood ever since."
Gramm, a 1978 graduate of Thomas A. Edison High School in Alexandria, Virginia, sold those vehicles at a Chrysler dealership in Vienna, Virginia. He went on to hone his skills and advance his career at stores in Virginia and Maryland. In 1991, he was named general sales manager of Maryland Motors in Rockville, Maryland, and he later rose to the level of vice president.
As Gramm approached the age of 40 and was reflecting on his then 20-year career, he decided he wanted to own his own store. With the support of the dealer principal at Maryland Motors and an associate, David Blum, he acquired his first dealership: Safford Dodge and RV in Fredericksburg, Virginia, in 2002.
"I finally realized my dream," he said. "I commuted three hours per day from Potomac, Maryland, to Fredericksburg to make certain our new store would survive."
From that single Dodge/RV store in 2002, Safford Automotive Group has expanded to 13 separate dealership locations in Maryland and Virginia representing 16 brands and employing 840 people.
In addition to serving on the WANADA Board, Gramm is active in giving back to the various communities in the mid-Atlantic where his dealerships have a presence.
"The organization is active politically and charitably, and I have always made it a priority to contribute my time and financial resources to many of the association's worthy causes," Gramm said.
He is proud of his partnership with WBOC on the Rising Tide campaign, which supports nonprofit groups of the Delmarva. Some organizations that have benefitted from this initiative include the Joseph House (Salisbury, Maryland); the Samaritan Shelter (Pocomoke City, Maryland); Code Purple (Delaware's Sussex County and Kent County); and the Cambridge Cold Weather Shelter (Cambridge, Maryland).
Gramm's dealerships have also collected school supplies for underserved children and winter clothing for the homeless. He's also helped schools purchase computers and helped underprivileged families enjoy the holidays.
Dealers are nominated by the executives of state and metro dealer associations around the country. A panel of faculty members from the Tauber Institute for Global Operations at the University of Michigan will select one finalist from each of the four NADA regions and one national Dealer of the Year. Three finalists will receive an additional $5,000 for their favorite charities, and the winner will receive an additional $10,000 to give to charity, donated by Ally.
WANADA is sending its hearty congratulations to Jim Gramm for this prestigious honor and wish he and his family best of luck as we look forward to the March awards ceremony.