This critical election needs your voice and your vote
Casting a ballot is our solemn duty
October 2021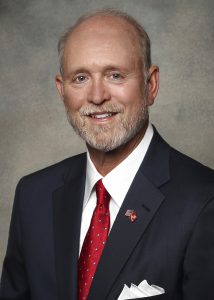 Voting isn't just our right as citizens. It's also our duty.
We urge dealers to encourage your employees to vote, and we ask that you help them carry out their civic responsibility by giving them the time off they need from work to make it to the polls on Nov. 2.
You don't even have to wait until election day to cast your ballot.
Early in-person voting started a month ago and continues until Oct. 30. You can also request an absentee ballot be mailed to you, just remember to apply for a mail-in ballot by Oct. 22.
There's no doubt this will be a pivotal election for our industry and our state with Virginians picking the Governor, Lieutenant Governor, Attorney General, and all 100 legislators in the House of Delegates.Here at VADA, we do not to tell you whom to vote for. But we urge you to pay close attention on what these candidates have to say about a pro-business environment.
We especially want you to look at the race for Attorney General, a position that has an immense say on the regulations impacting our stores. Although the governor's race gets a lot of attention at the top of the ticket, it's the Attorney General's office that is so critical for us because of its oversight of the Motor Vehicle Dealer Board and the Department of Motor Vehicles.
Beyond the Attorney General's race, we simply ask that you pay attention to what the candidates are saying and consider their past relationships with our association and their positions on the issues that matter to dealers and to you.
You can also give to our PAC's Electric Election campaign to support pro-dealer candidates.
Regardless of whom you support, the one thing you must do is go out and vote.
It is our solemn obligation, and we must exercise this right that the members of our armed forces have fought to protect since our country's founding.
Use these links to vote early, vote absentee, and to contact your registrar to find your polling site, so you can make your voice heard.
All in on EVs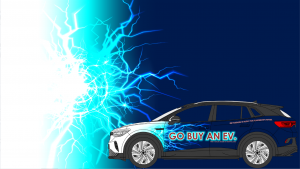 You have heard me say many times that we are "All in on EVs." Our support for electric vehicles is now on a roll, literally.
VADA's own electric vehicle, a Volkswagen ID.4, arrived at our headquarters recently. The SUV  was wrapped by VADA member Art Hudgins' company, and emblazoned with bolts of electricity and the message "Go Buy an EV."
We are also launching a new website highlighting the value that EVs bring to our businesses, the environment, and our customers. We will be updating the new website, www.goevva.com, with news about these vehicles that are so crucial to our industry.
Stay tuned as we highlight how EVs are driving all of us into the future.