Tom Barton's summer job turned into a career in the family business.
Tom Barton III began working at his father's dealership, Beach Ford in Virginia Beach, cleaning and prepping cars at age 14.
What began as a summer job back then grew into a career helping run his family's car-selling business.
Tom, now the president of Beach Ford, could have gone a down a different road in the business world after graduating from Virginia Tech in 1990. But he ultimately decided to put the knowledge he gained from his college business classes to use at his father's dealership while also attending the National Automobile Dealers Association's Dealer Academy.
As he studied at NADA, Tom also scoured the books of a Suffolk Ford dealership in preparation for his father acquiring it.
"That might have been the most valuable training that I got," Tom says. "At the same time, I was learning the management view of all the departments, we were evaluating that Ford Lincoln Mercury dealership."
After his father bought the Suffolk dealership in the early 1990s, he made Tom the operations manager there overseeing the family's new store. For Tom, it was a nerve-racking but extremely beneficial assignment.
"It turned out to be a great learning experience," Tom says. "I was out there, pretty much exclusively, for three to four years."
Tom is the vice president of that Suffolk dealership, Barton Ford, where his brother Bob Barton is now the president. Bob is also vice president at Beach Ford, and the Barton family also owns Bay Shore Used Auto Sales in Virginia Beach. Tom and his wife P.J. have a son who is a senior at Virginia Tech.
We spoke with Tom recently for his thoughts about the landscape facing his family business and the rest of the industry.
What did you do to keep your business running during the pandemic?
We got together with our Human Resources department and worked out a game plan for all the social distancing and mask requirements. We installed plexiglass for all customer-facing employees. First and foremost, we provided for our people's safety and that of our customers, and that was a big, time-consuming task at the very beginning.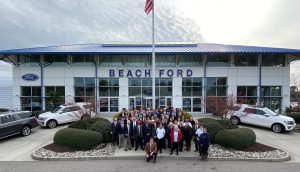 We were bracing for the worst. Everybody thought that we were facing another 2008-2009 financial crisis-type situation. But by April 2020, we started seeing traffic that we normally don't see until late May and early June. People really wanted to travel in their own private space, and that's a big part of what we provide.
What lessons did your dealership learn selling cars through that period?
We learned how to be a better used car operation. At Beach Ford and Barton Ford, we've been very successful at selling new vehicles. Our Virginia Beach dealership is usually in the top three to five dealers in the Washington DC region, and our used car department was good and successful and profitable, but we never really explored used cars. They were largely treated as a consequence of all the trades we would make on the new vehicles we sold.
We decided to expand our floor plan and began carrying more used car inventory at both stores, and we increased our used car sales at both stores. Of course, we've all benefited from the inflation that has occurred in the used and new vehicle market because of the lack of inventory and the shortages due to the chip manufacturers being down.
What kinds of difficulties have you faced in trying get inventory to sell?
I've never seen availability of new cars lower than it is now. At Beach Ford, I think we bottomed out at the end of August. I think at one point we were down to 23 new vehicles in inventory, which is insane because we normally have well over 400 in stock at any given time. At our Suffolk store, we had six or seven new vehicles in inventory when it bottomed out, so it's been very interesting to say the least.
What should dealers be doing now to keep their businesses going and to ensure their success in coming years?
With the chip shortage and the new vehicle shortage, I think the estimates are that almost 10 million vehicles that would have been produced did not get produced. That's going to cause a ripple effect in the used car market, valuation-wise, for years. What we're facing now is a shortage of used cars, and I don't see that moderating any time soon.
As franchise automotive dealers, we've got to become a lot better at maintaining and servicing the vehicles. Not only do we need to pay attention to our customer base and our existing fleet of vehicles and servicing them better, dealers also have to get really good at commercial vehicle service. I think that's a big thing for the future. I don't think you could spend too much money on upgrading your commercial service capabilities at your dealership.
What would be the smart steps for dealers to take to upgrade their commercial service for company fleets?
I think people need to look at their facilities and decide if they have any excess capacity. If they do, then I think commercial service lifts and the future expansion of your technician ranks is a smart move. I would look at a dedicated service advisory team for commercial service. I think that's a hedge against what may happen in the future with electric vehicles and perhaps ultimately autonomous vehicles. There's a lot of nervousness, and I understand that, in the market about EVs and the fact that they have 35% less moving parts. I've also seen studies that they take 1.5 times longer to fix, and they're 1.5 times more expensive.
What benefits and challenges do you see from selling EVs?
I think they're going to be wildly popular. I think there's an exhilarating feeling driving an electric vehicle in terms of torque and acceleration. I think people are going to be wildly impressed with how they drive. The true unknown is how many inconveniences they present, and we're in the process of working those out. I do believe customers are ultimately going to demand very little inconvenience after they've switched to EVs. How long is it going to take me to recharge my car? What's the availability of charging going forward? I think that discussion is already underway and much of it will work itself out in the next five years.
What benefits do you get from being a member of the VADA?
VADA president Don Hall is an old friend of my family. I think VADA does a great job of staying on the cusp of the latest trends. They were immensely valuable last year when COVID was throwing us curveballs. VADA was very much on top of how we should react and what the rules statewide mean as we went into the lockdown. They provided a lot of help with that. They were very good with the PPP business loan situations and ways to handle that. Since Don Hall has been running the show, they have been a true advocate of Virginia auto dealers and perhaps one of our greatest assets.