VADA Executive Vice President and Chief Financial Officer Michael Burch has always gravitated towards a career in finance
This is one of a series of profiles of VADA and Integrum Advisors team members. We ask them to tell us a story – something funny, touching insightful or meaningful.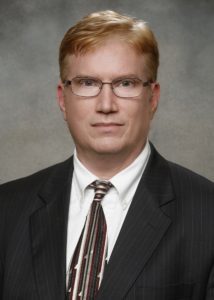 As VADA's executive vice president and chief financial officer, Michael Burch's tools of the trade are spreadsheets, financials ledgers, and a calculator.
It's Mike's job to track how the money is flowing at the VADA and related entities, including the Richmond Auto Dealers Association, Integrum Advisors, the Virginia Auto & Truck Dealers Political Action Committee, and VADA's charitable foundation.
Mike already had a long background in finance and accounting prior to VADA. Before he began working for our association in 2004, Mike was a controller keeping tabs on the ledgers at the National White Collar Crime Center, a nonprofit in Richmond that fights financial fraud. He's also been an accountant at Little Caesars overseeing the finances for the company's pizza franchises around the Richmond area.
He worked in the dealership world before VADA when he was as a controller at Whitten Lincoln Mercury in Richmond. A colleague there helped him land a job interview with Don Hall at VADA.
"The interview went well, and I went from there," he says.
Being the subject of a staff profile is familiar territory for Mike. He was once interviewed for the "Employee Spotlight" at the National White Collar Crime Center's newsletter. That nonprofit's article notes Mike passed his CPA exam on his first attempt and that he was known for "his uncanny and tireless sense of detecting and seeking out food and snacks, wherever they may be located within the office."
Let's hear from Michael about his work for VADA:
"I'm responsible for preparing our internal accounting statements and our annual budget. I oversee accounting for six corporations (VADA and five related entities). I prepare for annual audits and draft tax returns.
I'm pretty much dealing with numbers all day. I could be working on payroll. If it's the end of the month, I could be working on projects like reviewing the ledger for each corporation and doing a mini-audit and then making journal entries to ensure they're accurate.
I took accounting in high school, and I've always gravitated towards that. I just liked doing it, and what it entailed. I said 'OK, I'll try this. It's cool.'
I like dealing with numbers and putting things together. It's kind of like a puzzle. There's always going to be a right answer, and I enjoy getting things right.
I like the environment at VADA and working for a small employer. I don't think I'd enjoy working for a giant firm. If you're in a really large firm, you may oversee a segment of their books. Here, you're able to see the big picture and be part of all of it.
At the National White Collar Crime Center, they did an Employee Spotlight profile. I still have the original one written about me. The title was 'Meet the Bean Counter.'
Wherever I am, I try to adhere to Colossians 3:23-24, which says "Whatever you do, work at it with all your heart, as working for the Lord, not for human masters, since you know that you will receive an inheritance from the Lord as a reward. It is the Lord Christ you are serving."
Best business advice:
"The rule I had, going back to my work at Little Caesars, is the money coming in is more important than the money going out. It started with a conversation with one of the supervisors back then. I said, 'we need to focus on the sales coming in the door and all the work with the customers.' That was more important than worrying about this or that bill having been paid. Everything comes from revenues."
About:
He likes playing golf and billiards.
Mike graduated from the University of Richmond in 1985 with a bachelor's degree in business administration.
His first job after college was at the McGladrey & Pullen accounting firm in Richmond.