R.J. Robinson initially thought he would sell cars as a summer job, but he's still in the business decades later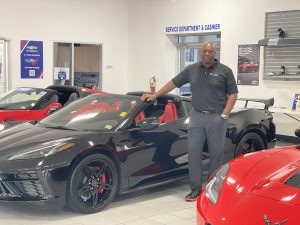 R.J. Robinson first got into the car selling business back in 1994 when he applied for a job as a salesperson at a North Carolina Chevrolet dealership.
He originally thought he would be selling cars as a summer job.
But more than 25 years later, R.J. is still in the business, now as managing partner at Parks Automotive Group's Chevrolet store in Richmond.
"I got in the business and loved it. I loved interacting with people, finding solutions, and helping people," R.J. says. "It was fun, and I stuck with it and moved up the ranks."
He had already worked in many roles in the industry by the time Parks purchased the Richmond dealership in December 2019.
After that first job as a car salesperson for Flow Automotive Group, he worked his way up through the ranks holding positions as an F&I manager, sales manager, and general sales manager before becoming the general manager for a Saturn store in Winston-Salem. Then he became the general manager of another location overseeing multiple franchises in Greensboro, N.C. He worked for Zurich insurance company as an F&I executive in Greensboro before becoming Zurich's national business development manager on the East Coast with a territory spanning from Maryland down to Florida and out west to Indiana.
"I always thought about what the opportunity would look like if I went back to retail when I was at Zurich," R.J. says. "The opportunity to be a managing partner was one thing that I wanted to do since I started in the business a long time ago. I thought it would be a great opportunity for me and the family to join Parks Automotive Group and come here to Richmond."
R.J. and his wife Elizabeth have their three children – Garrett, 29; Noah, 19; and 13-year-old Layla.
The Chevrolet dealership on the Richmond-Henrico County border is the first Virginia store for Parks Automotive Group, which operates five other dealerships in North Carolina and South Carolina.
Shortly after the sale closed on Parks Richmond at the end of 2019, the COVID-19 pandemic created historic challenges for auto dealers in an era of social distancing and mask regulations. Let's hear from R.J. about the steps his store took to keep business rolling through the pandemic.
What was it like to keep selling vehicles amid COVID-19?
We had the measures in place to keep everybody safe, both customers and employees. As a group, we meet weekly to address COVID and our response to it. COVID changed the way we do business and changed the way customers want to do business. To be successful as an industry, we can't go back to the old way of doing business. Now, we do business the way the consumer wants to. COVID opened our eyes up a little bit on how we interact with the consumer, and it made us perform at a higher level. The experience for the consumer has changed, and an online experience is what's expected. If we don't adapt, it will be tough to survive.
What did you do to quickly pivot to keep your business running during the pandemic?
We focused heavily on providing a better online shopping experience. Text messaging was one of the big changes we made during this time. Almost everyone, including my 92-year-old mother, likes to text. This is a more direct way of communicating. It's comfortable for consumers. Delivering cars was another big change in the buying process. Prior to COVID, many deliveries were done after the customer made a visit to the dealership.
With the deliveries, we started picking up cars for appraisals and dropping cars off for test drives. Virtual walk arounds using FaceTime was a way for us to interact with the consumer, allowing them to stay safe but still get the sensation of being in the car. This allowed us to make the process enjoyable and as transparent as possible.
What do dealers need to do to thrive in today's environment and in coming years?
Currently, the microprocessor shortage is the biggest issue. The factory is thinking it will be the 4th quarter of 2021 or 1st quarter of 2022 before inventories get back near normal levels. Managing inventory levels, selling in-transit vehicles, and sold orders will be an important part of dealership profitability. Having multiple locations to pull inventory from was a plus last year and will be moving forward.
Hiring people has been a main priority for us. As an industry, we need people with good character, and what I call "grit," who want to work and take care of consumers. We are in the customer service business, and we need great teammates in order to be successful.
What benefits and challenges do you see in selling electric vehicles?
We have embraced EVs. We try to keep a few new and pre-owned EVs in stock and have done well with them. If you have not driven one, you are missing out. The amount of torque and lack of engine noise takes a minute to get used to.
Cost was an issue with early EVs. However, more manufactures are now building more affordable options. Helping preserve the environment and saving gas are two good reasons for consumers to put an EV on their shopping list. Some challenges may be finding charging stations in rural areas, although more truck stops and gas stations are installing charging stations. Having instant access to transportation could also be a concern. Currently, anyone can just jump in a car, take off, and find the nearest gas station when you need one.  Road trips will take a little more planning than before, but most EVs have technology that provide a route with charging stations along the way. I think EVs are going to be the new form of transportation offering a lot of benefits.
What does the VADA do for your as a dealer?
In regards to EVs, one concern for dealers was the loss of service income when the manufacturers move to all EVs. During the VADA's June convention, one of the speakers from Cox Automotive provided the group with statistics that showed only a slight decrease in service income on EVs versus servicing traditional gas engines. On July 1, Virginia laws around overtime wages changed. The VADA provided tools to help us be prepared for these changes.  The VADA conventions also provide tangible information we can take back to our dealerships and really make an impact for the customers, employees, and profitability. That's a huge value for us.