June 4, 2021
State changes some measures enacted to curb virus
With the end of mitigation efforts required by the Executive Orders from the Governor and new CDC guidance relaxing some restrictions, dealers have asked about changes to the Final Permanent Standard, enacted to prevent the spread of COVID-19.
The Department of Labor and Industry (DOLI) has made several changes based on updated guidance. The italicized language below is from the DOLI's responses to Frequently Asked Questions.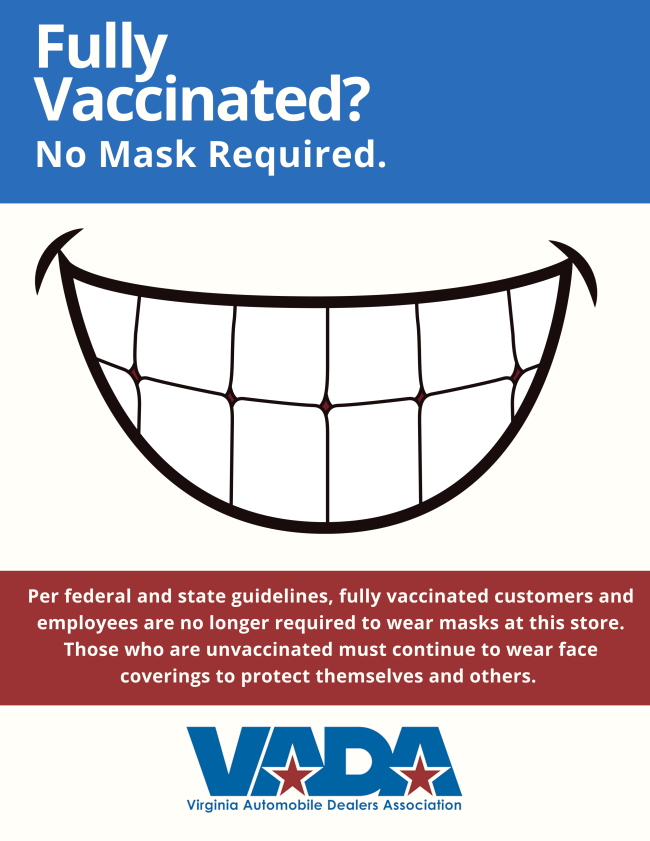 1. Vaccinated employees can resume most "normal" business activities. However, an employer may still require masks and social distancing.
"The Department and VDH agree that based on the CDC's science-based determination that ... fully vaccinated non-healthcare employees can safely resume indoor and outdoor workplace duties without wearing a face covering or physically distancing, such activities would be in compliance with 16VAC25-220-40.F, -40.G, -40.H, -60.C.10, and -60.C.11."
2. Daily health screenings are still required generally. However, the Permanent Standard does not require daily health assessments or daily screenings of employees classified as lower exposure risk. An employer must only have policies and procedures for low-risk employees to report symptoms, not necessarily a daily screening of those employees.
"16VAC25-220-40.B.4 provides:
Employers shall develop and implement policies and procedures for employees to report when they are experiencing signs or symptoms consistent with COVID-19, and no alternative diagnosis has been made (e.g., tested positive for influenza). Such employees shall be designated by the employer as suspected to be infected with SARS-CoV-2 virus."
3. Disinfecting surfaces is not required generally. When no people with confirmed or suspected COVID-19 are known to have been in a space, "cleaning" [but not "disinfecting"] surfaces is sufficient in most cases. (See conditions below.)
"In the absence of such 'certain conditions,' and based on the CDC's science-based determination that cleaning only is sufficient to assure that the spread of the virus is unlikely, an employer would be considered to be in compliance with 16VAC25-220-40.L.5 if it decided to not disinfect such surfaces.
However, the employer would be required to fully comply with 16VAC25-220-40.L.5 where 'certain conditions' apply that can increase the risk of infection from touching surfaces:
High transmission of COVID-19 in your community,
Low number of people wearing masks,
Infrequent hand hygiene, or
The space is occupied by certain populations, such as people at increased risk for severe illness from COVID-19."
4. Shared tools and workplaces must still be disinfected.
"All shared tools, equipment, workspaces, and vehicles shall be cleaned and disinfected prior to transfer from one employee to another."
The full list of questions and answers can be found here. VADA will continue to keep you updated on any changes to the Final Permanent Standard.