Note: For our interview with Republican candidate Jason Miyares, click here.
'Stepping up to meet the moment'
When we sat down to talk with Jay Jones about why the 32-year-old wants to be Virginia's next attorney general, that was actually our first question: Why? Not that age should be a factor one way or the other, but…aren't you too young for such a prominent, statewide role? And why now?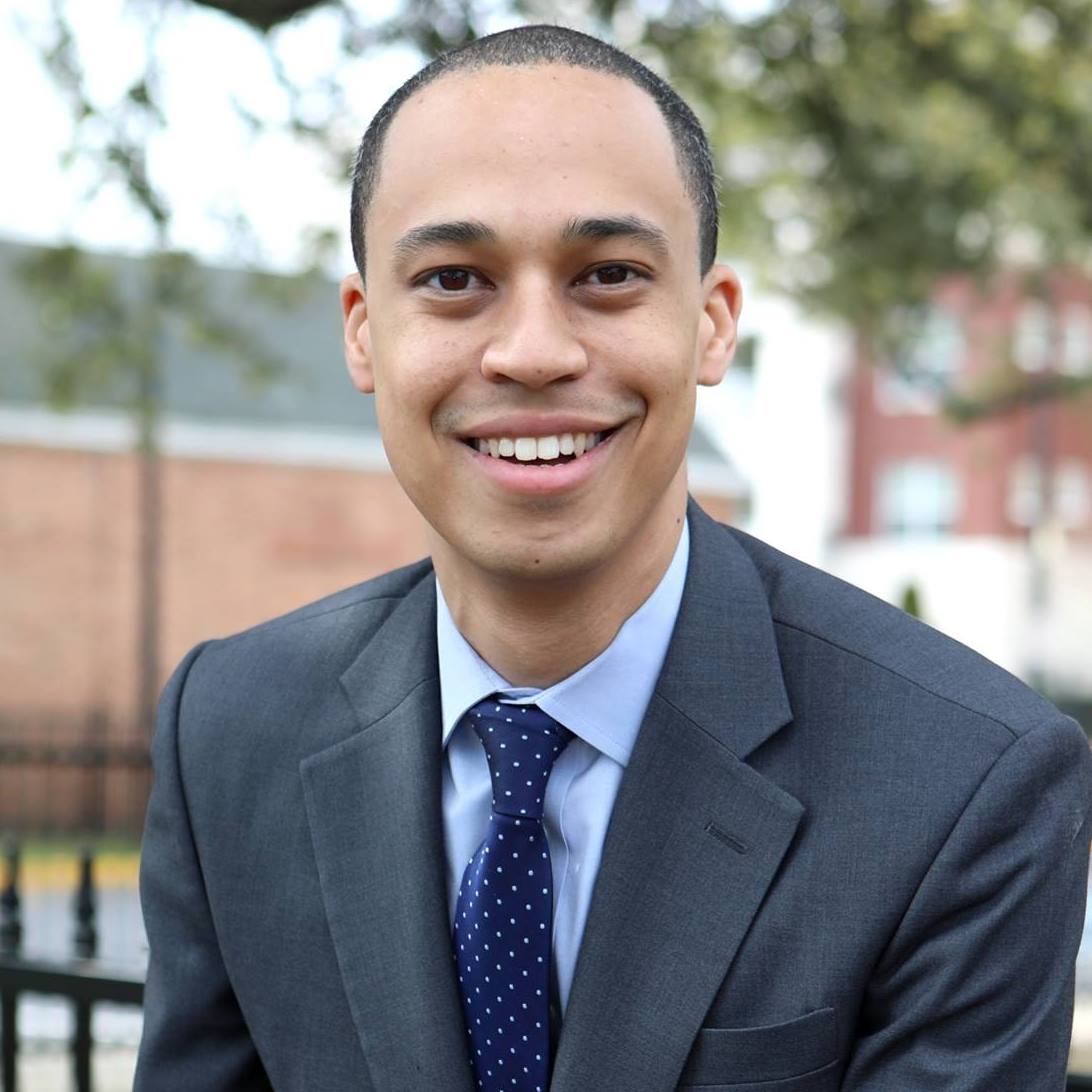 "This is all about meeting the moment. Throughout human history, we as a society, we as Americans, we as Virginians have stepped up to meet moments," says Jay, who was elected to the Virginia House of Delegates in 2017 and represents Norfolk in the 89th District.  "And I think 2021 is a pivotal moment in Virginia's arc."
This new world and this moment, Jay says, requires fresh faces and ideas. He says his skills as legislator and attorney — paired with his youth — create the right mix for dynamic new leadership in a role responsible for upholding the Code of Virginia and protecting consumers and businesses.
Gov. Ralph Northam would agree, endorsing Jay over the eight-year incumbent Mark Herring. It's a moment that Jay has been moving to meet his entire life — and one generations in the making. A descendant of slaves, the Norfolk native's family has lived in the the area since the early 1900s. Jay's grandfather, Hilary H. Jones, Sr., was a pioneering Civil Rights attorney in Norfolk and first Black member of the Norfolk School Board. Jay's father, Jerrauld C. Jones, is one of the few Virginians to serve in all three branches of state government (Jay holds the seat his father held from 1998 to 2002). His mother, Lyn Simmons, is a judge in Norfolk after a long career as a violent crime prosecutor and attorney.
In the General Assembly, Jay serves on — among other roles — the Transportation committee, and he is quite familiar with VADA members and our industry as chairman of the House Transportation subcommittee on motor vehicles.
"2021 is our opportunity to highlight different faces, diverse voices, and get fresh ideas — people who haven't necessarily been at the table for the last generation or two," he says. "And I'm one of those people. And I look forward to the opportunity."
Below, our interview with Jay, who, if elected, would become Virginia's first Black attorney general.
Listen to our interview with Jay on VADA's High Octane Podcast:
Jeff Kelley, VADA Communications: Why should Virginia dealers support you for attorney general?
Jay Jones: In a previous life, in between college and law school, I actually worked in finance in New York City. And so I do have a business background. I have every ounce of respect for auto dealers, because you are a key component of our Virginia economy. I know the challenges that the auto dealers face. My service, as chair of the motor vehicle subcommittee on the Transportation Committee, has given me a window into what is going on in the industry, working very closely with VADA on legislation that I've carried and legislation that other folks have carried to craft the right solutions. It is not easy. This climate is tough. The pandemic really changed the way that we look at how the world works. I think you need someone in the AG's office who will be an ally, someone who will listen. And everybody who knows me knows that I do listen. You can come into my office whenever. We might not agree on everything, but I will certainly try to work with you on everything that's coming across our desk.
I am well-positioned to be that person who can work with the auto dealers, because I know the challenges, I've seen it in the legislature, and we can take it to the next level as attorney general.
Describe your leadership style.
Each occupant of the office reinvents that space in their image. We will be different. We will reimagine the office. Just because things have been operating a certain way doesn't mean that's the best way. We will take a wholesale look at the office, and we will deploy resources in the areas we think need the most attention.
Our office will be out in the communities. We rolled out a plan a couple of weeks ago to put satellite offices all across the state, because we want to go meet people where they are, we want to go roll up our sleeves, we want to understand what's happening in the communities all across the Commonwealth. I actually had a chance to go to southwest Virginia a couple of weekends ago. And part of that trip was to let folks know that no matter who is in office, as the attorney general, you are still the lawyer for everybody. You want to be the people's lawyer. But you can't do that if you're sequestered away in Richmond. And so we're going to be a little bit more mobile, a little bit more dynamic.
We'll be more visible than you've ever seen before.
Dealers have made significant investments in their stores and operations and must abide by stringent state regulations that dictate sales and ensure consumer protections from manufacturers. How should these laws apply to new entrants?
What everybody wants is fairness and accountability and transparency as it relates to the application of the law and regulations. And so certainly during my time in the legislature, we have worked to try to find a balance as the market is changing. And we don't expect things to stay the same forever.
I don't drive an electric vehicle, but that does seem to be the way of the future. And there are auto dealers who have been putting time and effort into that, and we don't want to discount their investments and their hard work as they try to meet this moment. And so we want to be very keenly aware of how things are changing, but understand that we can't bend towards one side or the other — especially against the folks who've been there for a while.
My position would be that we want to take the law, take the regulations, and enforce them fairly across the board so that no one's got a particular advantage. What we like in Virginia is competition — and it's why we've had such a strong business climate and are the number one state for business. But it's healthy competition, and it's fair competition, and nobody should have a particular advantage. And I think from my time on the motor vehicle subcommittee, and working with [VADA President and CEO] Don [Hall] and others very closely, I have become far more aware of this landscape than I think a lot of my other colleagues have. As we look ahead, it's beneficial for me as attorney general to step in and make sure that everyone's getting a fair shake.
Watch to our interview with Jay on VADA's High Octane Podcast:

Legislation that would have permitted class action lawsuits for state claims died in the General Assembly this year. Do you think a group of defendants should be allowed to bring class action litigation for state claims against businesses in Virginia?
I will tell you that as a trial lawyer, my instinct is to say that I would love that opportunity. But I'm currently on leave from my firm as we campaign full time, so I have a keen eye towards the landscape. And I think class actions are something that we should look at. But I don't think we need to make any rash decisions right now. I think that is certainly something that [trial lawyers] can look at, or some of these other commissions that we have set up with input from stakeholders all across the board.
Virginia is one of the only states without that mechanism. And that doesn't mean that we should never have it. But I do think that we need to look at it over the course of a couple of years, because it's going to have a direct impact — not just on our business community, but on the legal system as well. That's going to change the landscape for the administration of lawsuits and put a burden on our court system, which is already underfunded.
A change like that is incredibly dramatic. And again, I'm not saying that it's not the right thing to do, but you want to be thoughtful, and you want to make sure that you're bringing everyone to the table who's going to have a stake, because that is a significant change.
Just because something is a good idea doesn't mean that it's a good piece of legislation. As I have always told folks who come to me with ideas: A good idea in June becomes a really good idea in September, through a lot of work with a lot of different people at the table, which becomes a really good bill in November. And with more work, it becomes a great bill in January, and it flies through. And so if we put in the work on the back end, it makes the front end look beautiful. And I think this is one of those situations where it's going to take a lot of work on the back end with a lot of people involved, so that maybe we can find a solution that's workable for a lot of people. But that's a big lift. And that's a big step that we don't want to do without being as measured as possible.
Give us your thoughts on Virginia's Right-to-Work law. The Right-to-Work law dates back to 1947 in Virginia and prevents unions from forcing workers to pay union dues as a condition of their employment, which effectively weakens organized labor. Repeal of Right to Work has become a dividing line for Virginia Democrats, with more centrists saying it could hurt our upstanding business reputation and progressives pushing it as a major step to help workers and strengthen labor unions. (Note: Jay's own campaign staff unionized, with his support, in March.)
I represent plenty of small businesses and larger entities. I'm well aware of this issue. It is a legislative issue. And so I hope that when I win, the legislature will figure out what to do with right to work. But again, it's one of those situations where it requires a lot of input, it requires a lot of thought. But certainly, as attorney general, I will enforce the law as it is on the books. That is certainly what you're charged with doing. How that evolves over the course of the next few years will be dependent on the makeup of the legislature, and I don't have a crystal ball. I know where I'd like to see that stuff go. We'll have to take that as it comes. But as attorney general, again, what is on the books is what I will enforce and what we will do. And so until that changes, we are where we are.
What is your general philosophy on how the law should be applied? 
I certainly would like to see the law applied evenly and justly across all situations, whether it's criminal, civil, administrative. And I think that is, at its core, what we're searching for: the attorney general's office is a consumer protection office at heart. We've got some strong laws on the books and we will certainly advocate for areas where we think that we could have a little bit more power and purview.
I certainly would have loved to see my Civil Rights Division (a new division within the AG's office) get passed in the most recent legislative session. Unfortunately, it was killed for political purposes. But it certainly would have been a mechanism for us to use the law to protect people. Because at the end of the day, this is about the 8.5 million Virginians and growing, who need this office to make sure that everything is okay in their lives, to make sure that there is healthy competition in markets, that they're not getting a raw deal as a consumer, to make sure that they're not getting medication at super high rates, or treated a certain way because of a pandemic. And so, we will enforce the law, and we will work to change laws as we see it necessary.
But certainly, as we look ahead, we can be a voice, right? And just because the attorney general's office doesn't have an explicit purview or an explicit grant to do something doesn't mean that I have to be silent. And so I think people look to the statewide offices for leadership, for guidance, and we will do that. We will be a voice and that's going to fold into our job as the state's lawyer.
Motor vehicle dealers are a self-regulating industry with their own oversight board funded entirely by dealers. What is your view on the role of an industry in the regulatory and enforcement activities of the AG's office?
I think the industries have their particular expertise. They're in it every single day, and so they know it better than anybody. I think the AG's office is there as a backstop in case you see some wrongdoing or nefariousness. But it seems to be that, especially with the auto dealers, things are operating well and we don't want to upset the applecart in that way.
We'll be vigilant and you never want to take your eye off the ball. And again, with this changing landscape, as electric vehicles, as hybrid vehicles, as alternative vehicles become more prevalent, I think there are going to be more instances where we're going to have to be a little bit more active. You're always sort of listening and keeping your ear to the ground, and making sure that you are having conversations and dialogues with the key players and the key actors in the space. Because that's how we can stay best informed and we can stay on our toes and be dynamic and nimble should we have to step in.
So…EVs? On your radar? What can I do to put you in an EV today?
Several of my colleagues now have these electric vehicles. So I've had the opportunity to be a passenger have driven myself or been driven by one. It's exciting. And I do think it's a good thing for not just the environment, but for the state. And I think that there is an opportunity for everybody to benefit from the advent of these new vehicles. We want to make sure that everybody's got the opportunity to do that, that no one's getting a leg up, that everybody is abiding by the laws that are on the books as we put them out in the legislature. As AG, we'll continue to stay on folks and make sure that everyone is minding their P's and Q's without inserting ourselves unnecessarily — and let competition drive the day.
 Voters will choose the Democratic AG nominee in a primary on June 8.