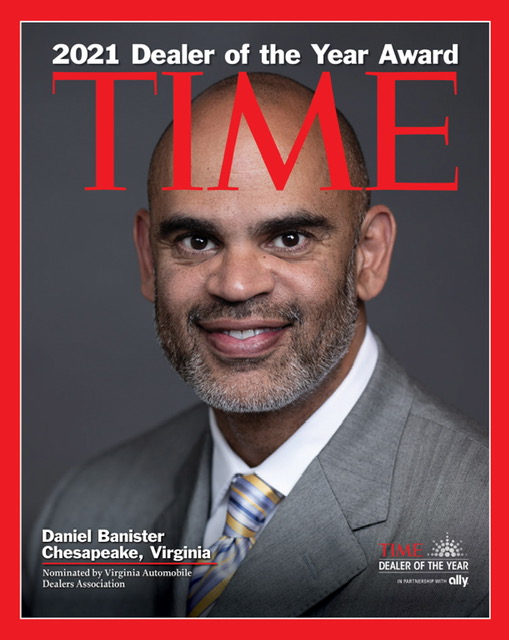 Banister is one of a select group of 40 dealer nominees from across the country who will be honored at the 104th annual National Automobile Dealers Association (NADA) Show being held virtually February 9-11, 2021. The announcement of this year's annual award was made by Viktoria Degtar, Global Chief Revenue Officer, TIME, and Doug Timmerman, president of Auto Finance for Ally Financial.
The TIME Dealer of the Year award is one of the automobile industry's most prestigious and highly coveted honors. Recipients are among the nation's most successful auto dealers who also demonstrate a long-standing commitment to community service. Banister, 52, was chosen to represent the Virginia Automobile Dealers Association in the national competition – one of only 40 auto dealers nominated for the 52nd annual award from more than 16,000 nationwide.
"Seeing professional and personal development among my staff is extremely rewarding," nominee Banister said. "When the dealership grows, our team members benefit, and I am proud to create an environment where advancement regularly occurs."
A standout high school athlete who excelled in football, basketball and track, Banister played basketball on a full NCAA Division 1 scholarship for the University of North Carolina at Charlotte, where he majored in criminal justice. He brought that same competitive spirit and motivation to his first job in the retail automotive business, working as a salesperson at Independence Nissan in Charlotte right out of college. The job would be the beginning of a long and fruitful partnership with Nissan.
"I made it a point to learn every position in the company," Banister said. "My motto is, 'Know how to do the job before you get the job.'"
He advanced through the dealership but his strong people skills made him a natural in sales. In 1998, Banister was given the opportunity to run a failing Nissan store in Rock Hill, South Carolina, as the general manager. "In short order, we were able to turn around the dealership in both sales and profitability," he said.
That achievement led to an offer at Victory Nissan in Chesapeake in 2001, where Banister's creative and engaging television and radio ads featuring "Dan the Man," his moniker, helped him build another success story.
"I was happy with my accomplishments, but I wanted an opportunity to own my own store," he said. And in 2010, that dream became a reality when he and a partner purchased Victory Nissan. By 2017, Banister bought out his partner and is now the principal owner of two Virginia dealerships, Banister Nissan of Chesapeake and Banister Nissan of Norfolk.
"I am one of only 15 black-owned Nissan dealerships nationwide, and our stores are consistently among the top-preforming Nissan dealerships worldwide," Banister said.
His commitment to the retail automotive industry extends far beyond his car showrooms. Banister is currently regional president for Nissan's National Dealer Advisory Board. "I am a faithful representative of the entire Nissan dealer body to senior Nissan leadership," he said.
In addition, he is president of the Hampton Roads Automobile Dealers Association, overseeing the group's annual international auto show. And he serves on the board of the Virginia Automobile Dealers Association, as well as the Motor Vehicle Dealer Board for the state of Virginia, a position appointed by the governor.
A respected leader in his community, Banister is actively involved in numerous local charities. He currently sits on the boards of The Elder's House (provides a safe and nurturing environment for at-risk youth); The Chesapeake Forum (brings dynamic and diverse speakers to the area to educate and inspire); Chesapeake Regional Health Foundation (raises funds for needed new medical equipment); and Chesapeake Public Library Foundation (supports various library programs), plus others.
"Each of these organizations has a real impact locally," he said. "They all serve real concerns that affect our community in such diverse ways. I am proud to have made my impact felt across these great organizations."
In addition, Banister has supported St. Jude Children's Research Hospital by providing a car as part of its Hampton Roads St. Jude Dream Home Giveaway, a major fundraising effort for the hospital. He is also a member of the Mount Lebanon Baptist Church in Chesapeake, known as The Mount, which is guided by spiritual leader Bishop Kim W. Brown.
Dealers are nominated by the executives of state and metro dealer associations around the country. The award is sponsored by TIME in association with Ally Financial, and in cooperation with NADA. A panel of faculty members from the Tauber Institute for Global Operations at the University of Michigan will select one finalist from each of the four NADA regions and one national Dealer of the Year. Three finalists will receive $5,000 for their favorite charities and the winner will receive $10,000 to give to charity.
In its tenth year as exclusive sponsor, Ally will also recognize dealer nominees and their community efforts by contributing $1,000 to each nominee's 501(c)3 charity of choice. Nominees will be recognized on AllyDealerHeroes.com, which highlights the philanthropic contributions and achievements of TIME Dealer of the Year nominees.
"The TIME Dealer of the Year award celebrates the country's top dealers who understand that their businesses thrive when they give back and help their communities grow," Timmerman said. "In short, the award recognizes dealers who do it right in their businesses and in their communities."
Banister was nominated for the TIME Dealer of the Year award by Don Hall, president and CEO of the Virginia Automobile Dealers Association. He and his wife, Beverly, have two children.
About TIME USA LLC
TIME is a global media brand that reaches a combined audience of more than 100 million around the world, including over 40 million digital visitors each month and 45 million social followers. A trusted destination for reporting and insight, TIME's mission is to tell the stories that matter most, to lead conversations that change the world and to deepen understanding of the ideas and events that define our time. With unparalleled access to the world's most influential people, the immeasurable trust of consumers globally, an unrivaled power to convene, TIME is one of the world's most recognizable media brands with renowned franchises that include the TIME 100 Most Influential People, Person of the Year, Firsts, Best Inventions, World's Greatest Places and premium events including the TIME 100 Summit and Gala, TIME 100 Health Summit, TIME 100 Next and more.
About Ally Financial Inc
Ally Financial Inc. (NYSE: ALLY) is a leading digital financial-services company with $185.3 billion in assets as of September 30, 2020. As a customer-centric company with passionate customer service and innovative financial solutions, we are relentlessly focused on "Doing it Right" and being a trusted financial-services provider to our consumer, commercial, and corporate customers. We are one of the largest full-service automotive-finance operations in the country and offer a wide range of financial services and insurance products to automotive dealerships and consumers. Our award-winning online bank (Ally Bank, Member FDIC and Equal Housing Lender) offers mortgage lending, personal lending, and a variety of deposit and other banking products, including savings, money-market, and checking accounts, certificates of deposit (CDs), and individual retirement accounts (IRAs). Additionally, we offer securities-brokerage and investment-advisory services through Ally Invest. Our robust corporate finance business offers capital for equity sponsors and middle-market companies.
For more information and disclosures about Ally, visit https://www.ally.com/#disclosures.
About the NADA Show
The annual NADA Show brings together more than 20,000 franchised dealers and their employees, industry leaders, manufacturers and exhibitors to learn about the latest auto industry tools, trends, products and technologies.