April 2020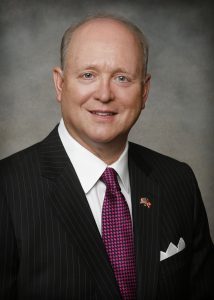 To say we're living in unprecedented times is an understatement. Things are changing by the week, by the day, sometimes even by the hour.
What you need to know most is that we are strong as individuals – and we are even stronger as an Association. Together, we will navigate through this unchartered territory. To be certain, we have already won some battles—Governor Northam designated our service departments as "essential" operations and has permitted sales departments to continue under limited conditions.
By now, you should know to expect our near-daily updates as the coronavirus pandemic continues. Team VADA also maintains our regularly updated VADA Coronavirus Resource Center at vada.com/coronavirus. There, we offer updates and analysis on state and federal legislation and regulation, business operations and employee information, and ensure you have the support you need to operate a dealership in these trying times. We update it daily, and know that we're making sure the latest news is posted and removing earlier posts as we get updated guidance.
Here are some key things to keep top of mind right now.
We are open and safe.
Yes, dealerships can remain open for service and sales. It's critical that everyone adhere to the Gov. Ralph Northam's latest guidelines—including Executive Orders 53 and 55—as well as CDC practices for safety and cleanliness.
That means no more than 10 customers on premise for the purpose of sales/F&I at any one time. The only limitation on the number of service and parts customers in the dealership is the practical one of ensuring proper social distancing. For everyone, keep 6 feet apart. And follow the best cleaning protocols: Constantly wipe down common surfaces, wash hands, and ensure a clean, healthy environment.
It is important you be a leader at this critical time. Be concerned about enforcement penalties for noncompliance. Failure to abide by the 10-patron rule for sales and/or F&I—or failure "to adhere to social distancing recommendations, enhanced sanitizing practices on common surfaces, and other appropriate workplace guidance from state and federal authorities," anywhere in your store—could result in store closure or a Class-1 misdemeanor punishable by up to 12 months in jail.
Use common sense. Implementing business practices compliant with the Governor's Executive Orders and otherwise operating amidst the spread of COVID-19 is not a situation that can be "lawyered." In other words, now is not the time to see how close to the edge we can get. This is an unprecedented situation with no legal guidance on which we can rely. It is not the time to push the envelope on compliance.
We need to show our people they matter.
If you have a rainy day fund, maybe it's time to dig into it and show your loyalty and appreciation to your employees. Do what you can to keep them, because it is very likely some good people will be looking for jobs in coming months. Earn your reputation as an advocate for your employees.
You should be aware by now, but the federal government has also enacted various legislation, including the Families First Coronavirus Response Act (FFCRA) and the Coronavirus Aid, Relief, and Economic Security (CARES) Act. These Acts offer relief to both your employees and your dealership by providing free or low-interest loans to keep your business running. You can find more on FFCRA and the CARES Act on our Coronavirus Resource Center.
We are here to service and sell.
We know automobiles are large investments during an uncertain economic time. However, we want our customers – and all Virginians – to think of our dealerships as support for their transportation needs.
Citizens and municipalities still need safe, reliable transportation, making it important for them to access our service teams. We also know that increased delivery and public service demands require people and companies to get affordable vehicle options.
And with some customers facing difficult economic hardships, we need to give them tools for refinancing to help them stay in their current vehicles.
We need to seize this moment for innovation.
This is a pivotal moment for our industry, but our dealers are sharp businesspeople and know how to get creative. Some great things already are happening, and we hope to find ways to make these more permanent, long-term services.
We are making big improvements in our customers' experiences: a better online or mobile shopping or appointment experience, at-home delivery, and ability to do paperwork and F&I at their kitchen table. With the rise of disruptive and direct-sales models in recent years, we recognize car dealerships are ripe for innovation, and many of us see this as that opportunity to transform the way our businesses operate.
We make major contributions to Virginia's economy.
Amid these turbulent days, don't forget the important role Virginia's new car and truck dealerships play in the Commonwealth's economy. Our most recent annual statistics show that dealerships:
Employ 65,000 Virginians.
Contribute nearly $1 billion in tax revenue to support schools, services, and more.
Represent 20 percent of the state's retail sales.
When you consider those numbers, it underscores how important it is that we stick around to help jump-start our economy when the lockdowns are lifted. Every smart step we take now strengthens our resolve and resiliency to get to the other side. We'll be ready.
These are the hardest times dealers have ever faced — and may ever face in the modern era — and VADA is here to support you. But we need to push past our fears, dig in, and not waste this tremendous opportunity.
Stay healthy. Stay safe. Take necessary actions. Be a leader. Use common sense. Serve your community and help your workers and their families.
More than ever, it is a pleasure to serve the new car and truck dealers of Virginia.