JANUARY 22, 2020
More than 90 leaders from dealerships across Virginia, along with VADA staff, traveled to Richmond to "bring horsepower to the Capitol" as part of VADA's annual Dealer Day at the Capitol event.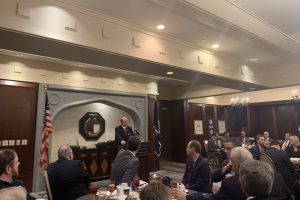 "We're here because it matters," VADA President and CEO Don Hall told attendees at a pre-event luncheon at the Omni Richmond Hotel. Over the years, VADA has lobbied for numerous bills that, Hall said, have made Virginia "the strongest franchise state in the country when it comes to auto franchise rights."
"Our role is to keep a level playing field so that you as business people can do your jobs, and so that manufactures don't have an upper hand on you and more than they should," said Hall, who hosted his 32nd Dealer Day (formerly Assault the Hill).
In 2020, however, Dealer Day was focused less on advocating for specific franchise legislation and more on protecting laws currently in place. Additionally, those gathered expressed the value of the franchise system, and how Virginia's new car and truck dealer community benefits communities in the Commonwealth. 
Hall also noted that 2020 is about "protecting our turf," as a new slate of legislators—with Democratic majorities in the House, Senate, and Governor's office for the first time since 1993—will consider thousands of bills important to Virginians and auto dealerships statewide.

At the top of the docket, Hall said, is safety inspections on the chopping block.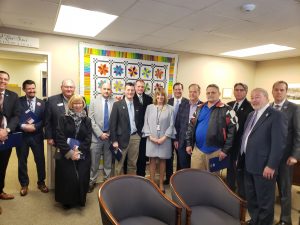 "The data is compelling. The states that have safety inspections, which is the minority of states, our citizens are safer as a result," he said. (See more on inspections and other bills below). "We are the voice of defending safety inspections, and the voice needs to be about taking care of people."

Tommy Lukish, VADA Manager of Legal and Legislative Affairs, noted that removal of safety inspections in other states saw fatalities and/or crashes increase in the years after their vehicle inspection programs were removed. He further noted study findings that crashes involving vehicles with defects are twice as likely to result in a fatality as crashes involving vehicles without defects.
This is significant, he told the group, when you consider that of about 8.2 million vehicles inspected in 2018, more than 1.6 million were rejected due to critical safety defects (see one page issue summary).
After lunch, the "Honorary Lobbyists" walked from the Omni to the Pocahontas Building, where dealers and dealership personnel split into groups to divide and conquer meeting members of the General Assembly.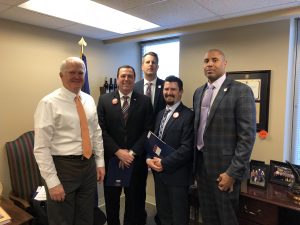 The groups moved through the halls of the Pocahontas Building with two main items on the agenda: safety inspections and keeping the dealer franchise system in tact.
On the topic of safety inspections, dealers and some technicians visited legislators and could explain how, as experts in the auto industry, they fully understand the importance of the inspection program and vehicle maintenance necessary for cars and trucks. "Consumers may not know what exactly is going on with their car and if it's dangerous to be driving or not. It's more than bald tires and broken break lights," Jake Sodikoff, dealer principal of Steven Nissan in Harrisonburg, told Del. Tony O. Wilt, a Republican from his district. "Safety inspections are the only thing that ensure a consumer's car is safe for the road. To take that away is taking away not only a car owner's safety, but the safety of others on the road around them."
This stance made even those who were previously indifferent about the issue think about it in a different light. "You know, I was really not concerned about this until you asked how I felt about one of my loved ones driving next to an uninspected car with broken brakes," said Del. Wilt. "To be honest, before you guys came in, I didn't think twice about this issue. Now I will."
Dealers also made the argument to members of the House Transportation Committee that $20 isn't such a big deal when it can save consumers thousands in the long run on repairs. Sometimes it can even cost you less. "The thing is, lots of dealerships don't event charge for inspections," said VADA team member Paul Stone.

Not all the bills are serious.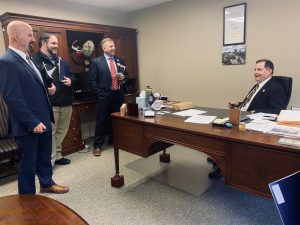 "A fun little bill," Hall noted, is legislation to create a combination special and dealer tag. "The DMV does benefit from the money, you'll pay a little extra for your customers, plus you get to show your loyalty [to a sports team or cause] as well."
By the end of the day, photos were taken, relationships were formed, and, most importantly, an impact was made. It was a successful day for VADA and Virginia dealers to discuss the issues that mean the most to them. 
Most of the effort at Dealer Day, however, wasn't about getting into the weeds on legislative details.
"Part of your job is just to talk about your business," Hall said, noting many dealerships are family affairs that have been integral parts of their Virginia communities for generations. And that, Hall said, is what keeps him coming back each year. "You are competition in its purest form. The epitome of the free market. Every day I feel like a kid in a candy store to say how lucky I am to be serving in this environment."
---
Here is all dealer-related legislation under consideration in Virginia.
Safety Inspections
There are five bills—two in the House, three in the Senate—addressing Virginia's annual safety inspection program. As part of his budget proposal, Governor Ralph Northam announced the desire to repeal the program. He has asked Delegate Jay Jones (D-Norfolk) and Senator Louise Lucas (D-Southside &Hampton Roads) to carry legislation including such repeal in addition to other transportation safety initiatives. Separately, Senator John Bell (D-Loudoun & Prince William) has introduced a bill that would exempt new vehicles from a safety inspection the first year after purchase if the vehicle has yet to exceed 15,000 miles. Thereafter, the annual inspections would resume.  And two Republicans—Delegate Joe McNamara of Salem and Senator David Suetterlein of the Roanoke Valley and part of Southwest Virginia—have introduced bills designed only to eliminate the inspection requirement.
Lobbying against the bills, we have highlighted consumer safety reasons for keeping the program, providing data to back up our points. We have also discussed how even the newest vehicles cannot alert drivers to every deficiency in a vehicle an inspection would catch.  We will continue working with like-minded groups on this issue and ask for your help in alerting legislators to its importance on Dealer Day this Wednesday.
HB 130 – Del. McNamara; SB 125 – Sen. Suetterlein
Either bill would eliminate Virginia's safety inspection program. HB 130 was referred to the House Transportation Committee.  SB 125 was referred to Senate Transportation.
 HB 1439 – Del. Jones; SB 907 – Sen. Lucas
Either bill would eliminate Virginia's safety inspection program for all vehicles except for salvage vehicles, converted electric vehicles, and certain motorcycles. Bills also include other transportation safety measures.  HB 1439 was referred to the House Transportation Committee.  SB 907 was referred to Senate Transportation.
SB 370 – Sen. Bell
Bill would extend from 12 months to 24 months the validity period of the first motor vehicle safety inspection of a new motor vehicle so long as the vehicle has not been drive more than 15,000 miles. Referred to Senate Transportation.
California Cars
HB 577 – Del. Keam
Bill would put in place California emissions standards, potentially both low emissions (LEV) and zero emissions (ZEV) standards. Maryland adopted the ZEV standards and are very uncertain about the availability of new vehicles under the program. We have spoken with the patron and expressed our opposition to the legislation. Referred to House Committee on Agriculture, Chesapeake, and Natural Resources.
Dealer Plates
HB 595 – Del. Bourne
Bill would authorize the Department of Motor Vehicles to issue, upon request of a licensed dealer, a license plate that is a combination of a special license plate and a dealer tag. VADA asked Del. Bourne to carry this legislation. It was referred to the House Transportation Committee. It will be before subcommittee January 20 and likely before full committee this week.
Peer-to-Peer Vehicle Sharing
Marketed by sharing platforms as Airbnb for cars, peer-to-peer vehicle sharing is an emerging technology that would allow one to rent—or share, depending on whom you ask—their vehicle to another through an online platform. The sharing platforms have asked patrons to carry their preferred legislation. A rental car company has asked patron to carry theirs.  Major differences between the two are both whom may rent, or share, vehicles on the platform and what taxes accompany use.
With taxation, we want everyone—including the car sharing platforms and/or its users—to pay their fair share to the Commonwealth so as to prevent Virginia from needing to increase the sales and use tax as a way of accounting for any deficits.
HB 891 & 892 – Del. Sickles; SB 749 & 750 – Sen. Cosgrove
This rental company-backed legislation would govern peer-to-peer vehicle sharing platforms and platform use in Virginia. HB 891 has been referred to House Communications, Technology, and Innovation. HB 892 has been referred to the House Finance Committee. SB 749 will be referred to Senate Transportation. SB 750 was referred to the Senate Committee on Finance and Appropriations.
HB 1539 – Del. Jones; SB 735 – Sen. Newman
This peer-to-peer vehicle sharing company-backed legislation would govern peer-to-peer vehicle sharing platforms and platform use in Virginia. HB 1539 was referred to the House Committee on Communications, Technology, and Innovation. SB 735 will be referred to Senate Transportation.
Employer Issues
As always, we are monitoring various employer-employee legislation. This year, such bills include those addressing employee purchases of necessary tools and equipment, non-compete agreements, an increase in the minimum wage, and paid sick leave.
HB 417 – Del. Cole, J.
Prohibits any employer from requiring an employee to purchase from the employer or any other person materials necessary or required for the employee to perform or complete the work for which he was hired. This bill was not intended to impact dealerships and service technicians. The patron is open to amendment in that regard, and we have supplied sample language. Referred to the House Committee on Labor and Commerce. It will be heard by subcommittee then full committee but has not yet been placed on the subcommittee agenda.
Consumer Data Security
HB 473 – Del. Sickles
As you know, consumer privacy regarding data has been a point of emphasis for consumer advocates nationwide. This bill does not go as far as the California Consumer Privacy Act, but it would impact many larger dealerships with consumer data in excess of 100,000 records. Referred to the House Committee on Communications, Technology, and Innovation. We anticipate this will not pass this session and will instead go to a study group over the next year for consideration.