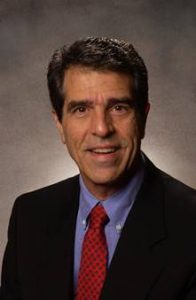 There's a changing of the guard coming next month. Mike Suttle, of Suttle Motors in Newport News (pictured), will take over as NADA director for Virginia, as Bruce Farrell of Berglund Automotive Group in Roanoke exits the role after three years of service.
A third-generation dealer, Suttle and his family have served Hampton Roads since the start of the 20th century. His grandfather, Michael Suttle Sr., immigrated from Lebanon at age 15 and opened a bicycle shop in Newport News. By the 1930s, that growing business had expanded to sell Oldsmobile and Cadillac cars. In the 1980s, the family added Saab and GMC Light Truck to Suttle Motors, with Pontiac and Buick joining in the 2000s.
Since 1996, Mike Suttle has served as dealer principal and president at Suttle, working alongside his brothers, Gary and Steve. Today, the family tradition continues with the next generation, as Miles and Jessie Suttle work to carry on many years of success.
A former chairman of our Board of Directors (2006), Mike Suttle has been an outstanding VADA member for decades. "I've been grateful for the experience to serve my industry, and my time with VADA has created an unparalleled way to give back and enhance my professional relationships with others in this business," he said. "I'm looking forward to representing VADA on a national platform."
Suttle recognizes that industry service is an important obligation, according to Don Hall, VADA's president and CEO. "As Mike has grown in his service with VADA, I've seen him bring important energy and thoughtfulness to every role. We're honored to have him step into this new role and continue to elevate the already respected role that VADA has among our NADA peers," Hall said.
Suttle will serve a three-year term, which kicks off at the annual NADA membership meeting Feb. 14-17 in Las Vegas.
As Farrell finishes his three-year term, our entire VADA team thanks him for his contributions at the national level.