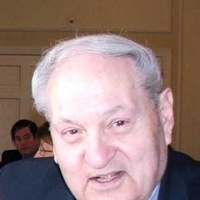 We'd like to commemorate the life of Mike Pallone, owner of Mike Pallone Chevrolet in Springfield, Virginia. Mike was a longtime member of the Virginia Automobile Dealers Association and friend of Don Hall.
He served our nation in World War II and remained a patriot his entire life, always saying he lived in the best country in the world.  He attended Roberts Wesleyan College and worked as a car salesman as well as owned several businesses in Rochester, NY.
Mike purchased a failing dealership in Springfield, VA in 1969, and Mike Pallone Chevrolet was born.  He and wife, Armeda, ran a successful dealership for 41 years.
He will be greatly missed.