The Latest from Richmond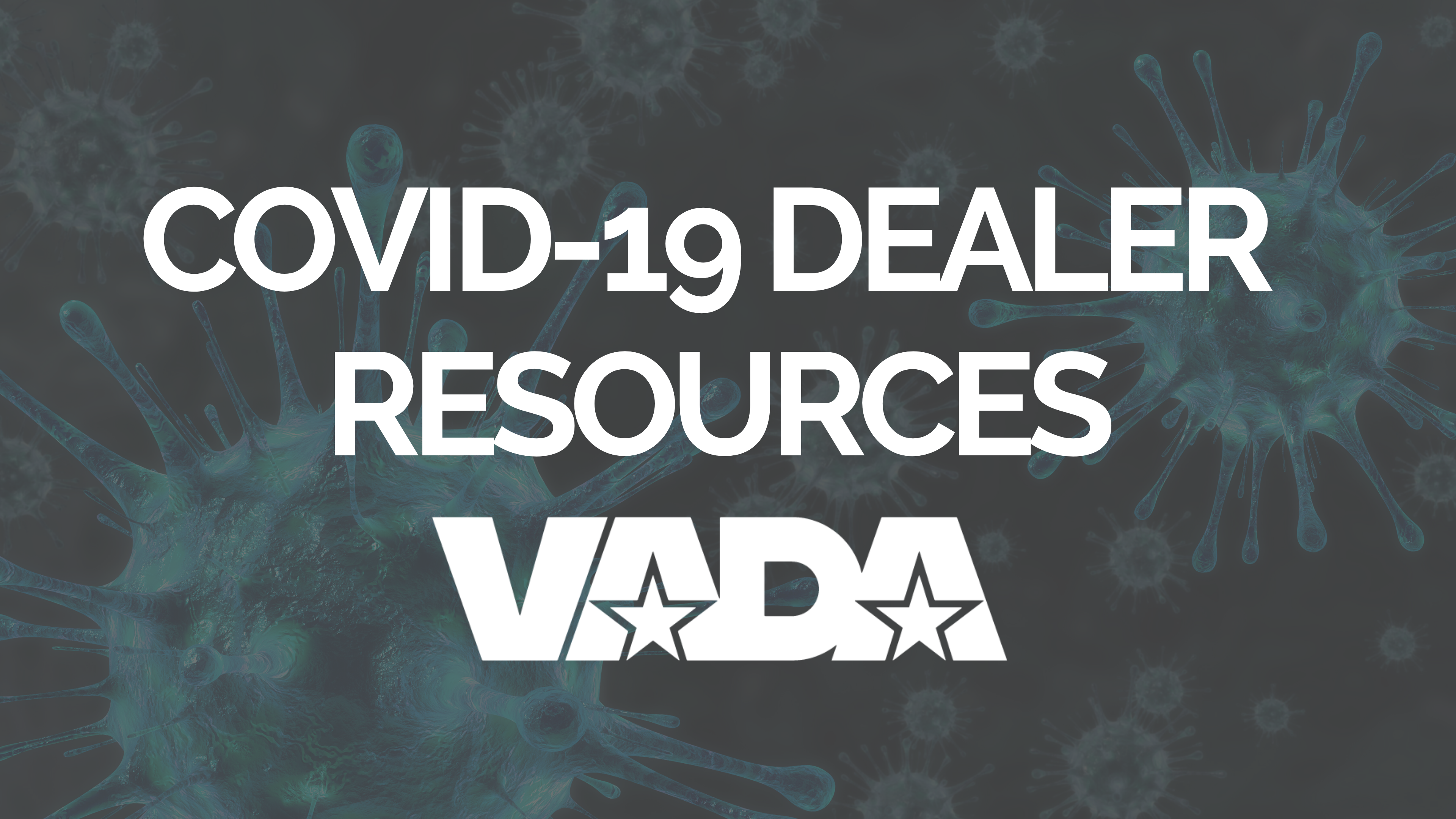 Gov. Northam's Executive Orders
May 26: Executive Order 63 has mandated mask use in public spaces. Read our overview here, and Governor Northam's FAQ on face coverings.
May 8: Executive Order 61 revises Executive Orders 53 and 55. Read about how it impacts dealerships.
March 30: Executive Order 55 mandates a stay-at-home order for Virginians but does not further impact dealership operations.
March 23: Governor Northam's Executive Order 53 orders the closure of non-essential businesses, bans gatherings of 10 or more people, and closes all K-12 schools for the remainder of the academic year. Sales and service departments remain open, with stipulations.
Additional resources:
Virginia Executive Directives
Executive Directive Seven closes all 75 DMV Customer Service Centers (CSCs) in the Commonwealth — including DMV's Military Circle Dealer Center in Hampton Roads — and suspends DMV 2 Go and DMV Connect locations statewide. The Amended Executive Directive Seven, signed April 23, 2020, extends those closures until May 11, 2020, with online and mail services remaining available. DMVs are expected to reopen to the public with limited operations on May 11, 2020.
Executive Directive Eight requires the Virginia State Police to suspend enforcement of motor vehicle safety inspections. Amended Executive Directive Eight, signed April 23, continues that suspension.
More from Virginia Government
DMV closure information
The Virginia Department of Motor Vehicles has stopped in-person services as a precautionary measure to lessen exposure to and prevent the spread of COVID-19, effective Wednesday, March 18.
With the closure of this CSC, dealers will need to mail-in paperwork to auto auctions (in Fredericksburg and Harrisonburg) for the manual processing of title and registration work.
The preferred method for auto auctions in Virginia to receive all DMV paperwork is via a commercial courier service; i.e. USPS, FedEx, UPS
Both locations (Fredericksburg and Harrisonburg) have a drop box, however the drop facilities are only available for service during the auction's normal posted hours. They are not available outside of those areas due to the nature of the documentation they are receiving. Note: Locations cannot afford for someone to claim an item was left after hours if it does not, in fact, reach the location.
All completed title/tag work will be sent via carrier service that the dealer has provided payment for. Cox/Manheim will do its best to maintain the established 5-day SLA for completion; due to the demand, they may need some understanding if this is not met.
Addresses:
Manheim Fredericksburg
120 Auction Drive
Fredericksburg, VA 22406
Manheim Harrisonburg
3560 Early Road
Harrisonburg, VA 22801
Like other state agencies, DMV headquarters remains open, with safeguards in place to sustain operations. DMV is exploring teleworking options for employees whose job functions permit working from home.
For dealerships, there may be delays in processing and turnaround times, and it is likely DMV will not meet its 5-7 day turnaround requirements during this period. We encourage all dealers to be sensitive to the current state of DMV operations and use online programs as much as possible.
Currently, auto auctions and third party vendors plan to operate as close to business as usual. DMV will communicate any changes to VADA in a timely manner.
The content on this webpage is not intended as legal advice. If you require legal advice, please contact your attorney. The content on this webpage reflects information at the time the content was created and, given the changing circumstances surrounding COVID-19, is subject to change at any time.